Our vision…
…is to be a happy and healthy place to achieve and believe.
Happy and healthy things happen all the time here at St James':
daily activities, such as Wake Up, Shake Up (a short burst of energy each morning) and playtimes
weekly sessions of PE, Living and Learning (our name for Personal, Social and Health Education) and circle times
occasional activities, which include specialist health visitors and local sports events
annual events like our themed weeks, including Being Healthy and Staying Safe
We're a place to achieve:
…And a place to believe: to believe in ourselves – developing our own self-confidence and, if children choose, to have faith – a belief in God as Father, Son and Holy Spirit.
Our name…
…is St James' CE Primary – but who was James?
James (sometimes called Saint James the Great) was one of the disciples of Jesus. He is described as one of the first disciples to join Jesus. James and his family were fishermen. It is said that James and his brother John were with their father by the seashore when Jesus called them to begin traveling. Acts of the Apostles 12:1–2 records that King Herod had James executed by sword (Ac.12:1–2). James is likely to be the first of the apostles martyred for his faith.
Read the story of James
Our logo…
…is important to us.
Nike's swoosh… McDonald's golden arches… Our logo featuring the three scalloped shells is as important to us as these slightly more widely known logos are to the companies!
As we can see in the story of James, the scalloped shells link James to his fishing background and they represent pilgrimage, echoing the time James may have spent in Spain talking to others about Jesus. Here's what some of our Junior Leaders said about our logo when we asked them in November 2023.
Harper and Isla (Year 3) and Lily and Freddie (Year 4) all agreed they like our logo:
We have shells in our logo because James was a fisher. I like the shells getting bigger every time because it represents us growing. The blue shell might represent water and the yellow shell might represent sunlight.
Lilly and James (Year 5) and Eliza and Amira (Year 6) were equally thoughtful:
The shells are different colours so they represent different people – everyone's different in this school but we're still the same, too. The shells are getting bigger – we're growing together. The shells represent calmness to me – they look calming because shells come from the sea and the sea is calming.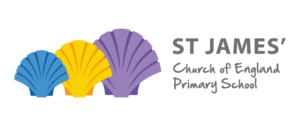 Our values…
…reflect the distinctive nature of our school. They were chosen by members of our Junior Leadership Team, a group of pupils who advise us on aspects of our provision. The values are woven into all that we do. These Bible stories help to illustrate some of our Christian values.
Compassion
Courage
Forgiveness
Honesty
Peace
Perseverance
Our community…
…includes all our pupils, our parents and our staff. All are welcome at St James' CE Primary, regardless of faith or belief.
We are a 'voluntary controlled Church of England primary school'. This means that our school is maintained by the Local Authority (Leeds) whilst enjoying strong links with the Church.
We aim to serve our community by providing an education of the highest quality within the context of Christian belief and practice, in such a way that people of all faiths or none are loved, respected and valued. We aim to serve all members of our community by supporting every child. We foster a love of learning, and provide a broad education which addresses the needs of the whole child in order that our children are healthy, safe, happy and successful. As such, these aims and ethos should be thought about alongside our Christian values, chosen by our Church Council in 2018.
We aim to value faith and encourage reflection on Christian values and tradition within the wider context of collective worship and the whole curriculum.
Being a Church School is important to us. Our partnership with St James' Parish Church of Wetherby and Linton is active and strong, and enriches the lives of all in our community.
Our aims…
…to meet our vision to be a happy and healthy place to achieve and believe, are:
Provide a curriculum which is enjoyable, relevant, inspiring and creative
Foster a safe and caring community
Understand and respect diverse values, languages, religions and traditions
Develop enquiring minds
Celebrate achievements
Develop skills and knowledge for a rapidly changing world
Encourage positive choices, whether academic, physical, social, or emotional
Provide equality of opportunity within an inclusive community
Nurture social, moral, spiritual and cultural values derived from Christian principles
Promote positive parental and community involvement
Our aims and ethos complement fundamental British values of democracy, the rule of law, individual liberty and mutual respect and tolerance of those with different faiths and beliefs.