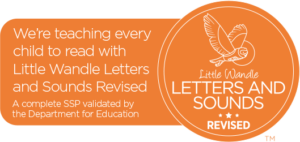 Phonics is the foundation stone for reading and for lifelong learning. Children need to learn to read as quickly as reasonably possible, so they can move from learning to read to reading to learn. Read our Phonics and Early Reading Guide.
Children in Early Years and Key Stage 1 follow the synthetic phonics approach, using the Little Wandle Letters and Sounds programme. It's an approach to teaching phonics in which the sounds of spoken English are matched to individual letters or groups of letters. For example, the sound k can be spelled as c, k, ck or ch. We've produced a guide to help you with some of the terms and concepts.
In Reception and Year 1, we teach a daily phonics lesson. In Reception, we start with 10-minute lesson, with additional daily oral blending games. This builds to the full 30-minute lesson as quickly as possible.
We follow Little Wandle's expectations of progress. This sets out the learning which will happen in Phase 2, 3, 4 and 5 across the Reception and Year 1 terms.
When children are in Year 2 and beyond, the focus shifts from phonics to spelling. For some individuals who are not fully fluent at reading or have not passed the Phonics Screening Check, we continue to timetable daily phonics lessons.
Alongside this learning to read practice, there are plenty of opportunities to read, including daily story time.
Reading in school
We use Collins Big Cat (Big Cat for Little Wandle Letters and Sounds Revised) books to practise phonics (and therefore practise reading). Children in Reception and Year 1 children read the same book, matched to children's phonic knowledge, at least three times across the week in school. The books are to practise the skills of reading:
decoding: matching letters to sounds
prosody: reading with understanding and expression
comprehension: understanding the text
In Year 2, we continue to teach reading in this way for any children who still need to practise reading with decodable books.
Reading at home
To practise reading, the same practice book that's been read in school is then available to read at home as an e-text. Because we've read it at least three times in school, your child should be able to read the text independently. If they're reading it with little help, please don't worry that it's too easy – your child needs to develop fluency and confidence in reading.
Listen to them read the e-book.
If they can't read a word, read it to them.
After they have finished, talk about the book together.
Remember to give them lots of praise – celebrate their success!
To develop a love of reading, your child takes home a separate book. To encourage your child to become a lifelong reader, it's important that they learn to read for pleasure. This sharing book is a book they have chosen for you to enjoy together.
Don't expect your child to read this alone – read it to them or with them.
In a fiction book, enjoy the story, predict what might happen next, use different voices for the characters.
In a non-fiction book, explore the facts.
Discuss the book's cover and the title, and discuss the pictures or diagrams.
With this sharing book, the main thing is that you have fun!
Check out this handy guide to reading with your child, produced by Leeds City Council and Library Libraries.