Over the past few weeks we have been reading some fantastic focus books.
                             'A superhero like you' by Dr Ranj and Liam Darcy   
The children expressed what 'real' superhero they wanted to be when they are older. We transformed our provision into a world of occupations from a farmer to a dentist!
'The girl is like Mummy'- Savannah

'They don't wear clothes like batman'-Deacon

'I like building with my hammer'- George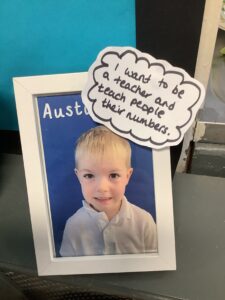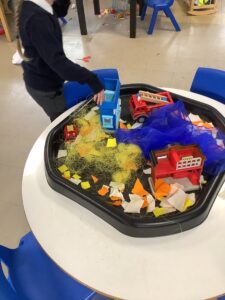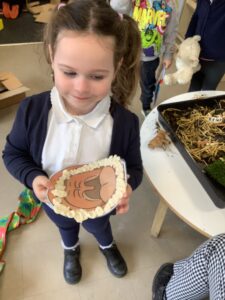 'Oliver's Vegetables' by Alison Bartlett and Vivian French
The children enjoyed learning about all the vegetables that grew in Oliver's  garden. We talked about what we have grown at home before and what we would like to grow in nursery. We all decided we wanted to grow some potatoes just like Oliver so we could make our own chips!
'I grow peppers with my Grandad' – Ella

'I got carrots and potatoes' – Frankie

'I've not had beetroot before, it's purple'- Austin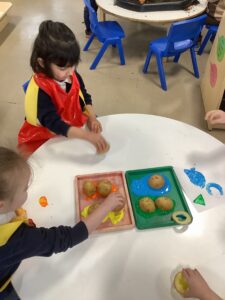 ' Daisy eat your peas' by Kes Gray and Nick Sharratt 
Daisy does not like peas and there is nothing that her mum can do to get her to eat them! The children discussed their likes and dislikes around food. We then started to talk about which foods are healthy and which are not so healthy but in the end we all decided we love ice-cream!
'Daisy didn't want to eat her peas and then she tried to get mum to eat her brussel sprouts but she didn't like them either'- Gracie

'I don't like sprouts, I like carrots' – George

' I had sprouts at Christmas'- Austin

' I like Yorkshire pudding'- Ella

' I like to drink apple juice'- C

' Daisy is funny because she didn't want to eat her peas'- Joshua
Notices  
Thank you to those that have booked an appointment for parent consultations, I am excited to share with you your child/children's progress this term. There are still some appointments left so the list will be displayed in the nursery window if you wish to attend.
Please keep sending in any photos you would like to share with nursery for the children to share in our circle times. The children really enjoy sharing what they have been getting up to at the weekend with their grown-ups!
Our email address is  stjamesnursery@spherefederation.org
Have a lovely happy and healthy weekend!
Miss Ward