This term, we have been looking at 'Inventions that changed our world'. We've looked at how the telephone was invented and, this week, we moved onto how Isambard Kingdom Brunel's designs changed the world we live in.
Isambard Kingdom Brunel is famous for designing radical bridges and pushing the boundaries in shipbuilding and tunnel building. We used some of his designs to influence our own bridge building.
The task: To create a bridge 50cm wide and strong enough to hold a toy car.
Materials: cups, paper straws, cellotape, glue, scissors and paper clips.
Here are some of our designs.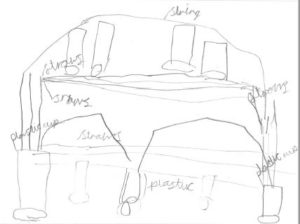 We created our own design then worked together as a group to decide on the best design. Then, we set about building our creations.
Here are our finished results. This week, we shall be evaluating our bridges. What was the best thing about them? Did they work? What would we do better/differently next time?