The first week in year 3/4 flew by in the blink of an eye. Even so, we still had time to cram in a great deal of learning and all the children made a brilliant start to their school years.
Our new topic is entitled 'Where in the world?' and will see us studying major facts about the world: continents, oceans, capital cities and other facts to do with world geography. We have already begun by labelling up a large map and finding unusual capital cities like Lima and Bogata!
If you'd like to help at home, you could simply use the maps app on your smartphone and explore countries of the world. Don't forget to have a look at famous landmarks from those countries as well.
We also got straight into our maths work on representing numbers in different ways. We've been using base 10 equipment (the blocks) and place value counters. It has been really impressive to see just how confident children were at representing the same number in different ways. They certainly haven't lost any knowledge over the summer break.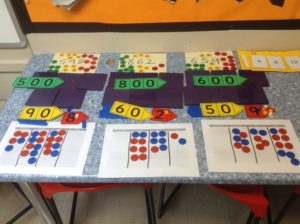 Keep it up year 3/4!