We've had a great start to our 'Staying Safe' week at St James'!
Yesterday, we had a visitor from the road safety team who told us how to stay safe when crossing roads and how to ride our bikes and scooters safely.
Today, we had some visitors from the NSPCC, who told us how we can keep ourselves safe and what we can do if we don't feel safe. The children were very good at making the Childline phone number with their hands! The children have been given some parent leaflets to take home about online safety, which have been created by the NSPCC.
We've also had a fluffy visitor in school- a cuddly, 'pretend' dog from the Dogs Trust. The visitors told us how the charity helps dogs to be re-homed. Their key message was how we can stay safe around dogs and the body language a dog might show if it was unhappy.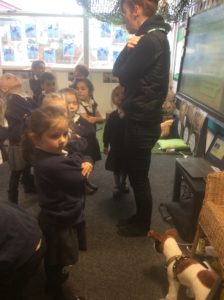 We are looking forward to many more workshops and visitors throughout the week to help us stay safe. Look on the class news pages for more information about what each class are getting up to.