Topic – Leonora Cohen
This week, we have been learning about Leonora Cohen. We have found out that she was a Suffragette who was born in Leeds. The Suffragettes protested about the inequality of women not being able to vote.
We looked carefully at some of the items worn by Suffragettes to show their support and what they believe in.
We commented on how they all used the same three colours.
purple = dignity  green = hope  white = purity
We also looked at the dress Leonora Cohen designed and wore to a ball and discussed why we thought she designed it this way.
"It has the same colours as the items. Purple,  green and white."

"It has a woman showing she was fighting for equality for women"

"It has the word Suffragettes so people knew what she believed."
We designed our own Suffragette dress thinking carefully about the colours and the designs.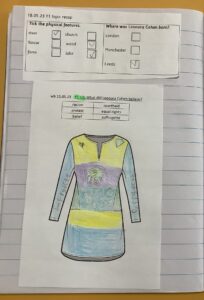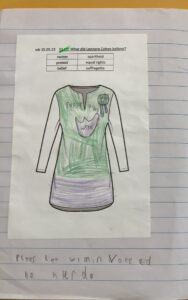 Today, we split into groups and created a freeze frame of the moment Leonora Cohen was arrested for one of her more violent protests.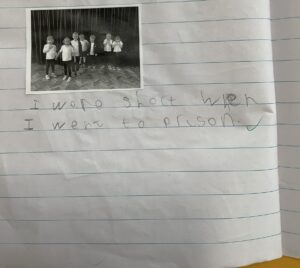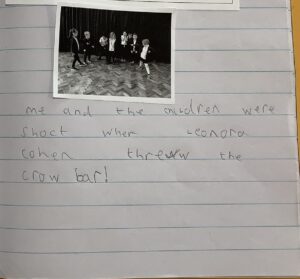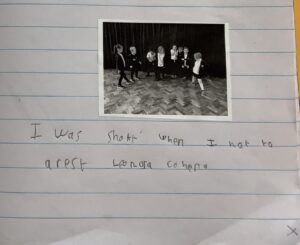 Help at home:
Watch this video (This is a YouTube link. Top tip for watching YouTube with your child: go to the settings cog along the play bar and turn off autoplay – this avoids an inappropriate clip coming up automatically, and helps to discourage your child from passively watching clip after clip) and look at the pictures below to tell someone at home what you can remember about the Suffragettes?
Living and Learning: I know the importance of 'five a day'
For our living and learning session, we were thinking about what makes a healthy diet and how we need to eat five portions of fruit and veg a day.
We learned what a portion was and how the size of the portion changes depending on what the food is – whether it's as a juice, fresh or dried.
We heard about Lucas and his food diary. We looked at how we could improve his diet to make it healthier.
We had a look at different foods and decided which food groups they should go into and how we were going to try and include 'five a day' in our healthy diets.
05.05.23 and 12.05.23
Below are the new spellings for the next two weeks, please practise ready for a spelling test on Friday 19 May.
table
apple
bottle
little
middle
have
live
give
there
their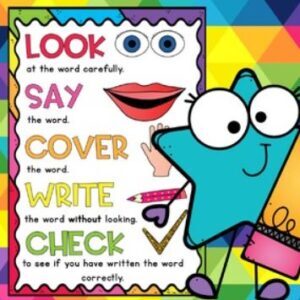 Spelling Quiz
Well done to the Year 1 children who scored 10/10 in their spellings this week!
Please support your child to practise their spellings at home ready for their spelling test every other Friday.
Coronation Day
What a fabulous day we've had today celebrating King Charles Coronation. Thank you to everyone who has decorated a crown, they all looked AMAZING which made picking one winner extremely challenging!
We've listening to a story about the life of King Charles and watched the special Newsround outside of Buckingham Palace. We've created our own portraits of King Charles too. Thinking carefully about size, shape and colour.
Well done Year 1!
Library visit
Today, we walked to the library to have a welcome visit. We listened to a couple of stories and learnt about all the different types of books we can borrow from the library. Our five library ambassadors choose a book each to bring back to school for our reading area. Afterwards, we had some free time to explore and read some books and make our own door handle sign to use when we are reading so we aren't disturbed.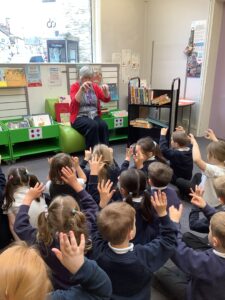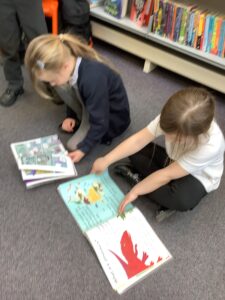 Living & Learning: I recognise the importance of sleep
This week in Living and Learning, we have been looking at the importance of sleep.
We thought about all the things we already knew about sleep. We wrote this on the board in red, blue, and green pens. We already knew that sleep was important for both our minds and our bodies. We later went back to this and added our new knowledge in pink.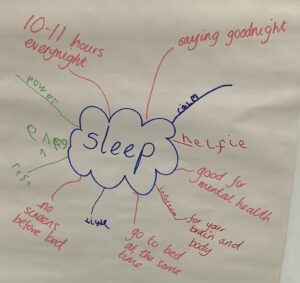 We heard about a little girl called Mia who struggled to go to sleep one night after a very busy day and rushing straight to bed. We talked about what was good to do before bed and what wasn't. We sorted things into two piles.
Later, we thought about our bedtime routines and planned a new bedtime routine for Mia. We decided that a super bedtime routine would possibly include:
screen times going off an hour before bed
going to bed at the same time each day
brushing our teeth
having a story
staying goodnight to our family
Help at home
Talk to your child about what they find most helpful during their bedtime routine. See if they would like to include something new, if they need it, in their bedtime routine to help them get to sleep.
Topic
We have started out new history topic all about real life heroes. The first important person we're learning about is Nelson Mandela. You can find more about him here. He believed that everyone should be treated the same. We will be learning about equality, apartheid and the suffragettes.
English
Wow, what a fab start to our Summer term. We have written a recount about our Easter holidays, remembering to use adjectives and conjunctions. Have a look at some of our work!
In English, we have started to read our new book Fantastically Great Women Who Changed the World by Kate Pankhurst. We read about Frida Kahlo and Coco Chanel. We used the dictionary to look up the meanings of some words we weren't quite sure about and added them to our word wall.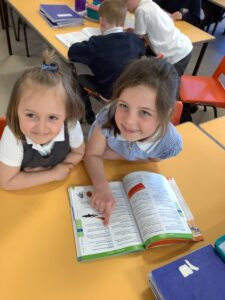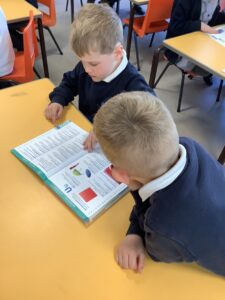 We are biologists!
Biologists study living things, including people, animals, and plants. This half term, Year 1 and 2 will be studying plants.
On Tuesday, we began looking at the different things plants need to grow. We have created an experiment looking at what an onion bulb needs to grow.
We planted four onion bulbs in different conditions.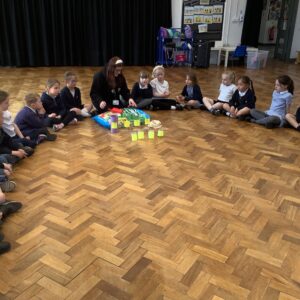 We have four environments for our bulbs to grow:
no light, no soil, no water
no water, no soil
no soil
water, light, soil
After we'd planted them, we made predictions on which bulb we thought would grow the best or wouldn't grow. Each week, we will be observing our bulbs to see which are growing.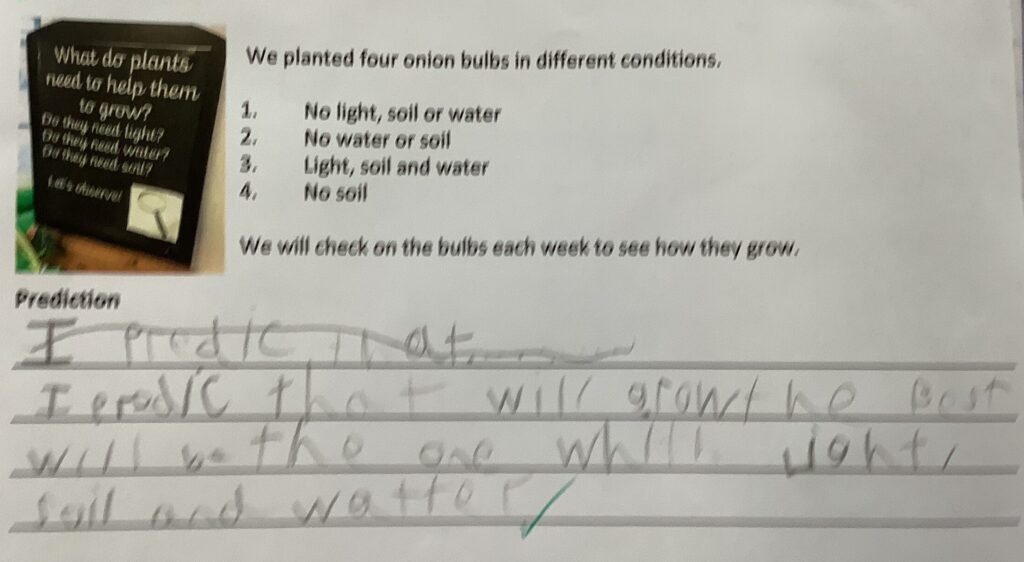 Help at home
Explore plants that you have in the garden or that you see on your walk to school. Observe how plants change over time and talk about what things they need to grow and survive.