What can I see? What can I see?
This week our focus book has been 'The Train Ride' by June Crebbin. We talked about what you might see on a train ride if you were looking out of the window, like the girl in the story.
"Some cows and sheep in the big fields"- Frankie

"The window is a mirror you can see yourself"- Gracie

"You might go through a tunnel and it will be very dark and you would need a torch so you can see" -C
Here are some of the activities we have been exploring in provision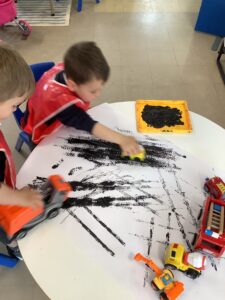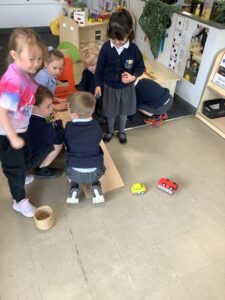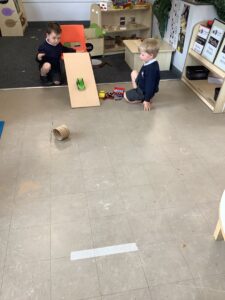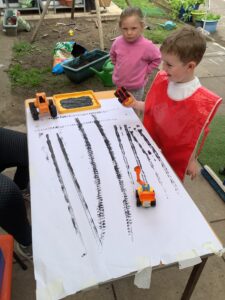 The children really enjoyed their PE session outside in the sunshine. We played 'Ants in your pants'. The children used a hoop as their pants and the beanbags were the ants. The children used their throwing skills to see how many ants they could get in their partners pants!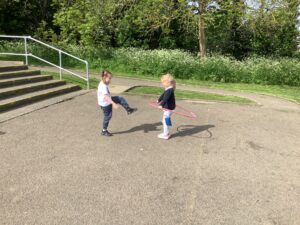 During our maths learning this week our focus has been looking for shapes within the environment.  See if you can guess which shapes we found!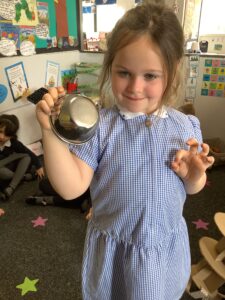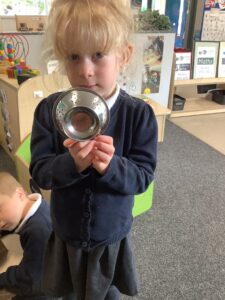 Reminder
We are coming into our last week before half term, it's set to be a warm one! So please could I remind all parents/carers that sun cream should be applied  before coming to school and that all children come with a sun hat and water bottle. Your child's water bottle will be refilled throughout the day.
Have a fantastic weekend, remember to stay sun safe!
Miss Ward
Minibeasts everywhere!
Over the past few weeks we have been exploring all things minibeast! We've looked for worms in the garden with our magnifying glasses, made our own junk model insects and observed how our tadpoles are starting to change.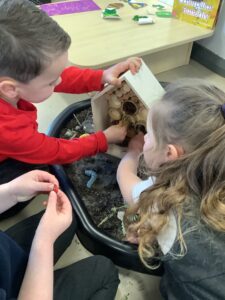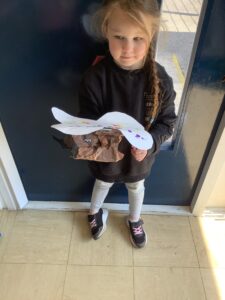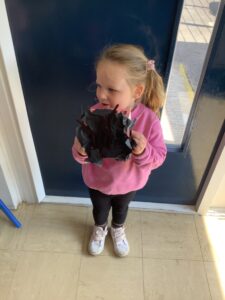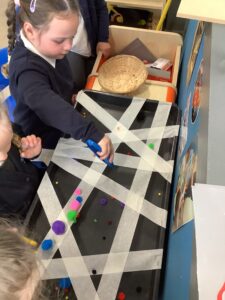 We also began to celebrate the upcoming Coronation of King Charles. The children joined in making afternoon tea, got creative using red white and blue to make their own flags and designed their own crowns for our school parade.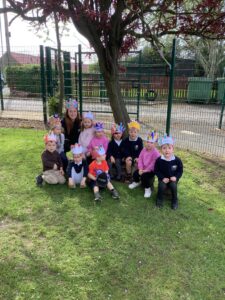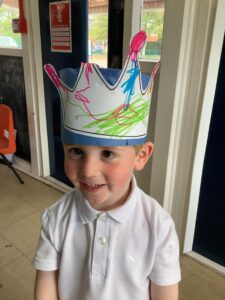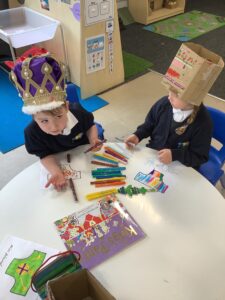 Have a lovely weekend everyone!
Miss Ward
But he was still hungry!
Welcome back Nursery! We hope you had a lovely break over the Easter half term.
This week we introduced our new topic ' wheels, wings and other things'. Our first focus book was 'The very hungry Caterpillar' by Eric Carle.
Here is what we got up to …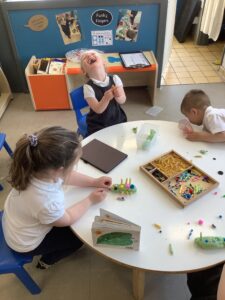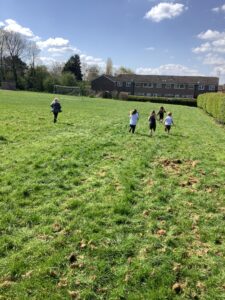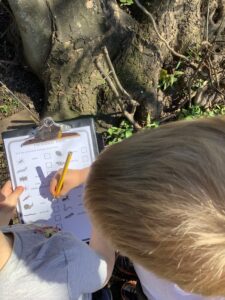 We created our own caterpillars using loose parts and play dough. We took the children down to the big playing field to start our minibeast hunt, the children ticked off the minibeasts they found along the way. We also went to check out school pond to see if there were any tadpoles- safe to say we will be seeing lots of frogs very soon!
The Caterpillar goes into a cocoon and then comes out as a Butterfly – Gracie

It gets really hungry, it's going to eat 5 oranges next- Joshua

Look Miss Harvey, there is a millipede here. It has lots of legs!-Deacon

1 apple, 2 pears, 3 plums, 4 strawberries and 5 oranges but he's still hungry – Zubi

The butterfly is symmetrical because it's the same on both sides- Austin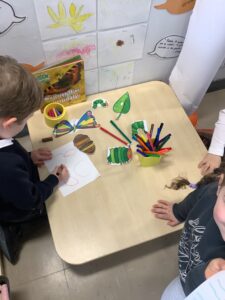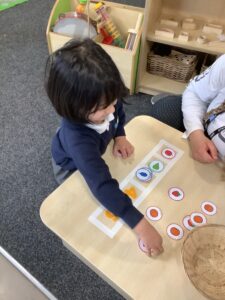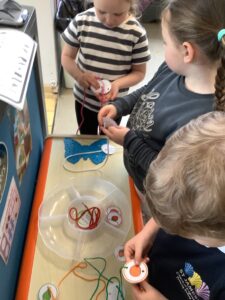 Notice
As the weather is starting to become warmer, please could you ensure your child/children bring a sun hat to school clearly labelled. We do have a sun hat box if you would like to leave it with us.
Have a lovely weekend everyone!
Miss Ward
Easter brings new life
This week our focus book has been ' The Easter Story'. The children have been getting very creative making Easter cards, building churches and designing our own Easter eggs!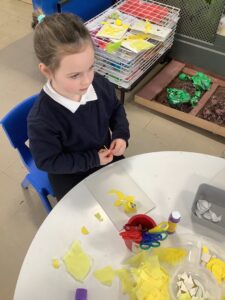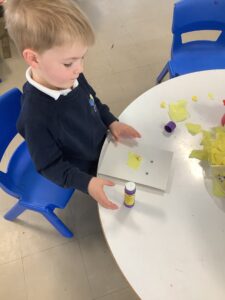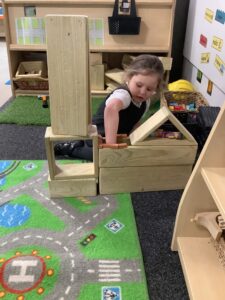 We may of had a sneaky visit from the Easter bunny! The children got to work on the hunt to find our colourful eggs around our outdoor provision
Easter means new life and babies like baby chicks- Gracie

Jesus woke up again- Sophie

He died on a big cross- Austin

Hot cross buns!-Beau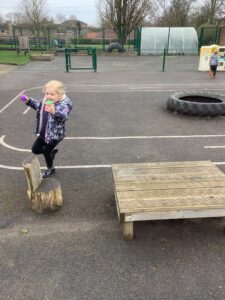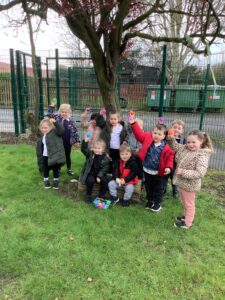 You may of also heard the children coming home singing a song about a spring chicken. Reception, KS1 and KS2 visited the church on Wednesday to take part in their Easter service. They have all been practicing the song to perform at church, so nursery joined in and they loved it!
Here it is to share with your children at home …
Top tip for watching YouTube with your child: go to the settings cog (it's along the play bar) and turn off auto play – this avoids an inappropriate clip coming up automatically, and helps to discourage your child from passively watching clip after clip
We have had a wonderful few weeks in Nursery. We wish everyone a happy and healthy Easter and a well deserved break! We look forward to welcoming the children back as we may have some special visitors…. here is a clue!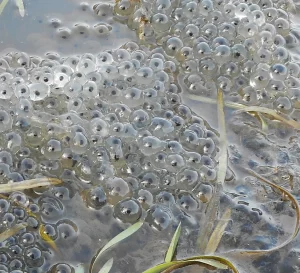 Miss  Ward
We are growing potatoes!
Over the past few weeks we have been reading some fantastic focus books.
                             'A superhero like you' by Dr Ranj and Liam Darcy   
The children expressed what 'real' superhero they wanted to be when they are older. We transformed our provision into a world of occupations from a farmer to a dentist!
'The girl is like Mummy'- Savannah

'They don't wear clothes like batman'-Deacon

'I like building with my hammer'- George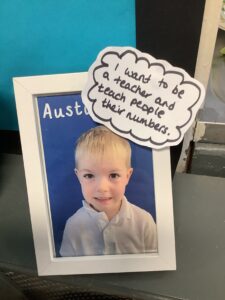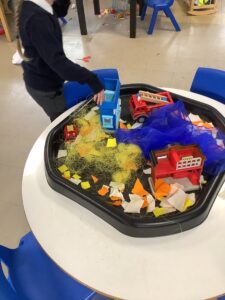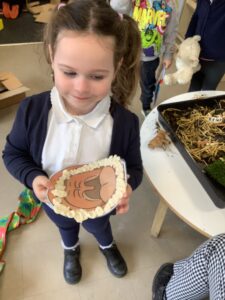 'Oliver's Vegetables' by Alison Bartlett and Vivian French
The children enjoyed learning about all the vegetables that grew in Oliver's  garden. We talked about what we have grown at home before and what we would like to grow in nursery. We all decided we wanted to grow some potatoes just like Oliver so we could make our own chips!
'I grow peppers with my Grandad' – Ella

'I got carrots and potatoes' – Frankie

'I've not had beetroot before, it's purple'- Austin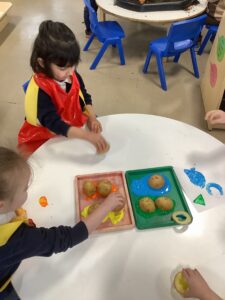 ' Daisy eat your peas' by Kes Gray and Nick Sharratt 
Daisy does not like peas and there is nothing that her mum can do to get her to eat them! The children discussed their likes and dislikes around food. We then started to talk about which foods are healthy and which are not so healthy but in the end we all decided we love ice-cream!
'Daisy didn't want to eat her peas and then she tried to get mum to eat her brussel sprouts but she didn't like them either'- Gracie

'I don't like sprouts, I like carrots' – George

' I had sprouts at Christmas'- Austin

' I like Yorkshire pudding'- Ella

' I like to drink apple juice'- C

' Daisy is funny because she didn't want to eat her peas'- Joshua
Notices  
Thank you to those that have booked an appointment for parent consultations, I am excited to share with you your child/children's progress this term. There are still some appointments left so the list will be displayed in the nursery window if you wish to attend.
Please keep sending in any photos you would like to share with nursery for the children to share in our circle times. The children really enjoy sharing what they have been getting up to at the weekend with their grown-ups!
Our email address is  stjamesnursery@spherefederation.org
Have a lovely happy and healthy weekend!
Miss Ward
Jaspers beanstalk
This week in nursery our focus book has been Jaspers Beanstalk. The children really enjoyed listening and joining in with the story.
'he isn't happy his bean hasn't grown'

'he needs to get all the slugs off so that it doesn't get eaten'

'he wants to climb the beanstalk to go find a giant like Jack did'
We planted our own beans to what them grow!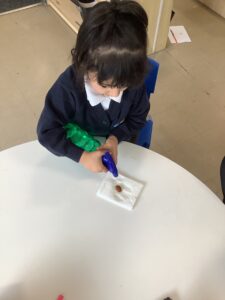 We started to explore what we might need to help seeds grow…
'we need some mud to put the seed in'

' the water helps make it grow'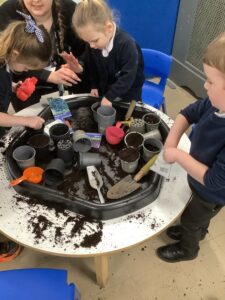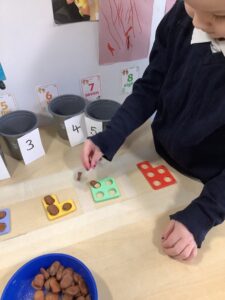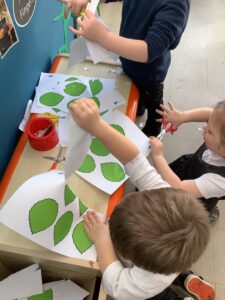 Polite notice 
Next week we will be drawing our faces. If you could bring in a photo of your child when they were a baby so we can compare how we have changed!
Have a lovely weekend!
Miss Ward
Rahhh!
We have been getting our stomp on in nursery this week!
The children have been exploring out dinosaur provision. Our focus story for the next two weeks is called 'Dinosaur Roar' by Paul and Henrietta Stickland. Here is what we have been betting up to!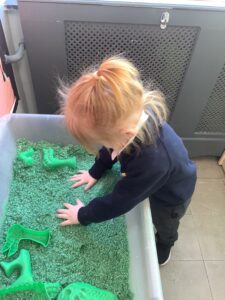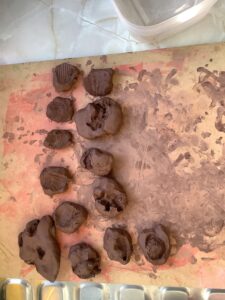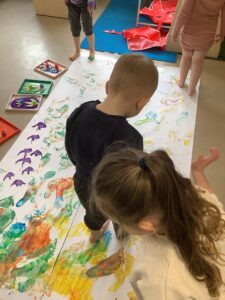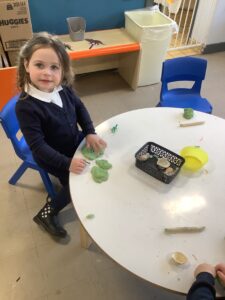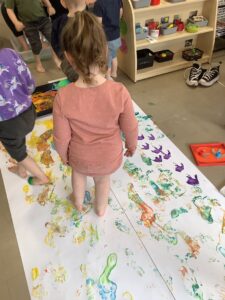 The children created their own fossils out of clay. We also compared what our feet looked like to a dinosaur using paint. The children used their listening skills to interpret and make their own dinosaur sounds, we stomped around the classroom to the music.
It's like a dinosaur been in it but then a person has taken the dinosaur out and it's a pattern – Gracie

Paint toes, make dinosaur feet- Frankie

Dinosaur squeak, dinosaur fast, dinosaur tiny, dinosaur strong- Austin
Have a happy and healthy weekend!
Miss Ward
It's a dragon!
This week our focus story has been Zog by Julia Donaldson. The children have enjoyed exploring our Zog themed provision, here's what we have been getting up to!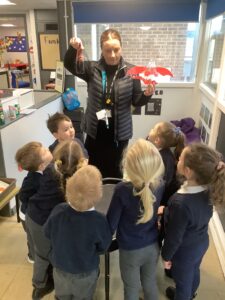 We did our first science experiment! The foaming dragon. The children watched how the baking soda reacted with the vinegar to create a fizzing foam.
It exploded out of the dragons mouth-Gracie

Red dragon- Hunter

It's got circles and triangles, the circle is the dragons head- Cora

It's got lots of spikes- George

Zog wanted to help the princess be a doctor-Austin
Here is a link so you can enjoy watching Zog at home with your child/children ….
Top tip for watching YouTube with your child: go to the settings cog (it's along the play bar) and turn off auto play – this avoids an inappropriate clip coming up automatically, and helps to discourage your child from passively watching clip after clip
Next week is all about DINOSAURS, so make sure you bring your stomping feet! RAHHH
Miss Ward
It's freezing!
This week the children explored our outdoor provision to see if they could find some ice. We talked about why and how things freeze and what would happen if the temperature would increase.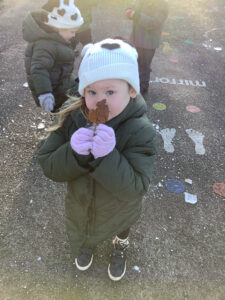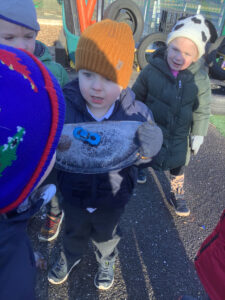 The soil is hard because it's got water in – Austin

It's frozen in the same shape, you can see the lines from the tyre- Gracie

Look Miss Ward, the car is stuck in the ice!- Deacon

The sun has melted the grass- Beau
We also explored Lunar New Year this week. Lunar New Year is the beginning of the lunar calendar, the months are based on moon cycles. This event is a celebration observed by many cultures around the world.
The children cooked up a storm in the kitchen, experienced using chopsticks, made rabbit sun catchers and enjoyed a traditional new year meal in school. 2023 is the year of the rabbit.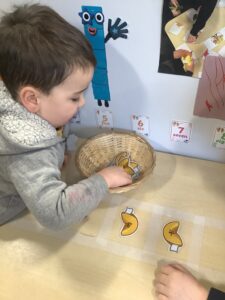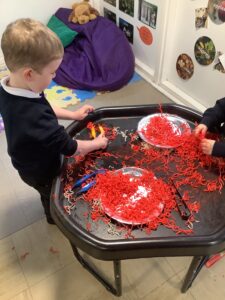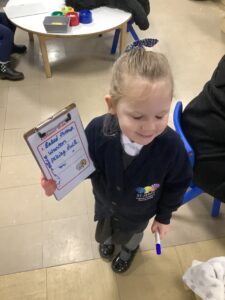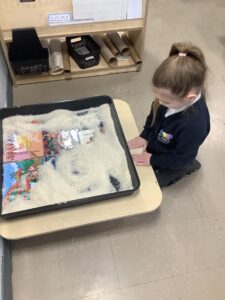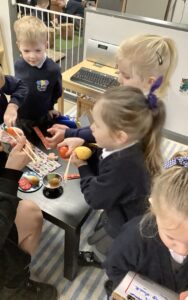 Red is a lucky colour- C

They clean their house to get rid of bad things- Sophie

A horse , a dragon and a rabbit- Frankie

I like noodles- Ella
Have a lovely weekend!
Miss Ward
Welcome back!
Happy New Year!
We have welcomed returning children into nursery over the past two weeks, but we've also had some new faces appear! So a warm welcome to our new nursery children, we can't wait to get to know you all.
Here is what we've been getting up to so far!
We used puppets to retell the story of Little Red Riding Hood
' the wolf dresses up as grandma and tries to eat them' – Beau
' they walk in the forest to grannies house'- Deacon
We explored ice- the children used different tools to try and break down the ice
' its melting because its warm in the classroom'- Gracie
' its like glass' – Child
Our focus number this week was one, we looked around the classroom to see how many we could find
' I've got one tiger' – Austin
'I've found one object Miss Ward'- Cora
We also enjoyed a lovely story time session with Mrs Payne in the library, this weeks book was all about polar bears.
Polite Reminders
If your child has a pair of wellies that you would like to leave at school this would be really useful. Due to the continuous rain the playground has become quite muddy and we are encouraging the children to change into their wellies.