Festivals and Celebrations
The children have had a lovely first few weeks settling back into nursery. We talked about festivals last week focusing on Diwali and Bonfire Night. The children explored all their senses making Rangoli patterns with rice, designing their own mendi hands and getting messy in cornflour;
' This is amazing' -Deacon
During our circle time we have talked about why some people celebrate different festivals and what it means too them.
'Diwali' – Frankie
' Festival of light' – Austin
' Sweets and clothes'- Zubaria
' We have lots of sparklers and you cant touch them, its too hot'- Gracie
' We can eat hot dogs' – Beau
' We can't go in the fire, it will hurt us'- Deacon
' It's a guy' – Gracie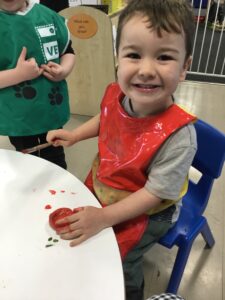 This week our focus story was 'Hodge the Hedgehog'
We had a surprise visit in our KS2 playground this week. A hedgehog appeared!
We rescued the hedgehog and brought it inside to keep it warm, as there not supposed to be out during the day. Fortunately, we found a lovely lady who looks after rescued hedgehogs, she was very pleased that we had looked after her so well. It turns out she was very poorly and needed some special medicine to help get her better.
Here is some useful information if you happen to find a hedgehog out during the day;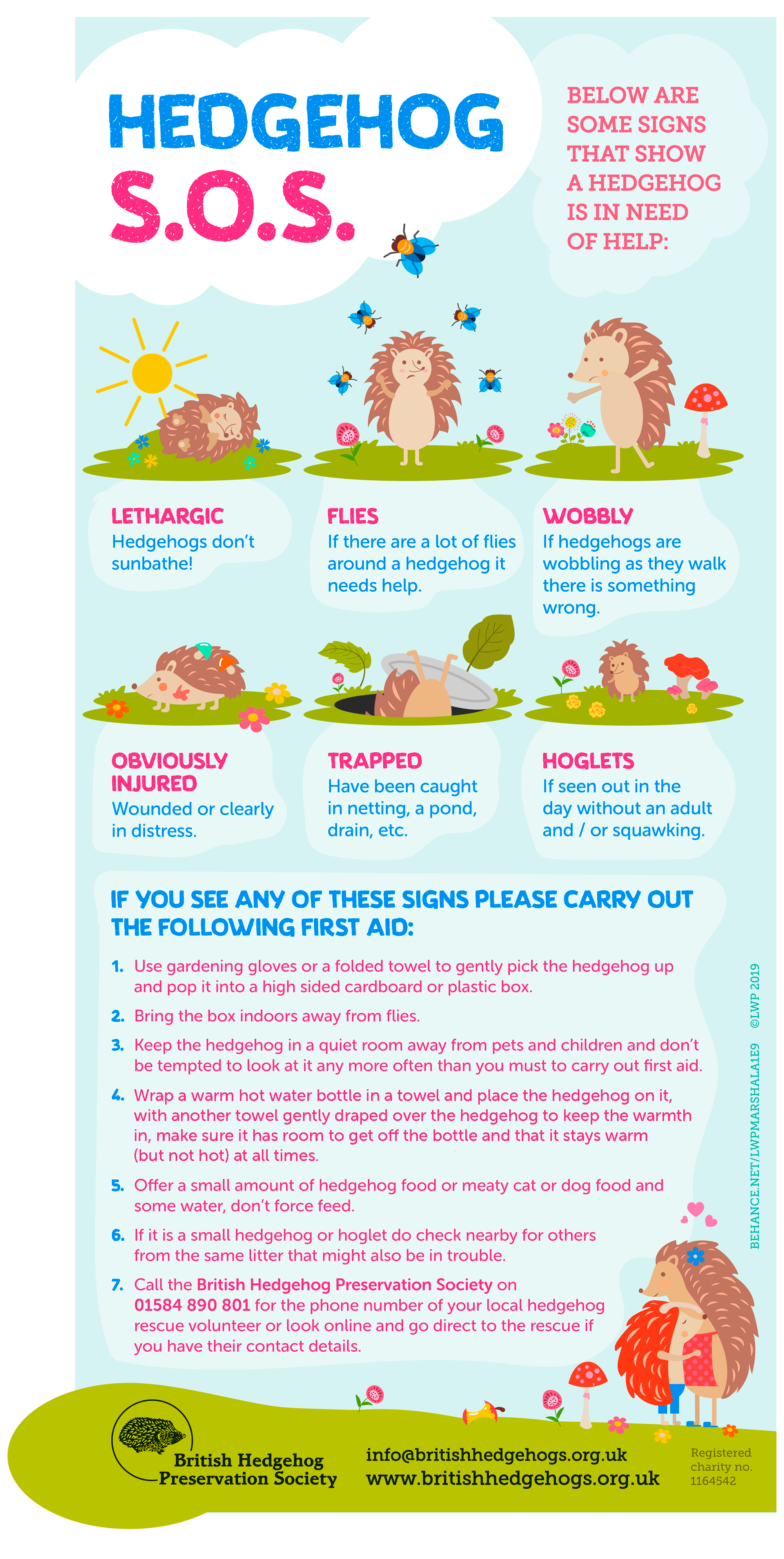 We have also talked about Remembrance Day and today the children joined in with a minute silence. We watched a beautiful story from CBeebies that helps children to understand the importance of Remembrance Day.
' We remember all the soldiers in the war' – Gracie
' Animals- horses' – Frankie
' There are purple and red poppies' – Deacon
Here it is below for you to watch with your child at home
Top tip for watching YouTube with your child: go to the settings cog (it's along the play bar) and turn off auto play – this avoids an inappropriate clip coming up automatically, and helps to discourage your child from passively watching clip after clip
Here are some more photos of what the children got up to in Nursery this week!
Reminders
Next week, Monday 14 November is 'Anti-Bullying' day in school. It is also 

Odd

 

Socks

 

Day

 and children and staff are encouraged to come to school wearing 

odd

 

socks

 to celebrate that we are all unique.
As the weather has been particularly wet this week our outdoor area is starting to get quite muddy! please could all children ensure they bring a pair of wellies to school, you are more than welcome to leave them with us.
Miss Ward
Fantastic first half term!
Firstly, I would just like to say a massive well done to all of our nursery children this half term, you have all settled in amazingly and I am so proud.
This week we have focused our learning based on one of our favourite books 'Room on the broom' by Julia Donaldson.
The children have enjoyed reading and role playing the story in our book corner, repeating key phrases from the story.
Deacon- 'It's a witch, she has long hair'
Cora-'witch and chips for tea'
Gracie- 'she shouts DOWN! when she loses something off her broomstick'
We have explored all of our senses this week, diving into pumpkin madness. The children really enjoyed getting hands on and messy. We have saved some of our pumpkin seeds to plant in our garden next year.
Here is a link to watch Room on the broom with your child at home. Throughout the video pause and ask your child what they think might happen next?
Top tip for watching YouTube with your child: go to the settings cog (it's along the play bar) and turn off auto play – this avoids an inappropriate clip coming up automatically, and helps to discourage your child from passively watching clip after clip.
Here are some more photos of our learning this week!
Reminder– Monday 31 October is an inset day for staff training.
I hope everybody has a lovely happy and healthy half term and we look forward to seeing you back on Tuesday 1 November.
Miss Ward
Mark making madness!
Nursery have been getting very creative this week. We have continued with our conker rolling with paint and have started to look at how colourful Autumn leaves can be. We have used our leaves to do rubbings on paper using large crayons to explore the marks they can create. We took our mark making on to a larger scale and used our giant chalks to transform our outdoor space.
Reminder!
Don't forget you can send in your photos to our email address so the children can talk about what they have been doing over the weekend.
stjamesnursery@spherefederation.org
Have a lovely weekend!
Miss Ward
We're going on a bear hunt!
The children have explored the story of 'We're going on a bear hunt' this week by Michael Rosen. The children have really enjoyed listening and joining in with key phrases throughout the story. They have also explored their senses and retold the story in our themed tuff-tray.
The children have continued to explore the seasonal changes in our garden area and discussed during our circle time some of the objects you might find on a walk. We also went for our 'Wellie walk' around our local area to see what objects we could find.
You could use some of your own conkers or leaves at home to see what patterns you can make!
The Nursery team
Autumn is coming!
The children have been exploring natural objects found in our garden area. We collected a selection of leaves, bark, and vegetables that had grown over the summer and added them to our Autumn themed tuff tray. All the children share a common interest in our play dough area, this week we really explored our sense of smell and added cinnamon and clove!
Next Thursday we will be going for our 'Wellie Walk' around our local area to see what other natural objects we can find. Please ensure your child is wearing suitable footwear, as it may get a little muddy.
You could encourage your child's learning further at home by going for your own 'Wellie Walk' in your local area,  your child can collect objects to bring back to nursery to share in our circle times. This is a fantastic way of developing your child's understanding of the changing seasons and exploring new vocabulary!
Poetry Basket-
Each week the children will be learning a new poem from our poetry basket session. This week was 'chop chop'. Ask your child to sing it with you at home!
Nursery now has its own dedicated email address to send in photos, achievements or any queries regarding your child's development.
stjamesnursery@spherefederation.org
Happy Walking!
The Nursery Team
Settling into Nursery
It has been a lovely week to welcome all the children to their first full day sessions. The children have continued to explore all the areas of provision inside and outside nursery. As you can see from the photographs the children have been getting to know each other and familiarising themselves with their new surroundings and grown-ups!
We'll continue to support the children to settle in over the next few weeks Please feel free to ask any of the nursery team if you have any questions.
Reminders
Please collect your child promptly at the end of their session. It can be very upsetting if you're the last child to be collected when others have already gone home.
The Nursery team
School Rules
In reception and nursery we have been learning more about our school rules. This week we have focused on 'we keep hands, feet and objects to ourselves'. We have thought about what this might mean and how it can help us in school. After our discussion we all made a hand print poster to remind us of this school rule.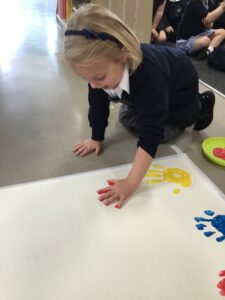 Welcome to Nursery
We've been very busy getting our Nursery ready for you all. We've tried to make sure that there's something for everyone to enjoy – including some of your favourite things that you told us about. It was lovely to meet some of you at our first 'stay and play' session and we are looking forward to seeing you again throughout our transition period next week!
Below is some information about some questions you may have;
 What does my child need?
A waterproof coat (NAMED)
A pair of wellies (NAMED)
A water bottle (NAMED)
A bag containing a full change of clothes (including a top, trousers/leggings, underwear and socks – ALL NAMED)
Next week, we will be welcoming more children back to nursery and also some new children. We are so excited to see you all!
Here is a sneak peak of some of our provision!
See you soon!
The Nursery Team
A warm welcome from Early Years
We're so excited to start our transition into Reception Class on Wednesday 07 September. Everyone has been working hard to create a wonderful learning place in Reception and Nursery.
We cannot wait to see everyone very soon!
It's been fantastic!
As many of you know, I'm leaving St James' on Friday to begin working at Moortown Primary School (another school in the Sphere Federation) in September. As this is my final post before the end of term, I just wanted to let you all know what a pleasure and privilege it has been to work with all of your children this year. They have been a wonderful class and I feel very sad to say goodbye to them.
We have all learned a lot this year (and that's including me). The nursery class of 2021-2022 is full of budding scientists, artists, mathematicians, authors, engineers and performers. They are all stars and I have no doubt that they will continue to shine brightly throughout their life at school and beyond. Your children have brought tears of joy to my eyes, have made me look at the world afresh and, most of all, they have made me proud to be their teacher. I will miss each and every one of them.
As I say goodbye, I would like to thank you all for being so supportive over the past year. I hope you all have a very happy, healthy and safe summer holiday ahead.
With all my best wishes,
Mrs Boulton