A chilly start to December
It's been a really cold start to December but we're beginning to look forward to Christmas at Nursery. Our Advent calendar is up and we've decorated the class Christmas tree with lights and baubles. Our focus book for this week has been 'The Christmas Story' and the children have enjoyed hearing about Mary and Joseph's journey to Bethlehem. We've been very busy doing lots of learning and have made some repeating patterns using pom-pom baubles. We've also been writing Christmas cards, decorating stars and printing 'fairy lights' with corks. Our Home Corner is looking very festive with stockings hanging above the fireplace and the children have been serving Christmas lunch to each other. Santa has sent 'Elvis the elf' to keep an eye on things in the run-up to Christmas; unfortunately, he's a bit naughty and he has been hiding things (including himself) in the classroom! Every day, the children have been solving clues to find where he is and to spot what has moved in our room. We're all looking forward to being detectives again next week.
Dates for your diary:
Wednesday 08.12.21 Nativity performance recording. We will let you know when this will be available on the website for you to enjoy.
Wednesday 15.12.21 Christmas dinner for the whole school.
Wednesday 15.12.21 (pm) Christmas party (the children can wear non-uniform).
PLEASE REMEMBER THAT THE LAST DATE FOR APPLYING FOR A SCHOOL PLACE FOR YOUR CHILD IS: 15.01.22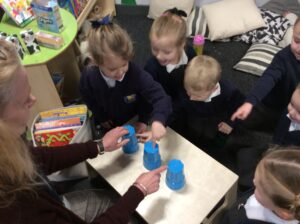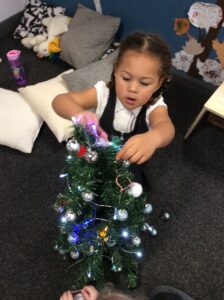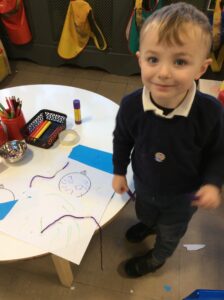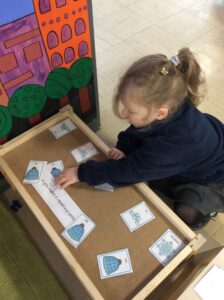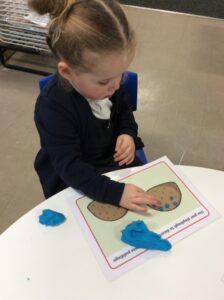 This week's bible story
Today, we are thinking about Hanukah which is a Jewish festival. Have you ever been made to do something you didn't want to do? In fact, you hated doing it?
How do you think David Beckham would feel if he had to do ballet? Or your headteacher if he or she had to dress up as a banana?
How do you think a Christian would feel if someone said to them at a Christmas nativity service, 'You can't worship Jesus, you've got to pray to the donkey?'
This is a story about when a whole country had to do things they didn't want to, and how they reacted to it.
Reflection:
Quiet thought: How can you bring light to people today?
Prayer:
Dear God,
Thank you that your light burns even longer than we hope for.
Help us to be light to others.
Amen.
A magical week!
Our two focus books for this week have been: 'Jack and the Beanstalk' and 'The Magic Porridge Pot'. The children have really enjoyed listening to these stories and we have used them as inspiration for our learning. Today, we took a 'magic carpet ride' with our wands and pretended to fly over the tops of the houses in Wetherby. We took an imaginary trip to the seaside, talked about what we would see if we visited some penguins and listed all of the animals we could visit on a farm. The children are becoming incredibly good storytellers and they all enjoyed suggesting places we could fly to on our imaginary journey. Earlier in the week, we used the lightbox to create different colours by overlapping transparent shapes and we made paperclips dance using magnets. We've also done some magical maths where we compared the height and size of different objects. We hope that the magic beans we planted will grow into a beanstalk but, just in case, we have created some of our own!
Next week, we will start celebrating Advent and we will begin thinking about the Christmas story.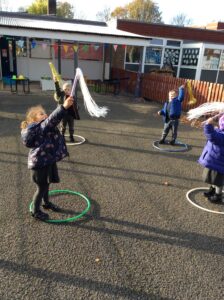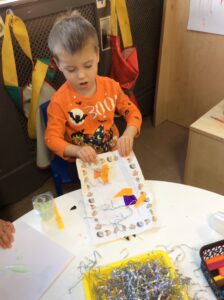 This week's bible story
Keep Going! Nehemiah 1: 1-7
Perseverance means keeping on trying and not giving up even when it is difficult.
If you've got some blocks, have a go at building a tower of twelve blocks. Was it easy? Now blindfold yourself and try again. Was it easier to do it when you were blindfolded or did it take more perseverance? Although the game was only a bit of fun, in life, it can sometimes be hard to keep going when things seem difficult or we feel discouraged. Our story today comes from the Old Testament part of the Bible. The Jewish people had not been listening to God, and they had been living in exile, away from their own homes. As the story starts, this situation is about to change. Read it carefully and see if you can work out why the people needed to have lots of perseverance and what helped them to keep going.
Reflection:
– In the story, what three things needed rebuilding?
– What kind of things discouraged the people from getting the building work done?
– What helped them to keep going?
None of us have to rebuild the walls around our towns and cities this week, but there might be some things that we are finding difficult or occasions when we feel like we want to give up.
Have a moment of silence as we think about the things that we are finding difficult or that we are worried about.
Prayer:
Dear God,
Thank you that you always listen when we pray to you.
Thank you that you are always there.
Please help us to keep going when we find things hard.
Please help us to encourage others.
Amen.
Fun, fun, fun!
The Reception and Nursery children have had a fantastic day celebrating Nursery Rhyme Week and Children in Need.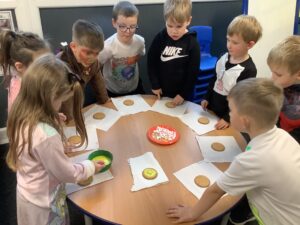 We love Nursery Rhymes!
We've been using lots of nursery rhymes to help us with our learning this week. We've been selling currant buns in our baker's shop, jumping in and out of pools like little frogs, printing beautiful twinkling stars and following a recipe to make our own currant bun playdough. The children have really enjoyed learning new rhymes and singing (and acting out) old favourites, too. Today, we experimented with some wibbly-wobbly jelly on a plate and talked about its properties. We also went on a hunt to discover which parts of our school are magnetic and which are not! The children had great fun placing their magnets against a variety of surfaces and materials and they came to the conclusion that wood and plastic are not magnetic but lots of metals are.
Dates for your diary:
Please may we have all star costumes for the Christmas production in Nursery by Friday, 26th November. All items should be clearly named.
Many thanks and have a lovely weekend.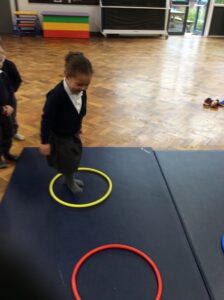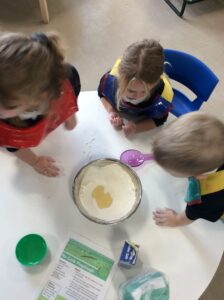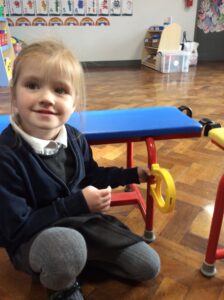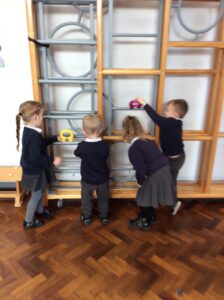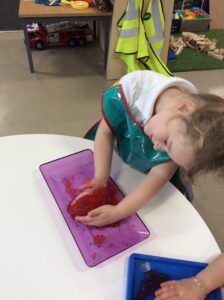 This week's bible story
Persevering in life: Hebrews 12:1-2
Click the link and read the story all about Patrician St John.
Reflection:
Think about what you want to do this year, what you want to achieve. I'm not talking about impossible things, but maybe learning a new skill, or doing better at something, reaching the next level. What if it isn't so easy, what if it doesn't seem to be working out straight away – will you give up? Are you willing to fail before you succeed? If you believe in God, what difference will that make?
Just a moment of silence while we think about these things.
Bible Bits:
Listen to what the Bible says about persevering:
"Be determined and confident! Don't be afraid or discouraged, for I, the Lord your God, am with you wherever you go." (Joshua 1:9)
"Let us run with determination the race that lies before us. Let us keep our eyes fixed on Jesus….He did not give up…" (Hebrews 12:1-2)
Prayer:
Thank you, Father, that you have given me the ability to succeed, not in everything, but in many things. Help me to play my part by working hard and not giving up. And thank you that you will give me extra help if I ask for it and trust in you. May what I learn not just help me but others too.
Amen
Another great week of learning!
This week in Nursery, we have been continuing to learn about Autumn. Our artist in focus for this term is Andy Goldsworthy and the children have created some transient 'land art' based upon his ideas. After collecting lots of leaves, the children worked together to sort them into different sizes, shapes and colours to create wonderful works of art. We have also looked at the habitats of hedgehogs and tried to create a place for 'Ned', our class (cuddly toy) hedgehog, to live.  The children have also been 'fishing' for conkers and leaves, planting bulbs, learning to handle clay and looking at the textures of natural objects like bark. For the past couple of weeks, we have been sorting groups of objects by colour, size or type and we have learned to use 'fewer than' and 'more than' when comparing groups of different amounts.
Dates for your diary:
19.11.21 – 'Dress up as a character from a nursery rhyme'
24.11.21 – Nursery Class Parents' Evening (details to follow)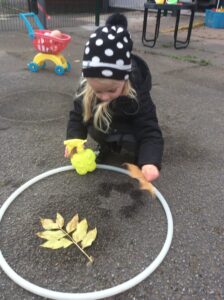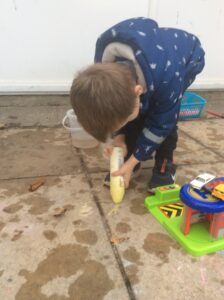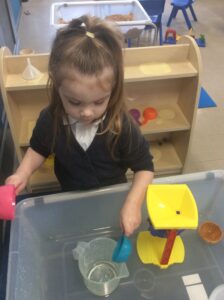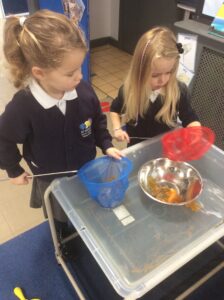 This week's bible story
How much can we remember?
Let's start by asking ourselves some questions about today.
– What did you do as soon as you got out of bed?
– What did you eat for breakfast?
– How did you feel when you got to school this morning?
Next, let's think about last weekend.
– What did you do on Saturday afternoon?
– What did you eat on Sunday?
How about last week?
Have you noticed how it becomes more difficult to remember events the further back in time they are?
These events may have happened quite a long time ago, but they are remembered because they were fun. Happy times tend to stay in our memories for a long time.
Sad times can stay in our memories for a long time, too.
Click the link to read all about Remembrance day and why we remember.
Reflection:
Have a look at the pictures of the poppy. Think about why wearing a poppy is important to people. Wearing a red poppy means, 'We are remembering together.'
Prayer:
Dear God,
Thank you for the many happy memories that we have.
We are sorry that some people have sad memories at this time of year
As they remember those who have died for our country.
May we wear our red poppies with love and compassion,
And may we remember and be thankful.
Amen.
Welcome back!
This week, we have been very busy looking a little more closely at Autumn. One of our focus books for the past week has been 'Leaf Man' by Lois Ehlert and this has been the inspiration for lots of learning in our classroom. On Tuesday, we took a trip around the school field to collect lots of leaves which the children sorted and then made into leaf crowns. We have also used conkers to create wonderful mark-making and some of the children have made their own 'leaf people'. We have also been reading 'It was a Cold, Dark Night' by Tim Hopgood and this has given us the opportunity to talk about nocturnal creatures and their homes. Next week, we will be looking at the work of environmental artist Andy Goldsworthy and the children will be creating their own collaborative autumnal pieces of art.
Have a safe Bonfire Night, a lovely weekend and we'll see everyone next week.