Have a great summer!
I can't believe we have come to the end of Year 4! You have all made me so proud this year and we ended on such a high with our amazing Joseph performance!
I hope you all enjoy the holidays and I look forward to seeing you again as Year 5 in September.
Miss Gledhill
End of Year 3
We've come to the end of Year 3 and it's been a very busy one! The children have matured and it is great to see them working as a team. They are energetic and have an eagerness for learning – which is brilliant!
I think the most noticeable change is the care and empathy the children show to one another. Through great resilience and hard work,  there has been some remarkable achievements. I am really looking forward to teaching the class again in Year 4.
Below there are some photos from our year.
Have a great summer!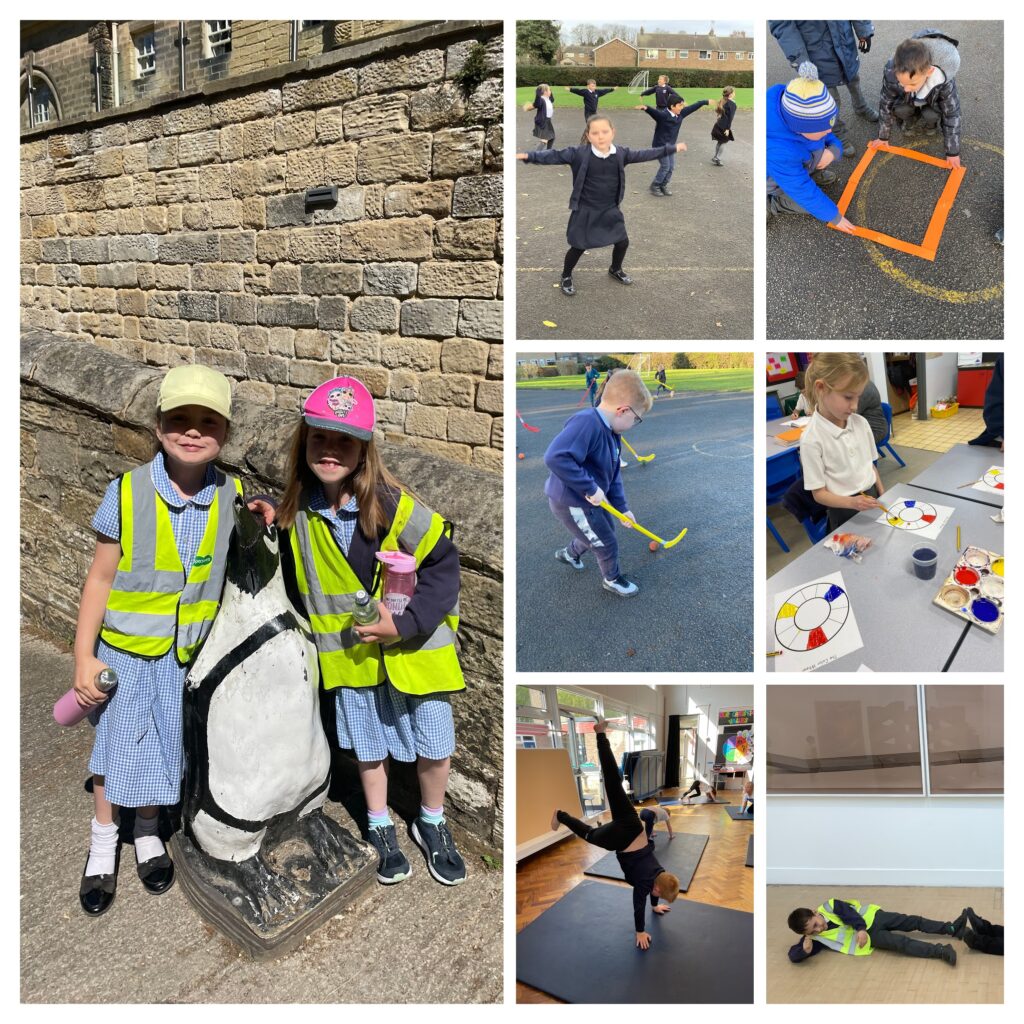 Joseph and the Amazing Technicolour Dreamcoat
Tonight, Key Stage 2 performed Joseph and the Amazing Technicolour Dreamcoat- it really was amazing! The children sang their hearts out and made everybody really proud. Thank you to all the staff who put together a fantastic show and a special shout out to Mrs Valentine's Mum who spent many hours creating the iconic dreamcoat.
Well done to all the children- it was a huge success!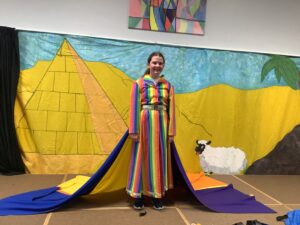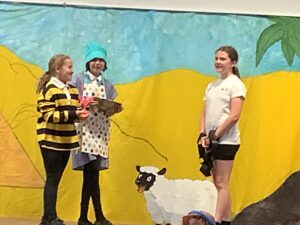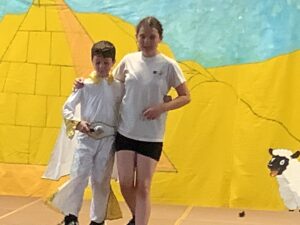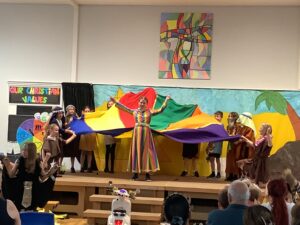 This week's bible story
Jesus is friends with Zacchaeus: Luke 19: 1-10
Have you ever heard the story of Burglar Bill – Bill goes out every night. Getting into houses through open windows and taking things. Until one night, Bill found a baby, and that changed his whole life …
There is a Bible story about a man who stole from other people. He took extra money when he gave them their tax bills and became very rich on all the money that he stole. Zacchaeus was a little man and that small people can't see in crowds. Read the story of Zacchaeus to find out what happened to him.
Reflection:
Jesus loved everyone when he lived on the earth. It didn't matter how bad people were, Jesus was always there for those who needed him. This is true for us too – no one is so bad that God doesn't love them. And the more time we spend with God – praying, thinking about him, finding out about him, the more we want to be like Jesus; kind, helpful and good. Just like Zacchaeus, Burglar Bill changed his ways and tried to be more like Jesus by loving those around him. Even though Burglar Bill and Zacchaeus made the wrong choice, God forgave them and continued loving them.
Prayer:
Dear God,
Thank you that Jesus loved Zacchaeus even when he wasn't making the right choices. Help us to love all of those around us and be honest about our actions.
Amen
D-side workshop
We really enjoyed being visited by Dave from D-side this week.
He taught us all about the harmful effects smoking and alcohol can have on our bodies.
We learnt about how attitudes have changed towards smoking over the years. The media has moved away from trying to persuade people to buy cigarettes, to now warning them about the dangers of this choice. We found out that smoking damages the lungs and  breathing, making it difficult for people to play their favourite sports. We were amazed to find out that 4000 chemicals go into one small cigarette!
We then thought about how alcohol can affect the brain,  causing parts of our body to lose their regular function. As messages to the brain become slower, this makes people much more at risk.
The children then  thought about what we can do and say in situations where our peers put pressure on us to try substances we know are bad for our bodies. They came up with some fantastic and very sensible suggestions, w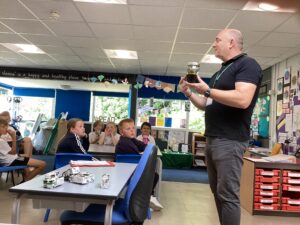 ell done Years 3 and 4!
This week's bible story
Joseph's brothers lie about his death. Genesis 37:17-33
In the bible, there is a story about Joseph and his technicoloured dream coat. Joseph had 12 older brothers who didn't like him very much. His father, however, loved him very much and would often say how we was his favourite. Joseph had lots of dreams and he liked to tell his brothers all about his dreams.
Joseph's brothers were fed up with listening to his dreams. Why was he always the star in them? Why did he always think that he was so much more important than they were? Jacob, Joseph's dad, heard their grumbles and decided to keep Joseph at home on the farm with him, while Joseph's brothers were sent off into the fields to look after the sheep.
Then, Jacob did something that made Joseph's brothers even more cross! He gave Joseph a special coat made of brightly coloured cloth. Joseph's brothers were jealous and angry. They didn't think it was fair that Joseph should be treated differently from them; they were upset that Joseph was their dad's favourite.
Do you think Joseph's brothers were right to be jealous?'
Joseph's brothers were so cross that they began to plan to get rid of Joseph.
One day, when Jacob sent Joseph to take food to his brothers in the fields, the brothers grabbed Joseph and threw him down an old well! While they were considering what to do next, they heard the sound of people travelling along the dusty road. As they looked in the direction of the noise, they saw some travellers who were on their way to Egypt, with their camels loaded with spices that they hoped to sell there. What luck! This was a perfect way of getting rid of Joseph forever
. The brothers quickly pulled Joseph out of the well and handed him over to the travellers. Then, they watched as Joseph disappeared along the dusty road. Poor Joseph! His life had become a nightmare; perhaps he would wake up soon, and discover that it had all been a bad dream.
The brothers had got rid of Joseph, but what could they tell their dad? To try to cover up what they had done, they put some animal blood on Joseph's special coat and took the coat home to show their dad.
'Look what we found!' they said to Jacob.
Jacob saw the coat and thought Joseph must have been killed by a wild animal. He cried and cried. The brothers tried to comfort him, but it was no use.
Reflection:
Do you think the brothers felt sorry and sad when they saw how much they had hurt their dad?
Do you think they were wrong to do what they did?
Should they have tried harder to like their brother, Joseph?
Should they have been honest with their dad about how they were feeling?
There are times when we don't find it easy to like everyone. However, we feel, though, it is wrong to deliberately hurt people. It is always better to talk about things and try to sort out any problems between people.
Prayer:
Dear God,
Please help us to care for other people.
Please help us when we feel cross or jealous.
Please help us to talk about our problems with someone we trust.
Amen.
Living and Learning: PANTS ARE PRIVATE
Today, we discussed the very important NSPCC Underwear rule  and the biological differences between boys and girls.
The key messages for children are: P – Privates are privates. A – Always remember your body belongs to you. N – No means no. T – Talk about secrets that upset you.
I was so impressed with the children's mature attitudes during this lesson.
Ask your child about this learning at home.
Speak up, someone can help
We discussed the importance of talking about issues that can make us worried or upset.
If you ever feel sad, anxious or frightened you should talk to an adult you trust. This doesn't have to be a family member. It can also be a teacher or a friend's parent – or even Childline.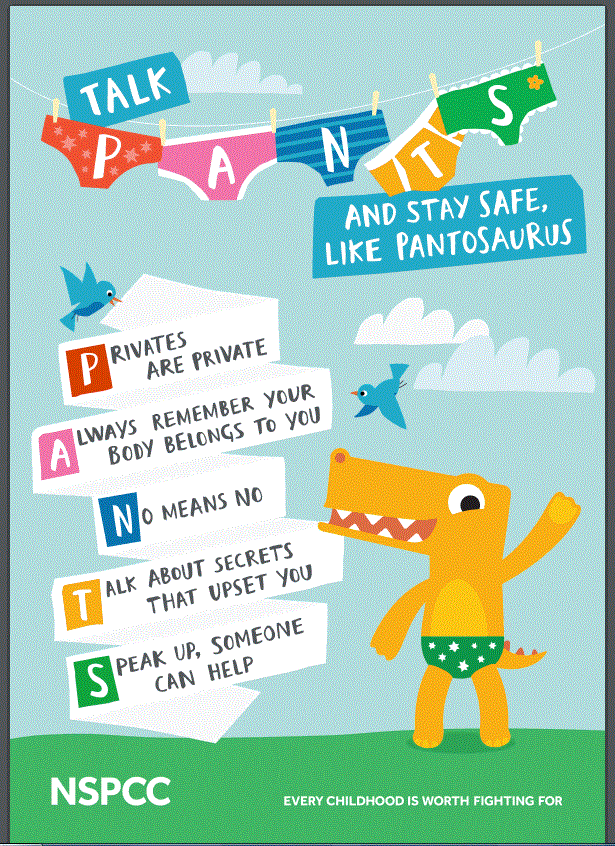 Super Sports Day!
As the sun shined, we all thoroughly enjoyed our Key Stage 2 sports day of summer 2022.
The children were fantastic and participated in sprint, sack, egg and spoon and obstacle races just to name a few!
To finish off, we enjoyed watching some very brave younger sibling and parents as they competed in running races.
A huge thank you to the parents who could come to support and cheer the children on!
This week's bible story
Read the story of the two brothers.
Have a think about these questions as you read:
Why did the brothers decide to have a bet?
– Why was the farm labourer unhappy and how had the lady become wealthy?
– What did the priest think about the world?
– Who won the bet?
– When the poor brother was sheltering in the forest, what did he overhear?
– How did the poor brother help the farmer, the villagers and the queen?
– How was the poor brother rewarded?
– What happened when the dishonest brother met the elves?
What lesson do you think the writer of the story is trying to teach us?
Reflection:
Read the following poem and have a think about how this relates to our Christian value of honesty.
Sometimes, we think that it is easier to tell a little lie.
We find it hard to tell the truth, however, we may try.
We're just afraid to take the blame,
We feel remorse, we're full of shame.
We should not cheat when things go wrong,
Just face the facts, own up, be strong.
Prayer
Dear God,
Please help us to be honest and true
In all the things we say and do.
Amen.
Brilliant Bones!
To continue our learning about the human body, we have been looking about the skeletal system. We know the difference between vertebrates and invertebrates and the main functions of the skeleton.
Outside, we drew around each other and labelled some of the 206 bones we have in our body!