Christmas events
It's a busy time of year with so many things happening. Here is a reminder of the Christmas events taking place over the next two weeks:
Wednesday 7th December, 2pm: Christingle Service at St James' Church
Thursday 8th December, 2.15pm: Early Years and KS1 Christmas play
Friday 9th December, 9.30am: Early Years and KS1 Christmas play
Tuesday 13th December: Christmas dinner
Wednesday 14th December: Early Years and KS1 parties (non-uniform)
Thursday 15th December: Ks2 parties (non-uniform)
During our productions, we will be raising money for our new school charity voted for by the Junior Leadership Team. This year we will be supporting Cancer Research UK. 
Author: Bethan Woollvin
Yesterday, in KS1, we were lucky enough to have a special meeting with popular author, Bethan Woollvin! Not only does she write stories for children, she illustrates them, too. She delivered a virtual workshop all about her book 'Little Red'. Ask your child what happens in the story! We read the book together and were shown how to draw our own Little Red character. We had a fantastic morning and many of us feel inspired to become authors and illustrators.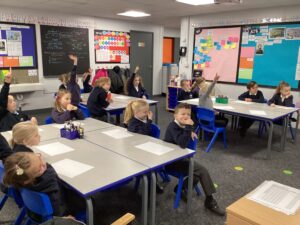 Living and Learning
Over the next three weeks in Living and Learning, we are exploring mental health. We began this series of learning by discussing and identifying emotions.
The children had to look closely at the facial expressions of different characters and decide which emotion they might be feeling.
Topic
In our Topic learning today, we continued to compare optical art by our feature artist, Bridget Riley. We commented on how there are lots of patterns in her work – the arrangement of colours or shapes in a logical order. We made our own patterns in the classroom.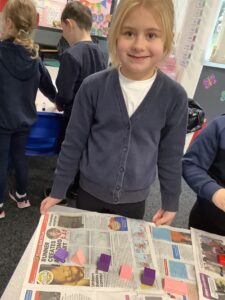 Then, we compared Bridget Riley's art work using a Carroll diagram. We looked at lots of different features – shapes, colour, patterns, and if the picture appeared to be moving.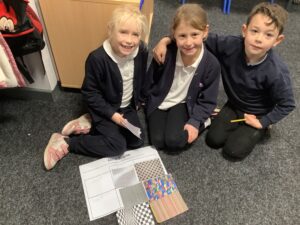 Christmas is coming!
Our Christmas performance is fast approaching and we are so excited to perform for everyone! This is a reminder that children, if they have them, need to bring their scripts into school each day. Also, any costumes in named bags need to be in school by Thursday 24th November 2022 and letters for tickets to be returned as soon as possible. These were sent out last week in children's bags.
Thank you! From the Early Years and Key Stage 1 team.
We are artists!
In Topic this half term, we are artists!
We are learning and experimenting with structure, inspired by one of our feature artists Bridget Riley. She specialised in optical art. We are creating our own optical art pieces!
The first step was to draw straight lines with a ruler. Some children had drawn many lines, some had not so many, some had thick lines, some had thin… there was certainly lots of experimenting happening! Then, we used the colour black to paint every other line. We talked about this being a pattern, one of our key words.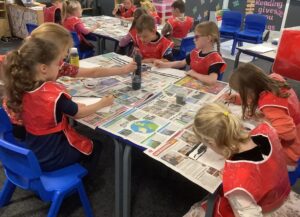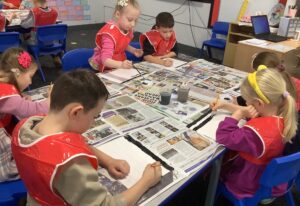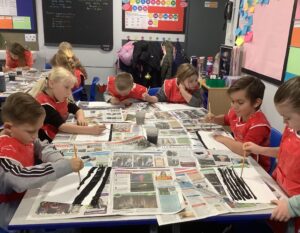 Author visit – Alex Willmore
This afternoon, we watched and listened to the author and illustrator Alex Willmore reading his story I did see a mammoth, live on zoom.
Afterwards, we helped Alex draw a mammoth coming up with lots of different ideas. We suggested he could draw the mammoth wearing a Christmas jumper and elf shoes.
Challenge: Have a go at drawing a mammoth at home. Think about what they might be wearing, where they are, is there anyone/anything else around them? Bring your drawings in to share with your friends.
Topic
In our Topic lesson today, Year 1 and Year 2 came together! We compared works of art by one of our feature artists Bridget Riley, who specialised in 'optical art'. She made flat images look like they are moving, creating a visual illusion.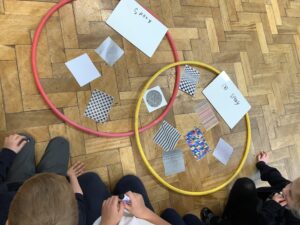 At home, why not create your own optical illusion? We talked about how this could be done in irregular patterns. We'd love to see these in class if you do!
Anti-bullying week: Odd Socks Day!
Today for our anti-bullying day, we joined the nation by focussing on the message of "reaching out".  We talked about how this had several meanings: reaching out to a trusted adult for support/advice, reaching out to the victim to see if they are okay, or reaching out to make a change.
We looked at our school's definition of bullying :
"Bullying is when you hurt someone physically or emotionally (including online), Several Times On Purpose"
Whilst we hope this would never be the case in our school, we also discussed  what you can do if you were to experience bullying at St James':
"Start Telling Other People. You could use the Living and Learning box, the worry box, email stayingsafe@spherefederation.org or even call Childline (0800 1111)."
We celebrated the message that everyone is different and equal by wearing odd socks to school and creating our own socks.
Art Topic
This half term, our topic is Art. We will be focusing on the work of George Seurat and Bridget Riley.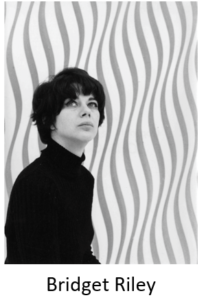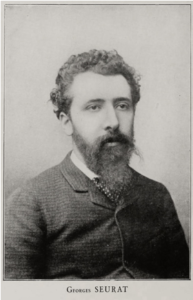 Seurat used a technique called pointillism.
Zoom in and look at his Sunday Afternoon painting. Can you see all the small dots used to create the painting?
Bridget created op art pieces.
We have started by talking about the topic vocabulary, which you can see below.