Reading groups are underway!
Year 5/6 are well and truly in the swing of our new reading groups!
Each group had the choice to choose a book to read over the half-term. In their reading groups, pupils had to work together by choosing a few books and discussing them in detail. Reading blurbs, discussing authors and choosing which road to go down (fiction vs non-fiction) really helped the pupils come to their final decisions.
Here are our four group books for this half-term:
Wishful Thinking by Ali Sparkes
Room 13 by Robert Swindell
Podkin One-Ear by Kieran Larwood
Here Be Monsters! by Alan Snow
Every Friday, during our Book Club session, pupils are expected to have read to their target page through the course of the week. These target pages are agreed within each reading group, facilitated by the teacher. Pupils are also expected to bring in their reading records, that need to be signed by an adult, each week. There may also be a reading task for your child to do – this will be written in their reading record each week.
Here are lots of happy faces with their new reading books!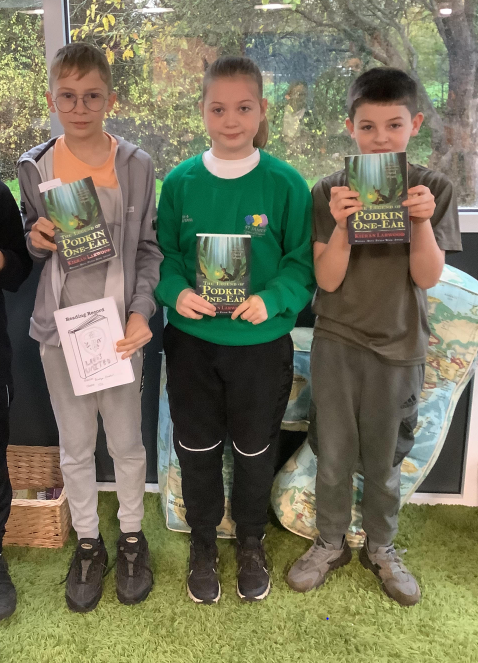 What's that Sound? Science in Year 3
Year 3 have been physicists this half term. We have been exploring sound and this week we thought about vibration and how sound is produced.
We made music with our bodies and felt our voice boxes vibrate as we hummed and spoke.
In groups we experimented with vibration on drums.  We could see the rice moving on top of the drum as we banged loudly, quietly, hard and softly.
History Topic – The Great Fire of London
This week, we have been learning about Samuel Pepys. We thought about why he was so important to the people of London during the fire. The children were all very enthusiastic and could explain their thoughts.
"He went to the king and asked him for help. The king ordered the houses to be pulled down. This helped save some of London."
We also talked about why Samuel Pepys is important to people wanting to learn about The Great Fire of London.
"His diary helps us to know what happened!"
"His diary gave us lots of information about The Great Fire of London."
"Told us what people had to do to get away from the fire."
After, Year 1 and 2 worked together to read some different scenarios and they had to decide what they would do in each situation.
"I would get all my gold and dig a hole and bury it, then I would leave."
"I would wake up my family up really quickly and go out of our house, hide our things and go to a new, safe place."
"I would see if anyone needed my help to try and stop the fire."
Challenge: Why not read a scenario to your child and see if they can tell you what they would do and why.
PE
We've been working on our ball skills in our PE sessions. We have been throwing and catching and bouncing and catching. The children have all wowed us with their ball skills.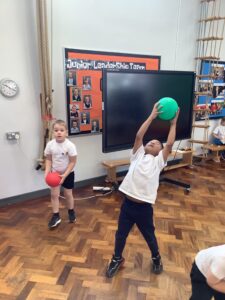 23 September 2022
This week's Talk Time brings together the learning that has happened in our Reading sessions last week. The Acceptable Use Agreements have been used in all classes as the stimulus for the reading lessons, as well as a copy being sent home to be agreed and signed.
Check out the KS1 and KS2 agreements.
After reading and discussing these agreements, do you feel these rules could apply outside of school too (e.g. at home or using the internet on your mobile phone)?
 Do you think it's a good idea to have agreed rules in place when using the internet?
Welcome to Reception
A big hello from everyone in Reception!
This week we have been busy creating an exciting learning environment for everyone to enjoy. We have welcomed our first group of children for transition sessions and are excited to see our second group on Monday.
We hope you enjoy looking at some of our provision that will be ready for you to explore next week.
See you all on Monday!
The Reception Team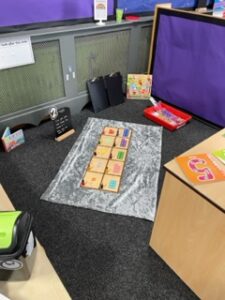 Joseph and the Amazing Technicolour Dreamcoat
Tonight, Key Stage 2 performed Joseph and the Amazing Technicolour Dreamcoat- it really was amazing! The children sang their hearts out and made everybody really proud. Thank you to all the staff who put together a fantastic show and a special shout out to Mrs Valentine's Mum who spent many hours creating the iconic dreamcoat.
Well done to all the children- it was a huge success!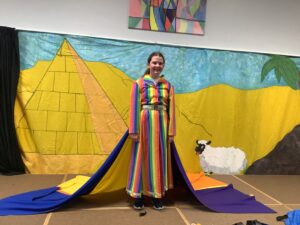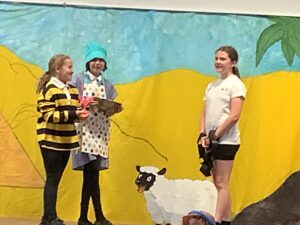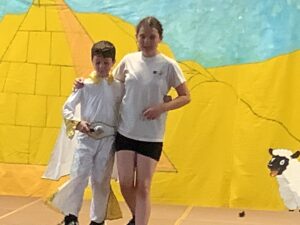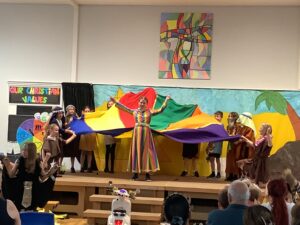 Our school community working together to commemorate the Queen's Jubilee.
As part of a Wetherby community group, our school has entered a Jubilee craft cake  for the Royal Church and Community Fete and Queen's Jubilee Cake Festival at St James' Church, Wetherby.
The whole school contributed to this creation and they all thoroughly enjoyed making it.
Reception – Beefeaters
Year 1/2 – stamp rubbings and crowns
Year 3 – clay corgi dogs
Year 4 – clay postage stamps
Year 5/6 – Hama Beads flags
We are all very proud to have been part of this and if you would like to attend the festival, it takes place on Friday 3rd June, 10am till 2pm at St. James Church in Wetherby.
13 May 2022
Y1: have   live   give   love   was
Y2: race    ice   cell    city   fancy   knock   know   knee   gnat  gnaw
Amazing animals!
In Literacy, we've been reading Walking through the Jungle. We had lots of fun using actions to help us remember the story. Click here to watch us!
The book led us onto learning about rainforests and where they are in the world.  We learnt about different types of animals and why tropical rainforests are so warm.
Ask your child if they can remember a fact about rainforests. 
In Maths, we continued to develop our understanding of composition of numbers to 10 through games and practical experiences, such as investigating different ways to represent 10 sausages from the counting rhyme, '10 Fat Sausages'.  Composing and de-composing numbers involves the children investigating part–part–whole relations, e.g. seeing that 7 can be made of 5 and 2 more. We used our fingers, Numicon and counters to help us explore this.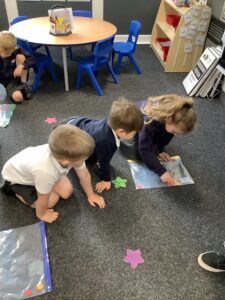 We finally got to make fruit kebabs!
They were so excited when they saw the fruit on Monday morning.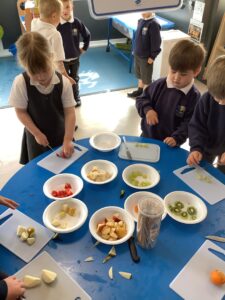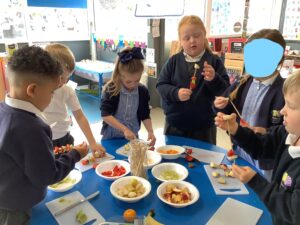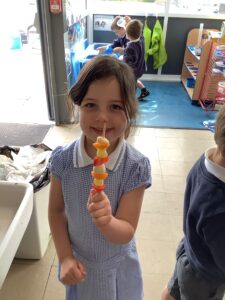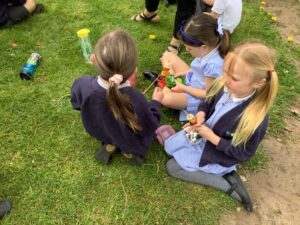 They loved their fruit kebabs that much, they asked for more!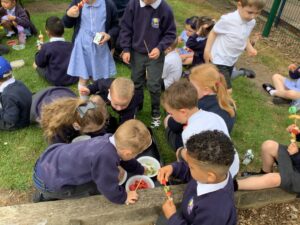 On Tuesday, Mrs Rippon and AM picked two radishes from our vegetable patch. They washed them so we could try some at snack time. Let's just say it wasn't very popular!

Home-Link Challenge