26 March 2021
This week, the whole school has the same Talk Time homework. In preparation for the upcoming Junior Leadership Team (formerly the School Council) elections, children should complete one of the following tasks:
I can prepare a speech (Junior Leadership Team elections).
I know the importance of voting.
It's time for children to consider if they would like to stand for election for our new Junior Leadership Team (JLT).  With two representatives from each class, chosen democratically by their peers, all children are encouraged to take an active part in pupil voice.
Elections for our new school council will take place on Thursday 01 April with our polling station and ballot boxes at the ready.  Candidates will have the opportunity to give their election speech to their class on Wednesday 31 March ahead of a democratic vote on Thursday 01 April.
What makes a good school councillor has been considered by our current school council.
'use all the 8 Rs for learning'
'be respectful'
'help others'
'be a good speaker and listener (to members of your class and in the meetings)'
'tell the truth'
'be confident with your ideas'
'accept the views of others even if you don't agree'
'be friendly and approachable'
'make good choices in class and around school'
Hints for your speech include:
What skills and abilities would a good school councillor have?
What are you particularly good at that would help you to be a great school councillor?
What do you think would make the school better?
What could you do that people would really like?
Think of things that are realistic, maybe that you could do yourself, rather than having to ask other people to do
Thank you to our current school councillors for all their ideas and contributions.  We hope you have enjoyed this role and responsibility.  You're welcome to stand again for election.
Good luck to all children who decide to stand in the elections.
If you choose not to stand in the election, you should instead consider the importance of voting.
Week beginning 08 March 2020
Hey everyone
We hope you're ok and are staying happy, healthy and safe.
Don't forget to email your class teacher if you need anything.
Here's your home learning for this week…
Maths
Follow this sequence of maths learning which is linked to number and place value.
You don't have to print the worksheet. Your child can write or draw their answers on paper. Your child's learning will be most effective if you sit with them to pause the clip and check / praise / support your child as the clip moves on.
Practise times tables on Times Table Rockstars, too. If your child is in Y3, we're concentrating on the 3 times table. If your child is in Y4, we're concentrating on the 8 times table. Email the class teacher if you need your child's login and password details.
(Suggested time: 30 minutes of Maths and 15 minutes of Rockstars daily)
Spelling
Look on the homework page to find this week's spellings. They should choose some past spellings that they feel less confident with. Your child should complete one task each day.
Day 1: Generate more words linked to the spelling pattern or 'rule'. You could look out for the words in the book you're reading at home, or any other text, like a website linked to our science topic of Living Things and their Habitat.
Day 2: Practise the spellings using two of the ideas in our Super Spelling Strategies guide. (Set yourself and others at home a challenge of using some of the words when you're speaking, too!)
Day 3: Write separate sentences, each containing one of the spellings. (Don't forget to show off really neat handwriting – our handwriting guide will help – and make sure you sentence starts with a capital letter and ends with a full stop, exclamation mark (!) or question mark (?).
Day 4: Repeat Task 2 or 3.
Day 5: Get an adult at home to test you on your spellings. Practise any you spell incorrectly – you could write them out carefully until you're sure.
(Suggested time: 15-20 minutes daily)
Reading fluency
This is the text we're using in class this week to build up fluency skills.
In school, we generally follow this sequence:
Day 1: Read the text aloud with your child listening. Read it clearly and slowly, pointing to each word as you read. Have a chat about any unfamiliar words.
Day 2: Read aloud each sentence (a full short sentence or part of a longer sentence), and have your child read it back to you. Do this 'echo reading' for the whole text.
Day 3: Read the text and talk about the effect of the punctuation on how you read it – pauses for full stops and expression for exclamations (!) or questions (?). Your child reads the text aloud.
Day 4: Read together with expression (just like you practised on Day 3).
Day 5: Your child reads independently and fluently.
(Suggested time: 15 minutes daily)
Reading comprehension
We'll be using this 'RIC' text and this 'RIC' text in class to practise comprehension skills. RIC stands for:
Retrieve: finding information in a text
Interpret: using clues in the text to unlock information
Choice: thinking about the author's choice of words, techniques or organisation that make the text interesting and enjoyable to read
Follow these lessons from Oak National Academy. There's a whole series of lessons, but start at Lesson 1 and work through, doing one (or maybe even two) each day. (If you're self-isolating in your second week, stick with the series of lessons you've already started and aim to complete the full series.)
(Suggested time: 30 minutes daily)
Writing
Follow these lessons from Oak National Academy. There's a whole series of lessons, but start at Lesson 1 and work through, doing one (or maybe even two) each day. (If you're self-isolating in your second week, stick with the series of lessons you've already started and aim to complete the full series.)
(Suggested time: 30-40 minutes for each)
Topic
Our topic this half-term is about history.
Follow these lessons on pre-historic Britain from Oak National Academy. There are ten lessons in total, but start at the first lesson and work through, doing two or three in the week.
(Suggested time: 30-40 minutes)
Science   
Our focus this half-term is about plants.
These six lessons from Oak National Academy link closely to what we've been doing in class. Start at Lesson 1 and work through, doing two or three in the week. If you've previously completed on of these lessons, have a go at the ones you haven't completed yet.
If Science really motivates your child, you could also use look at these lessons all about practical Science.
(Suggested time: 30-45 minutes)
PE
Don't forget to do some daily exercise!
Do two or three of these Five Minute Moves from Joe Wicks each day – spread them across the day as if they were playtimes, maybe!
Try working through this series of 25 lessons from the Association for Physical Education – do two or three in the week.
(Suggested time: 5 minutes daily, plus 30 minutes for the longer PE lessons)
Extra stuff…
As an extra (or as an alternative, if this helps to motivate your child)…
Geography isn't a topic-driver this half-term, but you could brush up on your locational knowledge – something that was missed when schools closed earlier this year. You could explore some online maps and try to memorise some new countries, capitals, rivers and mountain ranges. These three lessons about Europe are worth checking out.
What about some Living and Learning? While you're away from school, you could check out these lessons on money!
We're closed to all pupils today
We're closed today because of the very icy conditions and the forecast that this will continue throughout the day.
Key staff for each bubble in school would struggle to get into school safely.
Please check out our Home learning page.
Today's message – an update (Thursday 13 January 2021)
In our earlier message, we said:
We try to alert you the day before if we become aware of weather conditions that may affect school openings, although we don't make any decisions until the morning. Even then, though, it's a tough call.

When we make the decision, we base it on two main factors: the current weather and the forecast.
Based on these two factors, there's a very high likelihood that school will be closed tomorrow. This is based on the current amount of snow and the forecast for continuing sub-zero temperatures over night and throughout the day tomorrow. Travel conditions will be dangerous for you and for our staff.
Many schools in the area have already made the decision to close. Please begin to make arrangements now so that you're prepared – as I say, it's very likely.
The situation in school is made more challenging at the moment because we need to have different staff to support children in their different bubbles. To try to prevent the spread of coronavirus, we can't mix children and we can't move staff. Children in school can't join with others and be supervised by a limited number of staff who have managed to get to school; adults can't move to support children in another bubble. (A simple example is that if three children from one bubble are in school, we'd have a minimum of two staff to support and supervise. However, if the three children are from three different bubbles, we'd need at least double the adults.)
Don't forget you can access home learning here on the website: go to the Learn more section and select Home learning from the drop down menu, or click on this link. (It would be best in most cases to do lessons from Thursday or Friday.)
Thank you for your understanding and support.
Pantomime time
What a busy day we have had!
"Oh, no, you haven't!"
"Oh, yes, we have!"
This morning, in between other school work, we have been decorating our clay jar decorations, and in the afternoon we watched the pantomime about Rapunzel.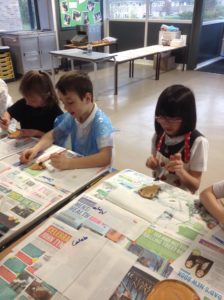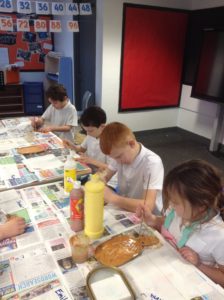 Class 3/4 want to say a BIG thank you to the PTA for enabling us to watch the panto this afternoon. Here are some of the things that we said about the show:
Daisy: Thank you so much for letting us watch the pantomime. My favourite character was the dragon and Rapunzel.
Olivia: I enjoyed it because it was super funny.
Jack: It was extremely exciting. I loved the dragon!
Ellie: I enjoyed the bit of the video when the dragon said, "My name is Geoff."
Mia: I think it is funny when the woman drank the baby potion.
Eliza: The best bit was when the prince and Rapunzel got married.
Louie: I enjoyed it when they all sang.
Leah: Thank you for buying this amazing play – it was brilliant!
Edward: Thanks for the play and thanks for everything. It was super funny.
11 December 2020
This week, the whole school has the same Creative homework, which should be returned by Thursday 17 December.
The children are invited to respond to something from either a cultural or a spiritual perspective.
I can present a review of a book / TV show / film or something else cultural.
We'd like children to present their responses about a recent book they've read, film they've watched, piece of art they've looked at, piece of music they've listened to – anything cultural in fact.
We're interested to read some sort of description (a summary, for example) and then your child's opinions. This review might include pictures, an interview (your child could write a fictional script between himself/herself and the artist, for example), a letter (eg to or from a character, or perhaps even the author) – anything which might include your child's responses!
However, your child might prefer to do the following:
I know what a faith celebration means to me.
Over the course of this term, some children in school may have celebrated a religious festival of some sort.  This might have been
the Muslim festival of Eid ul Adha
the Sikh and Hindu festival Diwali
the Jewish festival of Hanukkah, coming up in December
the Christian festival (of course, celebrated by many non-Christians) of Christmas
and the Chinese New Year festival, coming up
There are lots of other festivals and celebrations, which you and your child together might want to reflect on.
We invite children to respond to the sentence above – they might include a recount (like a diary entry), pictures, an interview (perhaps in a script).  Your child might also choose to research a completely unknown festival, or they might even think about creating a brand new festival, one that everyone will celebrate.
Of course, there are many other ways in which children could respond. Children should be ready to celebrate their learning as part of their homework review by Thursday 18 December 2020. 
Christian Value: Friendship
This half term, our Christian Value has been friendship.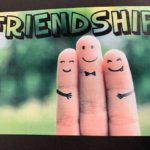 We have thought about how we can be a good friend and what we can learn from the Bible about friendship. We learned that Jesus teaches us to be a good friend to all – he told a story about how the good samaritan was a friend to someone who was supposed to be his enemy.
In our reflection areas, we had two challenges: a friendship flower and how to be a good friend.
For our friendship flower, we thought about who was a good friend or someone we were thankful for and wrote or drew a short thank you thought or prayer for them.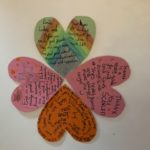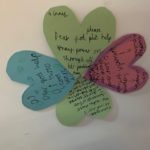 We took the friendship finger challenge and thought about all the things that make a good friend. We thought about how we could be a better friend.
Foundation stage have also been learning all about our Christian value of friendship. They've created a friendship tree and friendship stones whilst thinking about the qualities they would like in a friend.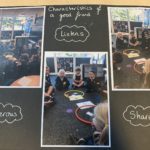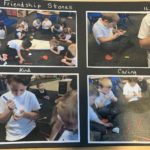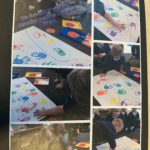 Look out for next half term's Christian value: perseverance.
Potion Commotion
As always, Foundation have had another fantastic week!
This week, we entered into a wonderful world of wizards and witches.
At the writing table, the children created their very own potions. Some of the children had a go at writing a list of ingredients.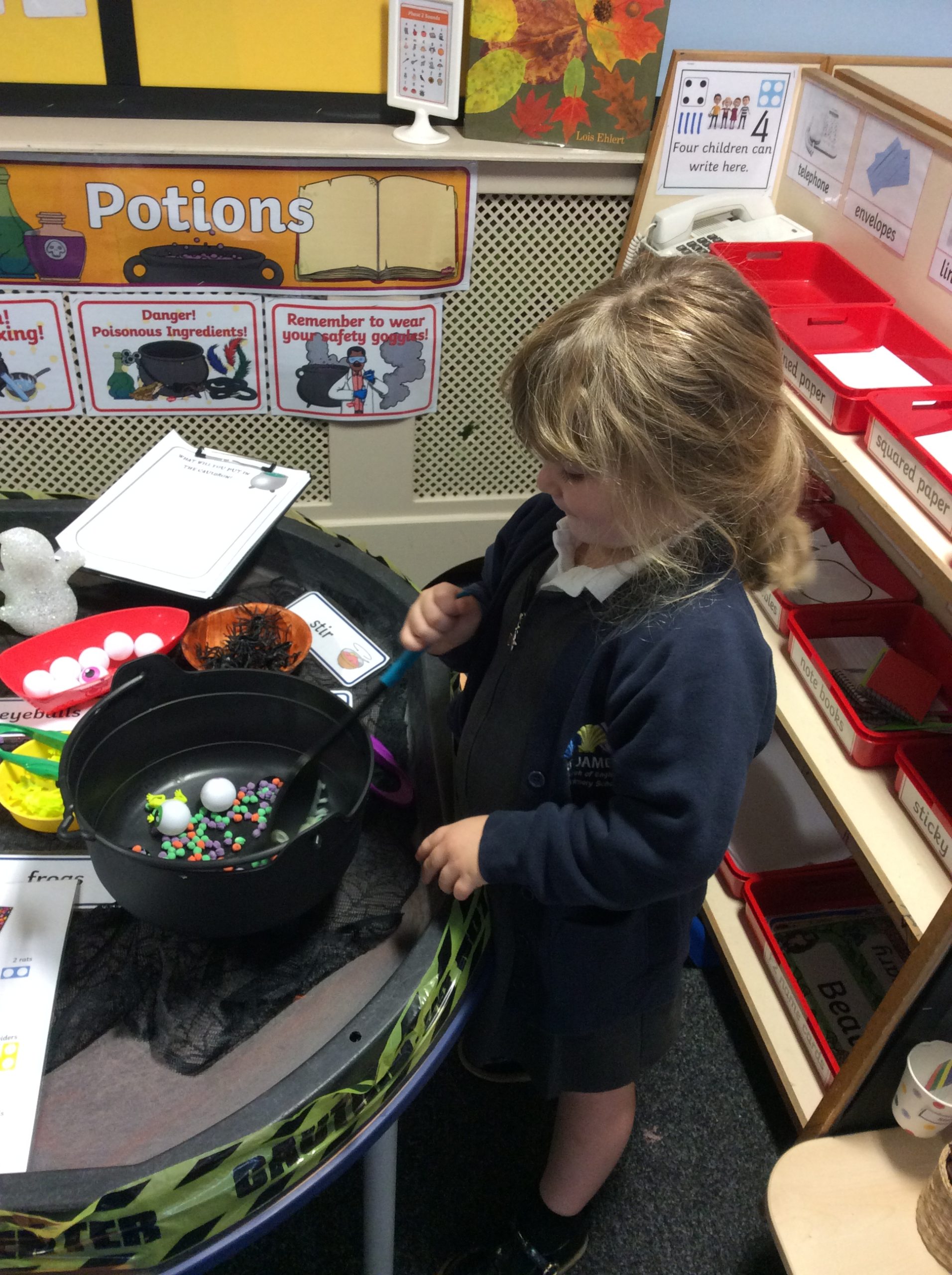 In Literacy, we've been reading Potion Commotion by Peter Bentley. When reading the story, the children were great at listening for the rhyming words – it is a book full of rhyming words! The book is about a little witch called Betty. She ends up making a big mess when putting just about everything into her cauldron to make a potion. Betty's potion grows and grows and spreads all over the town! 
Talk to your child about the story and see if they can remember what happened at the end.
Linking to the potion theme, we decided to be scientists and make our very own hubble and bubble potions.
We did four experiments using five ingredients: oil, water, bicarbonate soda, energy tablets and vinegar – the classroom spelt lovely!
The children observed what happened and recorded their findings.
Ronan – "It's bubbling."
Connor – "It's fizzing."
Daisy – "It looks like a tornado."
Beau – "It's not bubbling."
We talked about what a chemical reaction is and that bubbling is a sign of a chemical reaction.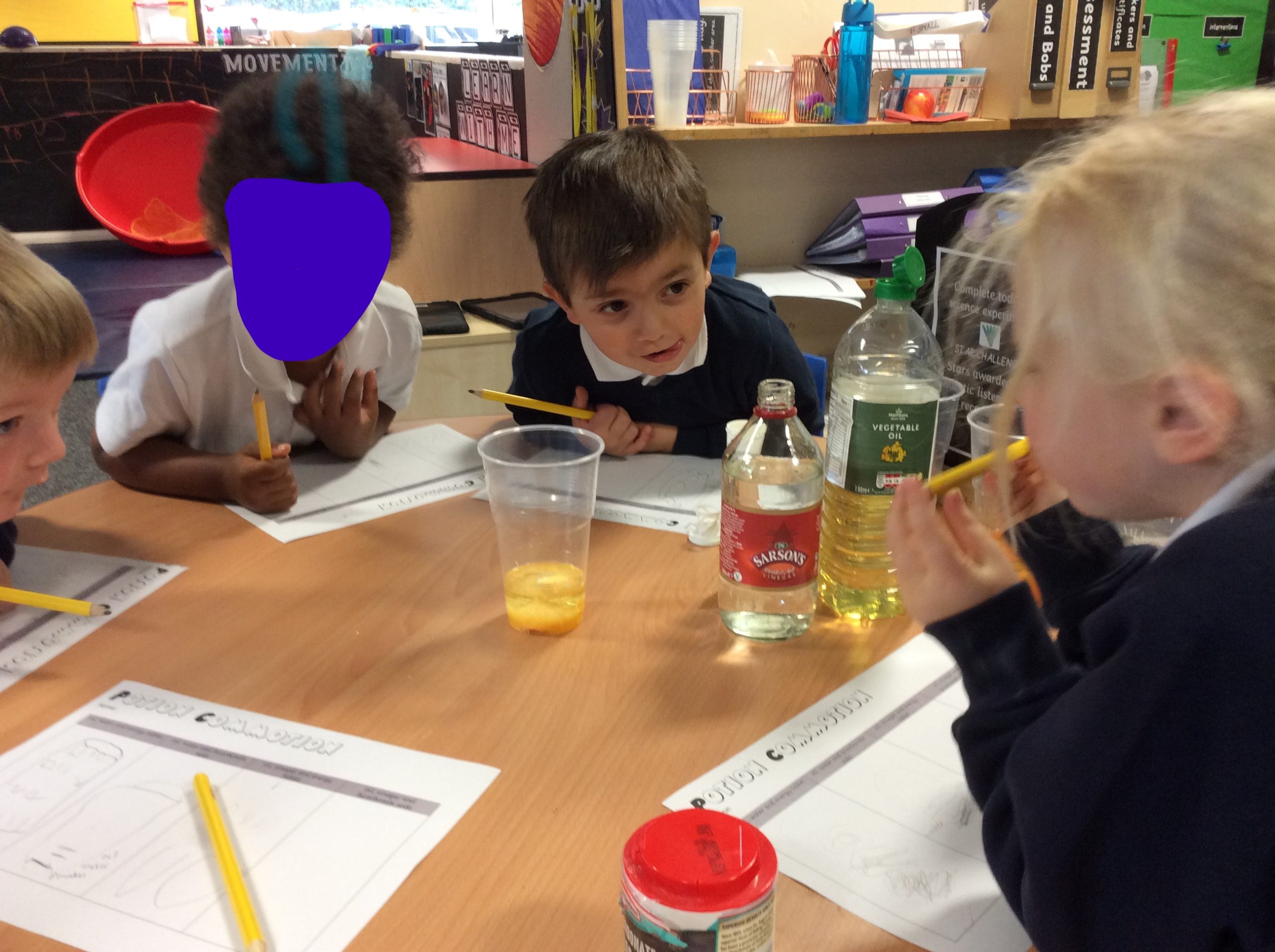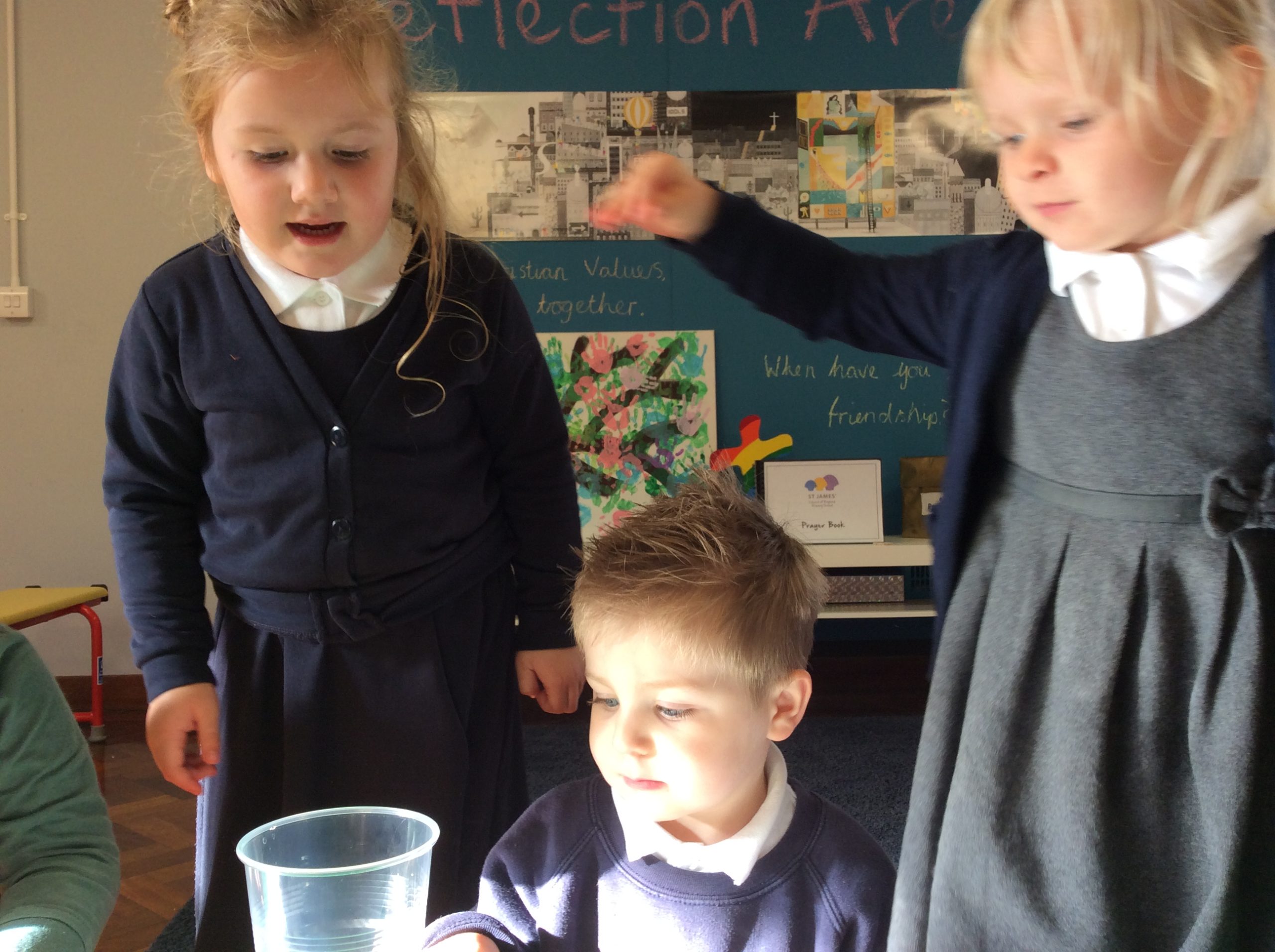 In phonics, we've learnt more  sounds: m, d and g.
Here's a link to the Jolly Phonics songs.
The children are doing really well in phonics and love doing the drum roll before I show them the new sound – it creates a lot of excitement! Some of the children are starting to segment and blend cvc words, for example, sat, mad and pin.
The children went on a sound hunt around the classroom. They were encouraged to say the sounds when they found them.
F2 – Please remember to practise the sounds in their sound book and their words in their word passports.

In maths, we've continued looking at number 2. On Thursday, I dropped all of the counting bears all over the floor – silly Miss Marsden! The children had to collect two bears and put them on their ten frame. The children moved the bears around on their ten frames and checked that it still showed two. After half term, we will finalise our number 2 learning and move onto number three.
F1
The F1 children have also continued with their phase one phonics activities. On Tuesday, they had to watch carefully to different body sounds and pass it around the circle.
On Wednesday, the children went on a musical instrument hunt around the outdoor area. When a child found an instrument, they talked about its sound and compared it to the other instruments.
What else have we been up to?
We made playdough spiders.

In the sensory area, the children enjoyed melting the frozen hands!

Next half-term, we will become story tellers and look at some traditional tales. The children will come up with actions to help them retell the stories. We've chosen traditional tales because they usually follow a typical structure and include lots of repeated phrases.  Here's a clue to help you guess one of the books we will be looking at…  It will help with our number three learning. 
Here are some pictures of the displays in our classroom…

Foundation Parents
A Parental Partnership presentation will be uploaded onto the class news page on Monday 2nd November.
I hope you all have a lovely half-term break!
Home-Link Challenge
01 July 2020: Home Learning
Happy Wednesday!
Today's learning…..
Year 5 and 6 maths
Use the Topmarks website to play 'Hit the button.' Put your times table knowledge to the test.
Your learning for today is about multiplying mixed numbers.
SPAG: colons
Watch this video and read about colons.
Then, complete this activity. 
Living and Learning: I can make healthy choices
On Monday, we looked at healthy eating. Yesterday, we did some exercise to make our bodies healthy.
Today, we're thinking about keeping our minds healthy.
Follow some of the links below and have a go at some activities.
Week commencing 29 June 2020: F1 Home Learning 'Pirates Love Underpants'
This week's story is one of the very popular books from a series of stories written by Claire Freedman; they're all about aliens, dinosaurs and pirates that love underpants!
We hope you enjoy listening to the story about a crew of cheeky pirates that are looking for some golden treasure.
Pirates Love Underpants
We hope that you enjoyed listening to the story.
What was your favourite part?
Did any parts of the story make you laugh?
Can you remember which animal was waiting underneath the bridge?
How did the pirates trick the rival pirate crew to steal the treasure?
Here are some activities for you to try that are linked to the story.
Creative
Have a go at making your own pirate hat, patch,  telescope or treasure chest.  Before you start, gather together some cardboard boxes or tubes from your recycling pile.  You could cut out the shape of a hat from an opened out cereal box or you could simply roll up some paper to make a telescope. A clean, empty egg box would make a great treasure chest. It can be as easy or as complicated as you want to make it!
We've added a few links if you need some help or a starting point.
 Music
This week, we thought we'd share another of the songs we enjoy listening to before home time at Nursery. It's called 'Port Side Pirates'. We hope you enjoy singing along at home.
Mark making
Every good pirate needs a map! Draw where the pirates have hidden the treasure on the island. Is it next to a tree or in a cave? How will you show where the treasure is? That's right, X marks the spot.   When we were little, we used to use a teabag to stain the paper to make our treasure maps look really old. Did you?
Role play
Grab your hats, telescopes and treasure maps and come aboard! We're sure that you can make a pirate ship on your bed/sofa/picnic blanket and enjoy sailing the Seven Seas together. What can you see through your telescope? Is that a desert island ahead? Look for the landmarks on your map and go and find some treasure! Ahoy, Maties!
Mathematics
Investigate capacity using a selection of different containers, bottles and tubs. This activity might be a good one to do in the bath or outside with a bucket or storage box full of water. Children love to play in the water and investigate pouring and filling containers. As they pour, talk to your child about which containers/bottle holds the most/least water. Is it nearly full? Half full? Empty?  If you have a funnel or colander in the kitchen, let children explore using these too.  If you want to add to the discussion, you could put a hole in one of the bottles. What happens to the water as you try to fill the bottle?
Treasure hunt – Hide 5 coins outside. As children find them, ask how many there are left to find. Once you have found 2 coins, how many are still missing?
Listen to this counting story about '10 Little Pirates' . Can you join in each time and work out how many pirates are left each time?
Physical development
Can you walk the plank at home?  Have a look in your garden or whilst on a walk in your local area to see if you can find something to practise balancing along to 'walk the plank'. You might have a plank of wood that you could lay along the floor, or you could use a rope or rolled up blanket. Children will enjoy carefully balancing along it and then jumping off the end.
Scavenger hunt
Can you find something that is… red/blue etc…   circle/triangle shaped    something shiny/dull   something that makes a loud noise/quiet noise…
Perhaps your grown-up can think of more items to hunt for!
Don't forget to send pictures of your home learning to:
stjameseyfs@spherefederation.org