8 February 2019
This week's spelling homework is a spelling task and is due on Thursday 14 February.
Year 1 words
| | | | | | | | |
| --- | --- | --- | --- | --- | --- | --- | --- |
| she | help | saw | into | your | little | one | do |
Year 2 words
| | | | | | | | |
| --- | --- | --- | --- | --- | --- | --- | --- |
| poor | pour | saw | floor | your | call | sure | pure |
Choose one of the following activities to complete using your spelling words.
Year 1/2 Library visit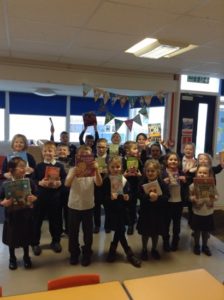 We had an exciting afternoon in year 1/2. Our class visited Wetherby Library today and we returned our books. We each chose 2 books that we would like to read. Eliza rushed straight over to the history section to find her perfect book.
She said, "I love history, so I know that I'll love this one. It's about 100 women who changed history."
Jack found a lovely poetry book as he shared that he "loves reading rhymes".
We are looking forward to reading all of our new books.
Learning updates
Going home with your child (Y1 to Y6 only) today are the end-of-term Learning Updates. These 'mini-reports' aren't new – we've used these before during parent-teacher meetings.
This year, we've listened to what you said in the annual surveys: you asked for more frequent updates on your child's learning. As a result, we've tweaked when we do things a little so you now get an update at the end of most half terms:
Autumn 1 (the parent-teacher meeting)
Autumn 2 (the Learning Update)
Spring 1 (the parent-teacher meeting)
Spring 2 (the Learning Update)
Summer 2 (the end of year report)
If you've any questions, comments or concerns about the report, please contact your child's class teacher.
Digging up the past
This week, we became archaeologists for the day and excavated some interesting artefacts. We spoke about how we know a lot about the past from objects that have been found and they can tell us a lot about how people lived and what their daily lives were like.
So that we didn't break or damage the artefacts, we had to use brushes to delicately unearth  the objects. We also used a co-ordinate grid system to record where each artefact was found.  The artefacts were a little strange, so we had to use our detective skills to figure out what they were what they were possibly used for.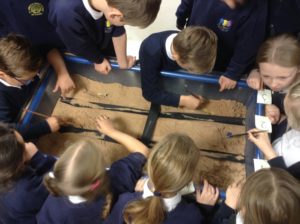 Sphero coding!
Recently, Year 1 and 2 enjoyed a visit to Wetherby library to participate in a coding workshop using Sphero balls and iPads.
The children used the Sphero app to programme their robot. They programmed it using drag and drop actions and even changed the colour of their Sphero. Sphero was sent flying across the library and the children learnt to weave the robot around a maze.
Mikey-I really enjoyed playing on the iPads with the balls.
Willow-I liked choosing our new books.
Emilija- I like choosing the new books, I wanted a Harry Potter book.
Louie-I liked playing on the iPads especially when would change the colour of the ball.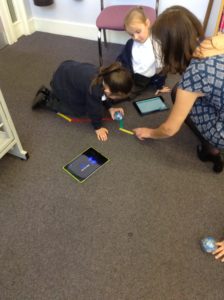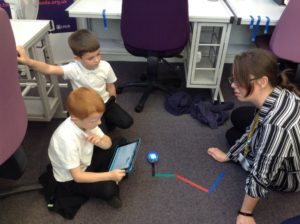 Living and Learning: I use the 8 Rs to help me learn
We used several of the 8 Rs straight away during our Living and Learning session as we both Remembered and Reflected on the discussions we have had about the 8 Rs.
In small groups we took one of the 8 Rs and then recalled the ways in which we use it to help us learn both in and out of school. It was fantastic to hear comments such as:
"I keep on reflecting about the neatness of my handwriting…you don't just reflect once". DJ
"I show I'm ready to learn by being an 'active listener'". Jessica
People began to challenge the opinions of others in a positive way. Someone made the comment you should 'put your hand up a lot if you know it'. A classmate responded that even if you're not sure of the answer take a safe risk and try to answer anyway. What's the worst that can happen? We get something wrong and learn from the experience!
Can you remember the 8 Rs? Talk about them frequently at home and challenge yourself to remember all 8.
Noah's Ark and Harvest Festival
This week in Foundation, our focus was the Bible story of Noah's Ark.
The children produced story maps, using all of their new phonics skills to label them with the parts of the story. We also painted some beautiful rainbows and animals to add to a special display we will be creating in the school corridor, next to our library.
In maths, we completed our work on the focus number 2 by creating "pairs" of animals to board Noah's Ark! We explored different representations of the number.
The children have also been learning about Harvest Festival. At the end of last week, we harvested our own haricot beans from Spring-time planting.
We used this as a starting point to discuss fruit and vegetables that grow from the Earth and how we use Harvest time to give thanks to God and those who work on the land, for the food we eat. The children made posters to display their understanding of the importance of Harvest time.
 In our music session, we learnt a Harvest song about a special machine used to harvest crops:
Ask your child if they can sing you the song they have learnt this week.
Important reminders:
Parent partnership meeting: Takes place this Wednesday, 17 October 3.15-3.45. We hope to see many of you there and look forward to discussing ways you can share your child's achievements both at school and at home.
Early Years Pupil Premium form: Could all forms be completed and returned to school this week. A reminder text message was sent out. If you need a new copy please ask.
PE Kit: PE takes place on a Thursday and began this week.  Please provide a named kit of shorts and t-shirt. Thank you for the kits already in school.
Wellies and outdoor coats: Please ensure your child has a rain-proof coat in school every day. We also suggest having a pair of wellies in school, if possible. We love to explore our outdoor area in all weathers!
Thank you for your support and co-operation.
Fantastic Creative Homework
This week, year 1 and 2 were given the creative homework task: I can show what I know about a country. They could choose any country they wished and present this in any way. Here are a few of our creative homework with a wide variety of countries represented.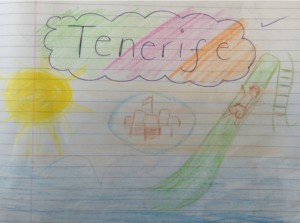 Fabulous Foundation!
This week we've welcomed back our returners moving from F1 into F2 and made some new friends! We've made a fabulous start to the year with happy faces, smart uniforms and busy learning. Our little learners jumped straight back into their favourite activities, as well as exploring the new areas we have on offer this year.
The story shed has been a new addition to our outside area; a cosy new space to read books and magazines, tell stories and make-marks.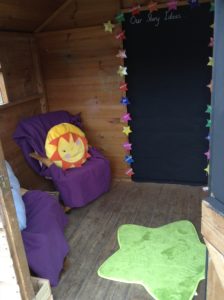 We also have a new water station next to our mud kitchen, to make all sorts of wonderful potions and mixtures, which has been very popular during our first few sessions.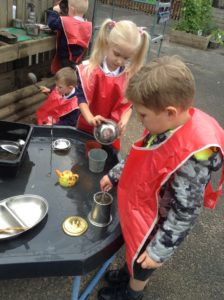 It makes us so proud to see how settled and content the children are in the classroom, both returners and new pupils.
Please remember that although your children have settled well, we welcome you into the classroom each morning to share some learning with your child and explore the activities on offer in the classroom. This year we have some new additions in the classroom, just for you parents and carers;
Join your child at the 'Learn with me' activity in the classroom- a teacher-free zone! A new activity will be placed here each week, for you to complete alongside your child. Our 'Parents as partners' board in the classroom is for you to share great examples of learning at home. You can also email us photos and descriptions of your child's learning at home. Please send these to:
stjameseyfs@spherefederation.org
This half term we'll be theming our learning around 'Becoming a story-teller', using traditional tales as a basis for learning across the classroom. As always, we will also use the children's interests and ideas to tailor our activities.
We look forward to sharing this year of learning with you.
Leavers' Service
Thank you to Reverend Stroma and St James' Church for hosting our year 6 leavers' service last week.  It was a special afternoon where the children reflected on their primary school years together. We are incredibly proud of our year 6 pupils.