Does your child Swiggle?
Posted on 03 February 2020 by Mr Roundtree
Swiggle is a child-friendly search engine – it's aimed at children in Key Stage 2.
Swiggle gives children a great start in encouraging responsible online searching. The internet is a vast resource, and some content is not appropriate for children.
The search engine has been designed and developed by South-West Grid for Learning, a charity dedicated to empowering the safe and secure use of technology. SWGfL recommends adding Swiggle to your browser or put the Screen Cover link on your bookmark bar.
It's powered by Google Custom Search, the results are filtered using Google SafeSearch, and SWGfL has configured the results to prioritise educational resources. Swiggle also filters the search terms to check that it's not being used to search for inappropriate content.
Childline - not just a 'line'
Posted on 29 January 2020 by Mr Roundtree
Childline isn't just about making a phone call!
The Childline website has lots of valuable information, but one area we like is their Calm Zone. The activities aim to help children feel better when they're feeling anxious, scared or sad. Although children could be encouraged to visit the website themselves, these are good techniques for you to use with your child. Ideas include breathing exercises, a 'let it go' box and creating a 'sense drawer'.
Living and Learning: I know what a drug is.
Posted on 26 January 2020 by Miss Beatson
This week, our Living and Learning statement was 'I know what a drug is'. As part of our learning, Dave from D:side came in to talk to each class about drugs. With the younger children, he spoke to them about medicines and how we can keep our bodies healthy. In KS2, he delivered workshops on smoking, alcohol and drugs.
Following on from this, each class discussed the issues and dangers around passive smoking and what they could do if they felt uncomfortable about it. The NHS website has some excellent information about passive smoking and the risks for children.
Period products
Posted on 24 January 2020 by Mr Roundtree
You might have read that the Department for Education has launched a scheme which will provide access to free period products in schools in England. Alongside this, Leeds Council launched a similar scheme a few months ago.
This scheme will ensure that period products are available to young people if they need them, when they need them. This will include supporting those who have started their period unexpectedly, forgotten to bring products with them and those who can't afford to buy them.
Although there are some restrictions around how many products we can order, we'd like to assure you that the products are in school if your child needs to use them unexpectedly, or has forgotten them, or can't afford them.
Fab feedback...
Posted on 22 January 2020 by Mr Roundtree
Thanks to those of you who visited us this morning for another one of our popular Watch us while we work sessions. We hold these so you can come into school and get a flavour of what we do, which will hopefully help you to support your child at home, too.
'I really appreciated the opportunity. All the teachers are very welcoming.'
'I enjoyed watching the different methods of teaching. This will help us at home when doing phonics and maths.'
'The methods of teaching were excellent. The pupils remained calm and focused.'
'I enjoyed seeing how much pupil interaction there is.'
We're in the Leeds top ten best primary schools!
Posted on 17 January 2020 by Mr Roundtree
In case you missed our news story last week…
According to the GOV.UK website, we're one of the very best primary schools in the Leeds area for per cent of pupils meeting expected standard.
Check out the article in Yorkshire Evening Post.
Tell your family and friends about how good we are!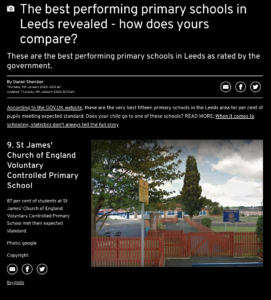 Is your child in Year 2 or Year 6?
Posted on 14 January 2020 by Mr Roundtree
If your child is in Year 2 or Year 6, they're in the final year of Key Stage 1 (Years 1 and 2) or Key Stage 2 (Years 3 to 6). This means that towards the end of the year, they'll be doing end of key stage assessments, often called the SATs.
These short videos help to explain more – just be aware the videos are a couple of years old so some details like dates won't be accurate.
In the past, parents have said they've found the videos helpful. Nevertheless, if you've any questions, comments or concerns, speak with your child's class teacher or Miss Beatson.
Does your child use TikTok?
Posted on 14 January 2020 by Mr Roundtree
If you're child uses TikTok, read this guide for parents.
TikTok is a video-sharing social media app available on iOS and Android which lets users create, share, and view user created videos much in a similar manner to Facebook, Instagram and Snapchat. It's main draw, however, is that users can record and upload bite-sized looping videos of themselves lip-syncing and dancing to popular music or soundbites, often for comedic effect, which can then be further enhanced with filters, emojis and stickers. TikTok has been designed with the young user in mind and has a very addictive appeal. At the beginning of 2019 it skyrocketed in popularity to become the iOS store's most downloaded app with over 33 million downloads. Estimates suggest that it now has anything between 500 million and over 1billion monthly active users worldwide.
Attendance matters
Posted on 13 January 2020 by Mr Roundtree
Well done to Year 5,6 for their excellent attendance this year so far. The class average is 96%.
Children in Foundation 2 are also attending school really well – 95.7%.
It's really important your child attends school as much as they can so that they can enjoy and achieve.
We're one of the best!
Posted on 10 January 2020 by Mr Roundtree
According to the GOV.UK website, we're one of the very best primary schools in the Leeds area for per cent of pupils meeting expected standard.
Check out the article in Yorkshire Evening Post.