Our very own sporting superstar!
Posted on 22 September 2017 by Miss Beatson
Over the weekend we had a huge sporting success from one of our newest members of staff, Mr Mills. He took part in the Age Group World Triathlon Championships, which were held in Rotterdam over the weekend – you may have seen the elite athletes on TV.
After a hard race, Mr Mills managed to finish 11th out of 100 in what he has described as 'the toughest race yet'. We'd like to say a huge well done to him for this outstanding performance and the resilience and dedication it takes to perform at this level.
We hope that he can go on to inspire some of our children to be sporting superstars!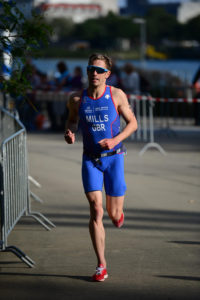 Practice that feels like play
Posted on 21 September 2017 by Mr Roundtree
Practice that feels like play – does this sound beneficial for your child? Have a look at IXL. It's an online tool where you can access different activities to help your child practise basic skills.
It's split into year groups, specifically looking at English and Maths, then each subject is broken down into sections. You can get a flavour of the activities by hovering over the title and can have a go at some of them – it looks great fun and very child friendly. The questions are all interactive and there are detailed explanations for new concepts.
There is a small monthly fee if you wish to sign up. Take a look – it might be something you want to explore.
Mindfulness Workshops
Posted on 21 September 2017 by Miss Beatson
Today, Years 1 to 6 have taken part in a mindfulness workshop. Here are some quotes from the children:
"I really liked the breathing exercises. I think it will help me when I get angry and upset." (Kieran)
"We filled a bottle with water and glitter. When the lady shook it up it represented our minds. We did some breathing and watched the glitter settle; this helped our minds and thoughts calm down." (Abigail)
First PTA meeting of the year!
Posted on 18 September 2017 by Miss Beatson
We're holding our first PTA meeting for this school year on Monday 25 September at 3.30pm. Please join us to support and share ideas for some upcoming events. Look forward to seeing many of you there.
Parent reading workshops
Posted on 16 September 2017 by Miss Beatson
Would you like to find out how to further support your child with reading at home?
We have an Early Years and KS1 reading workshop on Tuesday 26 September at 6pm and a KS2 reading workshop on Wednesday 27 September at 6pm. Reading resource packs will be given to everybody who attends. Refreshments will be available.
First Steps open afternoon
Posted on 13 September 2017 by Mrs Quirk
Thursday 19 October 2.00pm – 3.00pm
Come and experience our 2 year old provision. Stay and play with your child and meet our friendly staff members.
For more information about First Steps please visit the school office.
Funded 2 year old places available.
Funded places available in 2 year old provision
Posted on 13 September 2017 by Mrs Quirk
We have funded places available in First Steps, our 2 year old provision. Call into the school office to book a visit or apply for a place.
Places are also available for non-funded 2 year olds at a competitive price.
We are holding an open afternoon on Thursday 19 October – come along and take a look!
Check out the class news pages
Posted on 07 September 2017 by Mr Roundtree
In this evening's staff development meeting, our teachers have become familiar with our new website and how to post Class News, Homework and Spellings to the sites.
Look out for new Class News posts each week. Also, weekly homework and spellings will be published to the sites.
Living and learning
Posted on 06 September 2017 by Mr Roundtree
Living and Learning is our new name for SEAL (Social and Emotional Aspects of Learning).
Living and Learning will continue to cover SEAL learning but will also incorporate other aspects of PSHE (Personal, Social and Health Education) such as keeping safe, identity, drug education, physical health, rights and responsibilities and healthy minds.
We begin our Living and Learning learning this week with a focus on manners: I can greet someone politely.
For the rest of this half-term, we're thinking about the '8 Rs for learning'. This theme is about promoting good learning behaviour for your child.
Each week, we'll focus on two different 'Rs'. We use an animal to symbolise each 'R', which might help your child remember all eight – can your child remember which animal matches the correct 'R'?
You can support your child at home – we've listed a few ideas to help you below. Ask us if you've any questions or comments.
Download top tips for promoting the 8Rs for good learning behaviour.
I can show I am ready to learn.
Make sure your child is at school for a prompt start of 08:50.
Make sure your child has had plenty of sleep so they are alert and ready to learn at all times.
Encourage your child to ask lots of questions – that shows they want to learn!
I respond to feedback.
Ask your child if they remember their 'stars' and 'steps' in English and Maths.
I take a safe risk.
Talk about the difference between a safe and unsafe risk. At school, we want your child to take a safe risk by having a go at answering, even if unsure; trying something new and attempting harder learning.
I take responsibility for my own learning.
Provide time and space at home so your child is able to organise themselves: their PE kit, reading book, homework, spellings and tables… Don't organise everything for them!
Make a link between rights and responsibilities: your child has the right to a great education, but needs to be responsible for their own learning.
I am resourceful.
Encourage your child to be organised so they can play with a range of different toys.
Encourage your child to try new ways to solve a tricky problem.
I am resilient.
Encourage your child to keep going! Set a tricky challenge or puzzle for your child to do.
Encourage your child to think of different ways of doing things.
Don't let your child win when they play a game – they need to experience losing, too!
Celebrate mistakes as opportunities to learn – be happy that your child found some learning hard and encourage them to 'bounce back' and learn from the experience.
I remember.
Make sure they have time to learn spellings, number bonds and times tables – a little practice daily is best.
Play memory games:
Kim's game: show them objects for 30 seconds… can they remember all the objects?
Can they build up the sequence, 'I went to the shop and I bought an apple'… 'I went to the shop and I bought an apple and a bike.'… 'I went to the shop and I bought an apple, a bike and a cucumber.' etc … Take turns!
I reflect about my learning.
Talk with your child about what they've learnt, asking questions about:
how they learnt
why they learnt it
when they'll use their learning
how they would teach this to someone else
what learning might link with what they've learnt today etc
Christmas card competition
Posted on 22 August 2017 by Mrs Quirk
The Lord Mayor of Leeds, Jane Dowson, is looking to have her Christmas card 2017 designed by a child from Leeds (aged up to 13 years). The card will be sent out by the Lord Mayor across the city and beyond. The theme is "Leeds at Christmas".
The rules/details are on the attached poster and the closing date is 09 October. The winner will be presented with a copy of the card and a special gift by the Lord Mayor.
This is a really exciting and unique opportunity for children.
How to enter: Designs should be completed on A4 paper. Please write (in pencil) the child's name and age on the reverse and a parent or guardian's contact number. Crayons, felt tip, pen and paint can be used for the design, however items should not be stuck on to the paper as this will not replicate when the design is scanned. Entries should be sent to: Lord Mayor Christmas Card Competition, 8 Woodhouse Square, Leeds LS3 1AD by the closing date of Monday 09 October 2017.