Butterflies and music
I can't believe we are at the end of another half-term!
On Monday, the children were very excited when they saw five butterflies fluttering around in the butterfly net. Due to Foundation doing such a good job at caring for the caterpillars, all five were a success!
Click here to watch how we set them free.

On Wednesday, the F2 children wrote a sentence about releasing the butterflies. They used the writing process: think, say, count, segment, and check when writing.

On Tuesday, we listened to two contrasting pieces of piano music. When listening to the music, we thought about which colours would best represent each piece. The children took their paintbrushes for a walk and made different marks in time with the music.
Click here to watch the children painting.

You've all had a fantastic half-term and I hope you all have a lovely week off in the sunshine!
Fantastic Foundation (as always!)
Science
This week, the children enjoyed rescuing the frozen minibeasts. We heard lots of fabulous conversations. We talked about ice being a solid and when it melts, it turns into a liquid.
"The salt is making the ice crack."
"The sugar is making it sticky."
"The hot water melts the ice the best."
"We need more hot water! The legs are still frozen."

Phonics
This week, the F2 children have been recapping all of the phase 3 sounds. We have also been learning to read words with more than one syllable (polysyllabic words)
Please continue to practice the phase 3 sounds at home. You could have a go at playing some of the games on Phonics Play. Below are links to some of the games.
Flashcards – supports sound recognition
Tricky Word Trucks – supports reading tricky words
Pick a Picture – supports blending
Login in using Sphere (username) Spher3 (password)
PE
The children continued to learn the fundamental skills of skipping.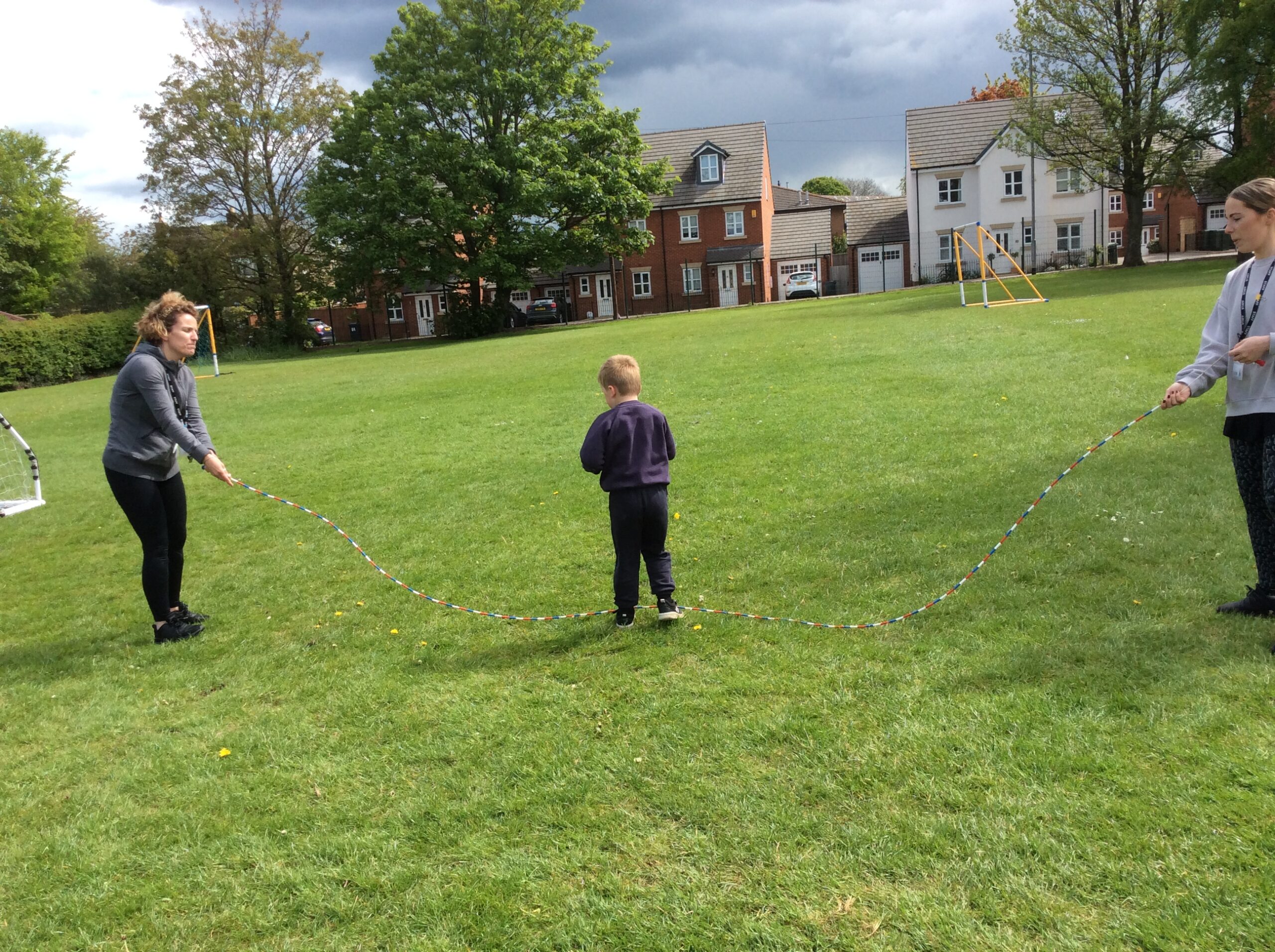 We finished the session with some parachute games.

Literacy
The F2 children made 'I Spy Minibeasts' lift the flap books. We thought about different habitats and drew pictures of these on the front of the flaps for clues. Some of the children read their books to the class.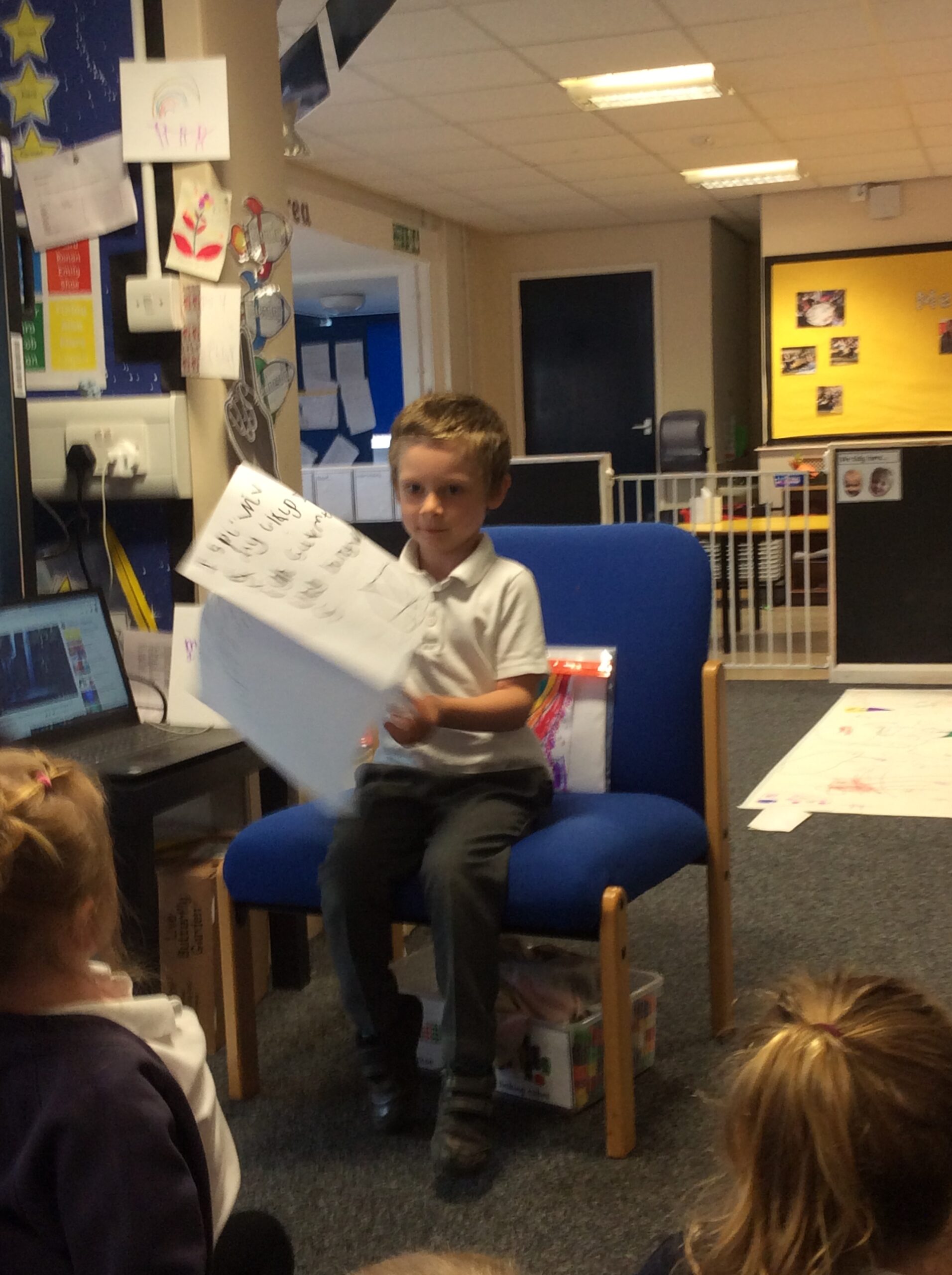 Maths
In maths, our focus numbers this week were 15 and 16. The children explored making teen numbers with Numicon.

We also have been focusing on adding more. The children know that when we add more the total number gets bigger. To support our learning with this, we played two games:
Magic Cloth – We counted an amount of cubes (1-10). I covered the cubes with the magic cloth and added a hidden amount of cubes under the cloth. I revealed the new amount and the children had to work out how many cubes I added. They were fantastic at explaining their answers using first, then, and now.

Grid Game- I taped a grid on the carpet. The children rolled a die and filled their column with the corresponding number of beanbags. The first to fill their column won!

F1
On Wednesday, the F1 children explored counting using Numicon. Some of the children put 2 or more pieces together and counted the holes to find a total.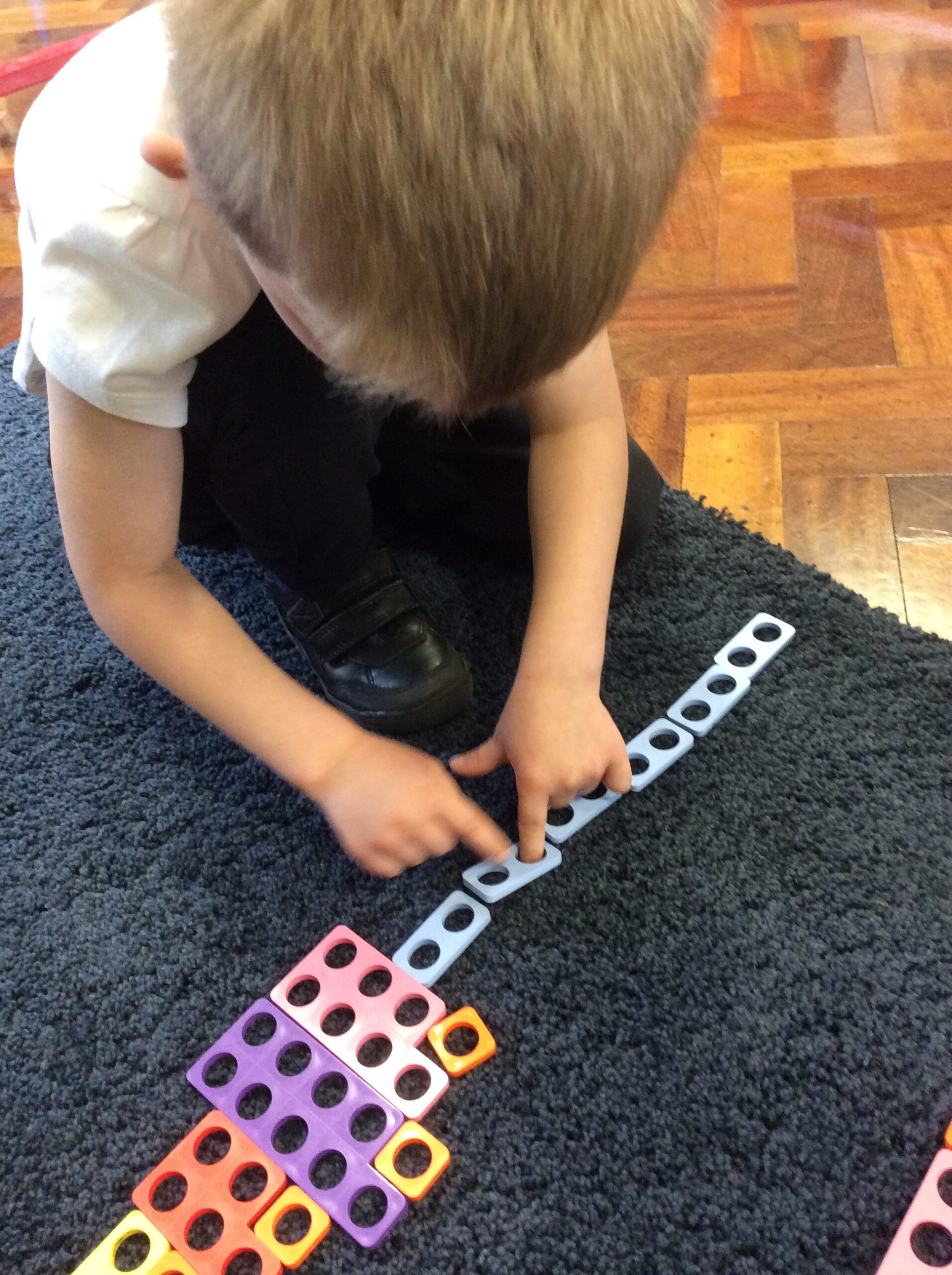 Outdoor Learning Day
It's looking like it's going to be another wet day on Monday. Due to this, we are having to postpone our outdoor learning day. This will now take place on Monday 21st June. 
Caterpillar News 
The children were very excited this morning when they saw the butterfly!
"It's beautiful!"
"It needs a friend… it is lonely."
"The wings are symmetrical."
Click here to see our first butterfly.
Home-Link Challenges
F2
Practise spelling the phase 2 and 3 tricky words. You could practise spelling these using coloured pens, paint or even playdough.
F1
Go on a letter hunt around your home.
Can you find things beginning with the same sound?
Choose different letters and see if you can find 3 objects beginning with the same sound.
Skipping into summer with Skipping School
We have launched a whole school skipping project with Skipping School. Each class has their own class set of ropes and we also have long ropes for every class too. The children are so enthusiastic about it already. There are some tutorial videos below so you can work on your skills at home too!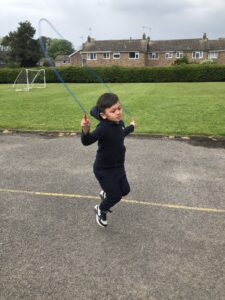 A calm week in Foundation
After a very busy week last week, it's been a lot calmer this week!
Literacy
The F2 children chose a minibeast to write about. We then used adjectives to describe what they look like and wrote about their habitats. Check out our amazing writing!

Caterpillars
It's exciting times in Foundation… all of our caterpillars have now made a chrysalis (cocoon). The children know that caterpillars stay in a chrysalis for approximately 2 weeks. I am hoping this is perfect timing before we break up for half-term!

PE
The children started the exciting new 'Skip into summer' project organised by Skipping School. The children will be practicing their skipping skills over the next 6 weeks. To get their skipping journey started, Foundation will be learning three key skills: big rope bouncing, click & jump, and double bounce.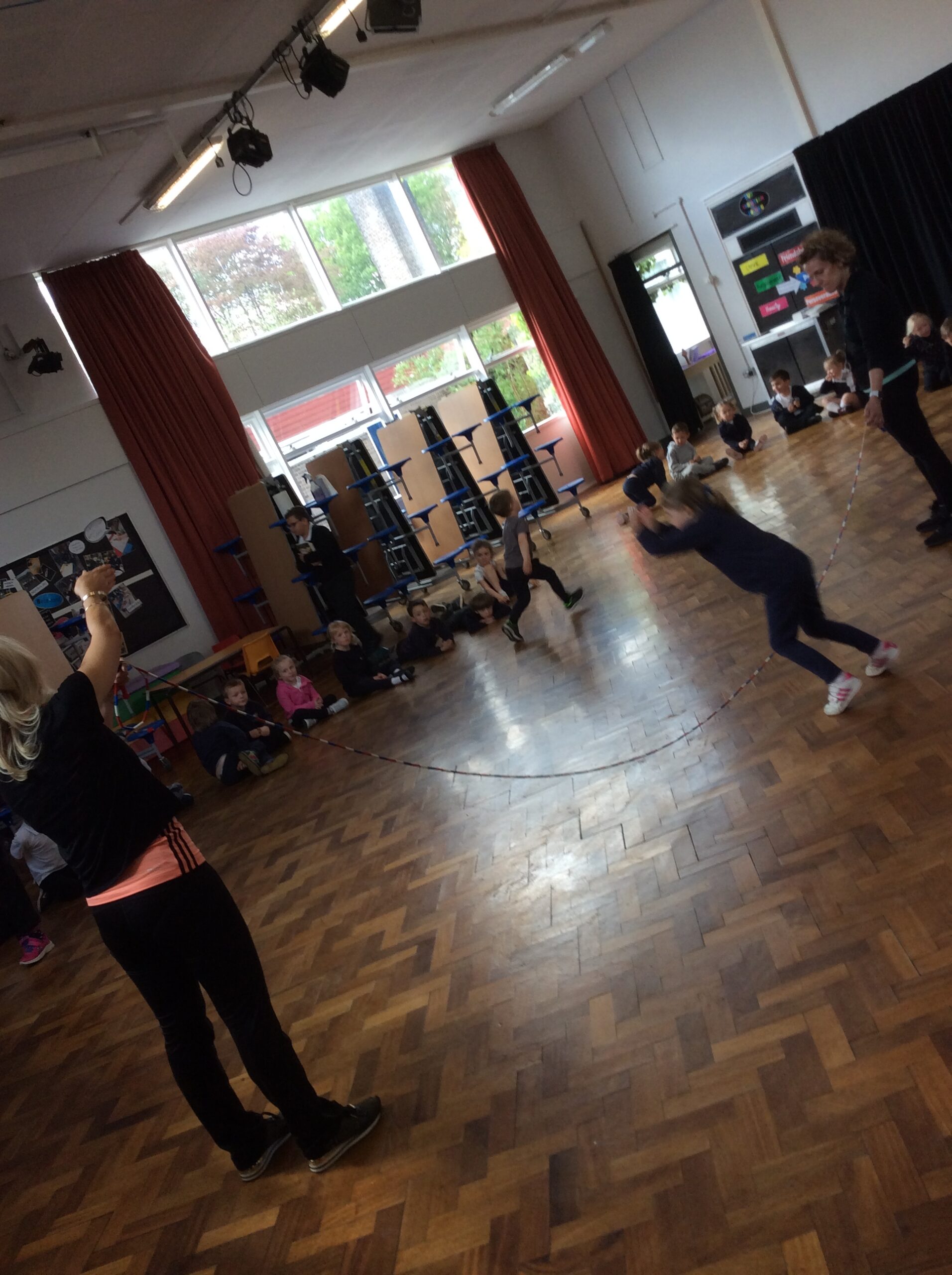 Phonics
F2 have finished learning all of the phase 3 sounds! Next week, we will be recapping some of the tricky phase 3 diagraphs and trigraphs. All of the children are trying really hard in phonics and this is evident in their reading and writing – well done F2!
Art
At the creative table, the children made their very own Matisse-inspired collage called The Snail. They cut up different shapes using brightly coloured paper and stuck them in a spiral pattern.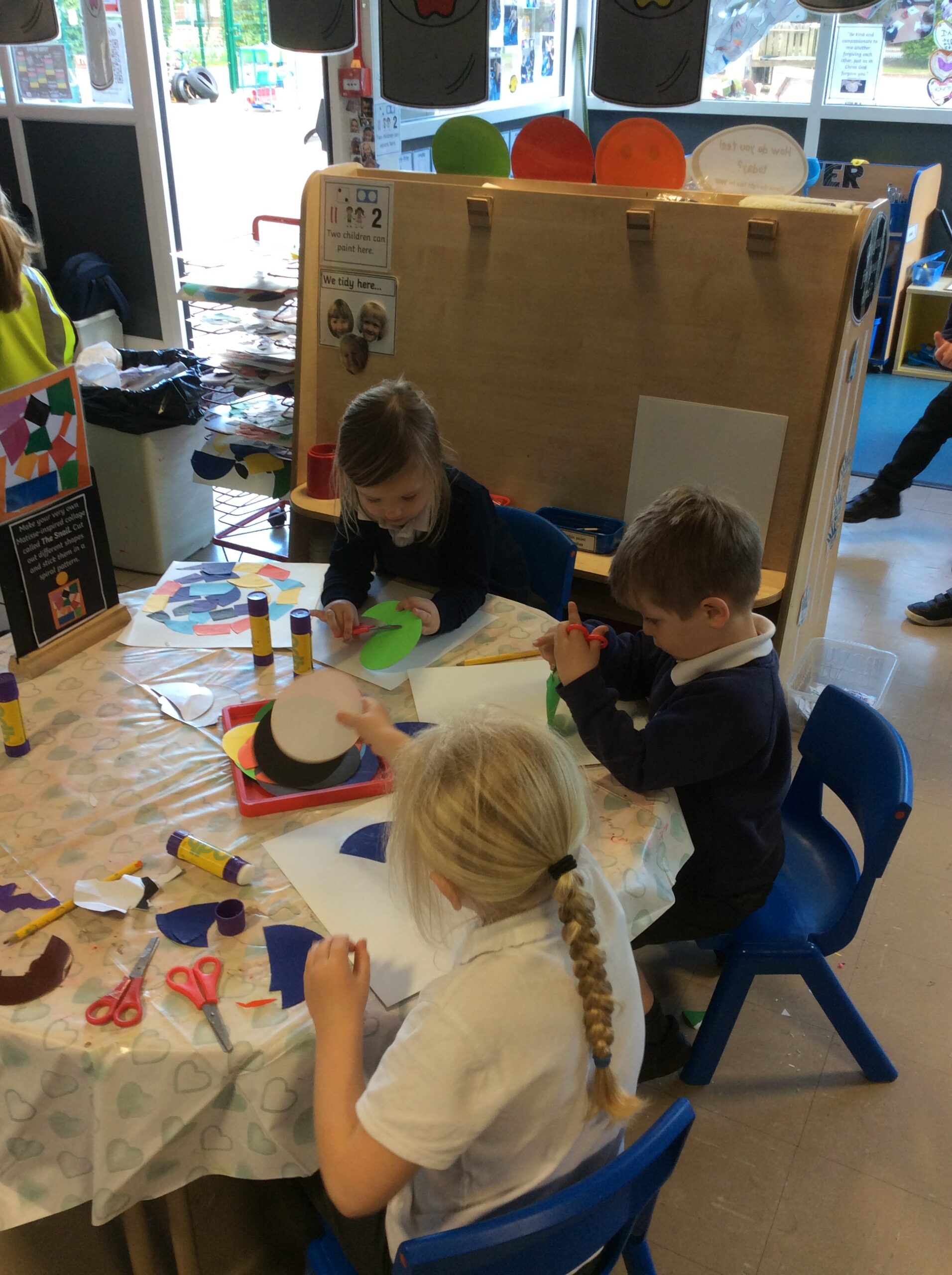 F1
On Tuesday, the children were finding objects with the same initial sound. Mrs Rippon said, "I have found a cccc cat! I wonder if we can find any other things that begin with a ccc." They showed fantastic listening skills and were super at finding objects with the same initial sound.
On Thursday, they went on a 2d shape hunt around school.

Click here to watch a snapshot of what we do in music. The children love Mrs Small's music sessions!
Home-Link Challenge

Detectives at work!
This week we've had a very busy week solving crime. On Tuesday, the children got straight into detective mode! We've looked for clues, taken (pretend) photographs, taken finger prints and measured footprints! It's been a tough week, but we managed to solve the crimes! Check out our amazing detective skills!
On Tuesday, the crime scene was in the garden centre.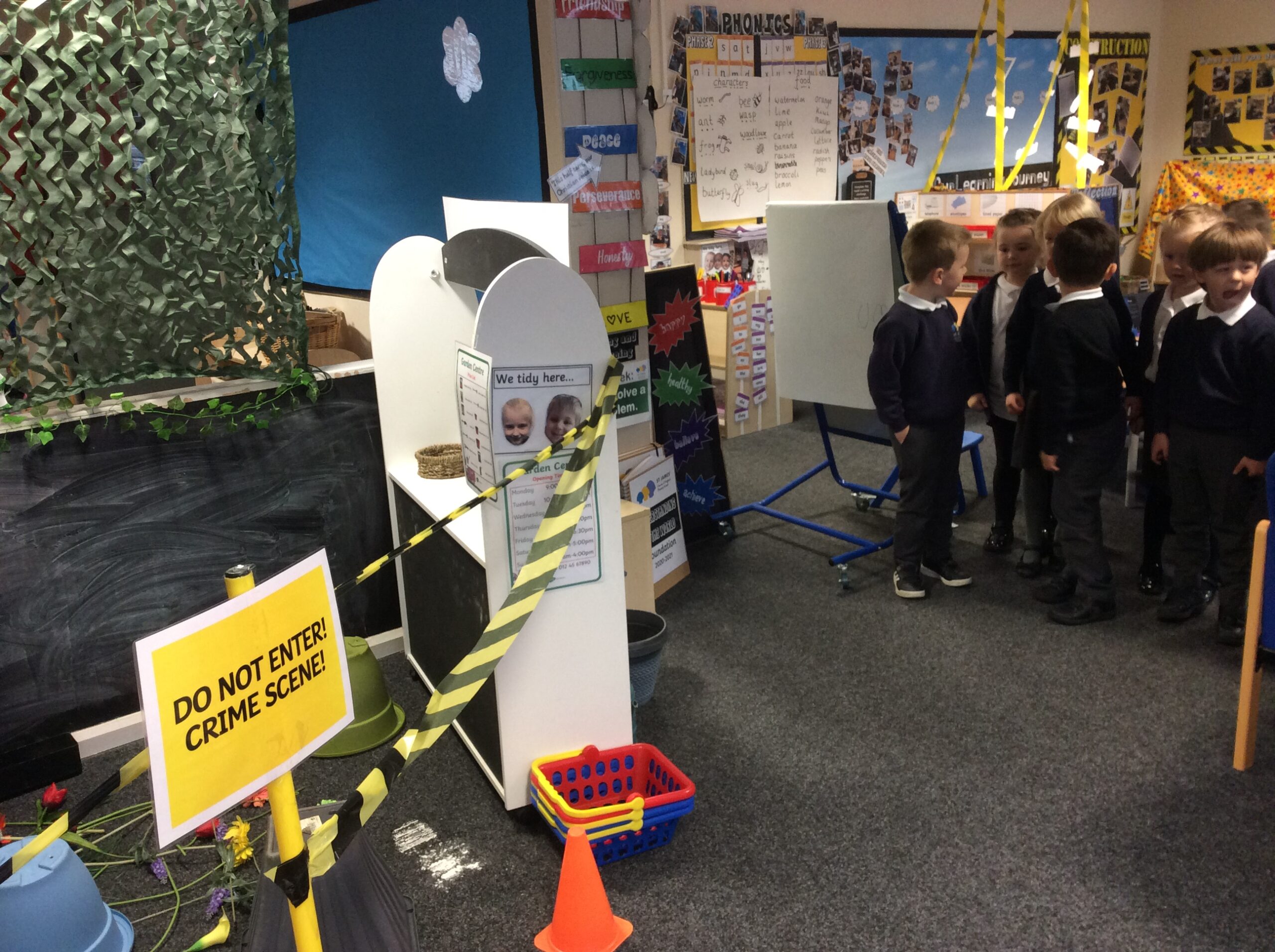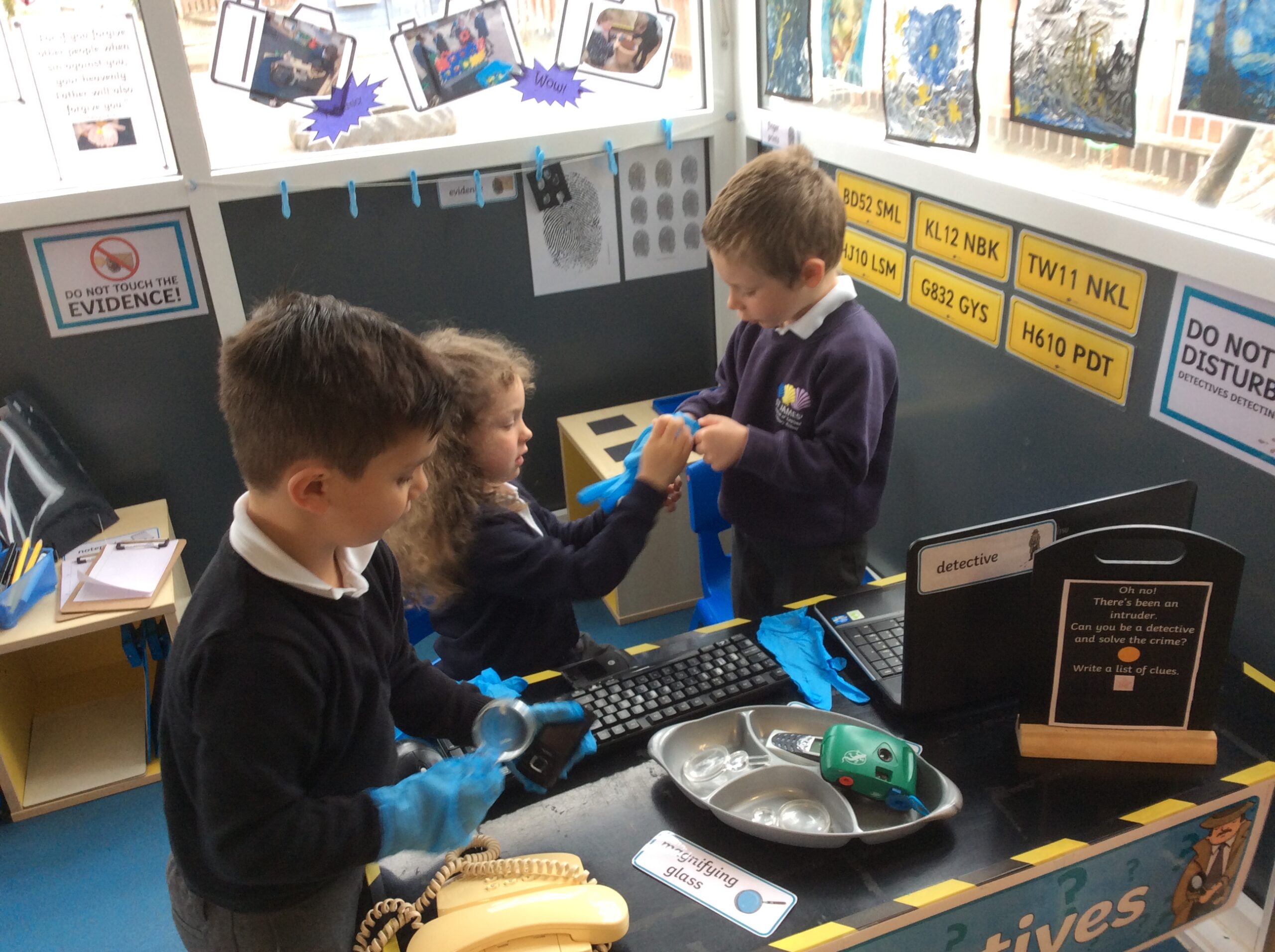 On Wednesday, the crime scene was in the home corner – they were shocked at the mess!

On Thursday, the crime scene moved to the construction area. This time there was a big boot!

We even spotted a police officer going to vote. We kindly asked her to come  and have a look at our crime scene. The children told her all about the different crime scenes and she was so impressed with our detective skills!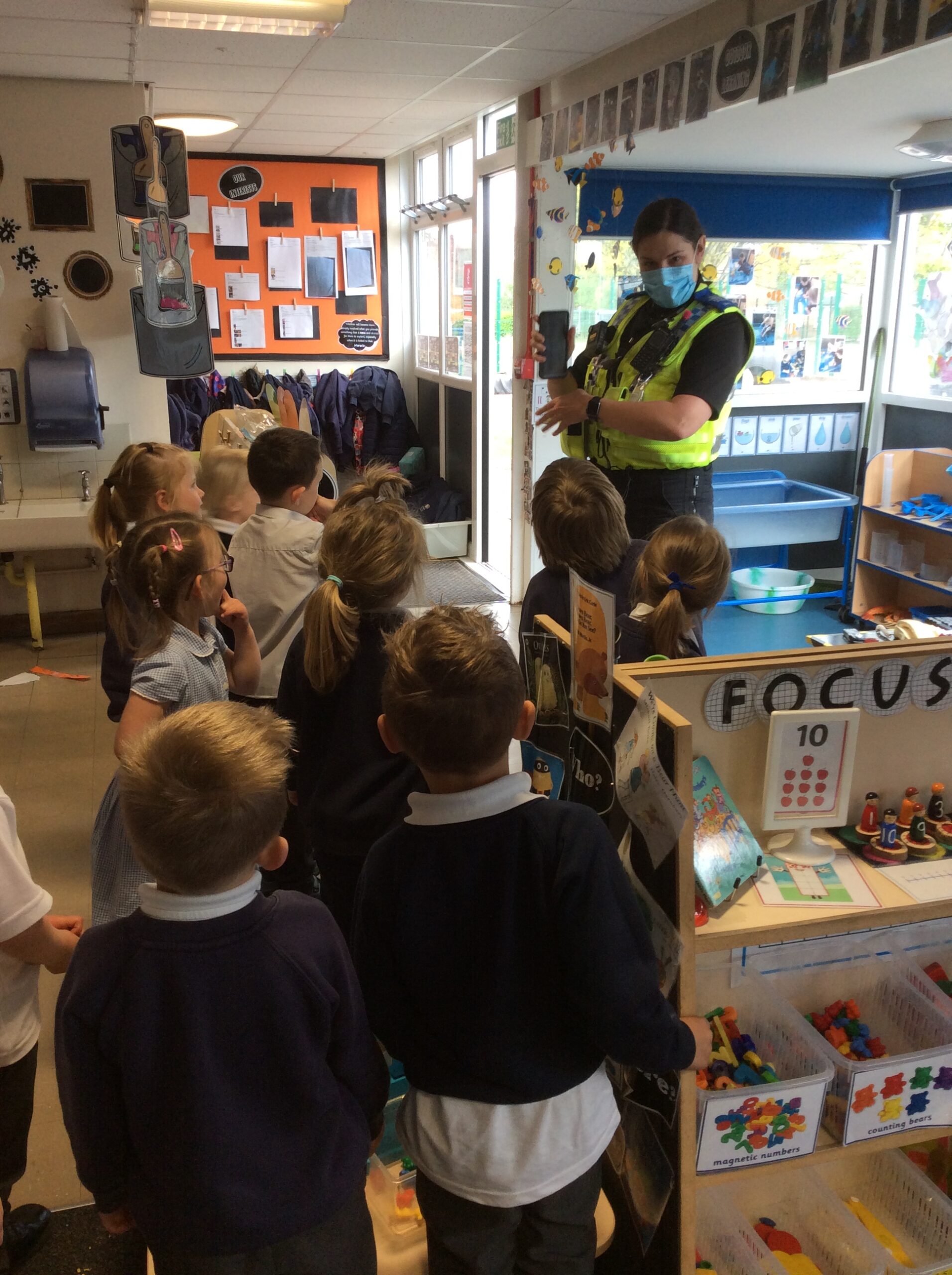 Today, there was an outline of someone's body on the carpet. The children asked various teachers to lay in the outline to find out who it is. In the end, the culprit was Miss Marsden!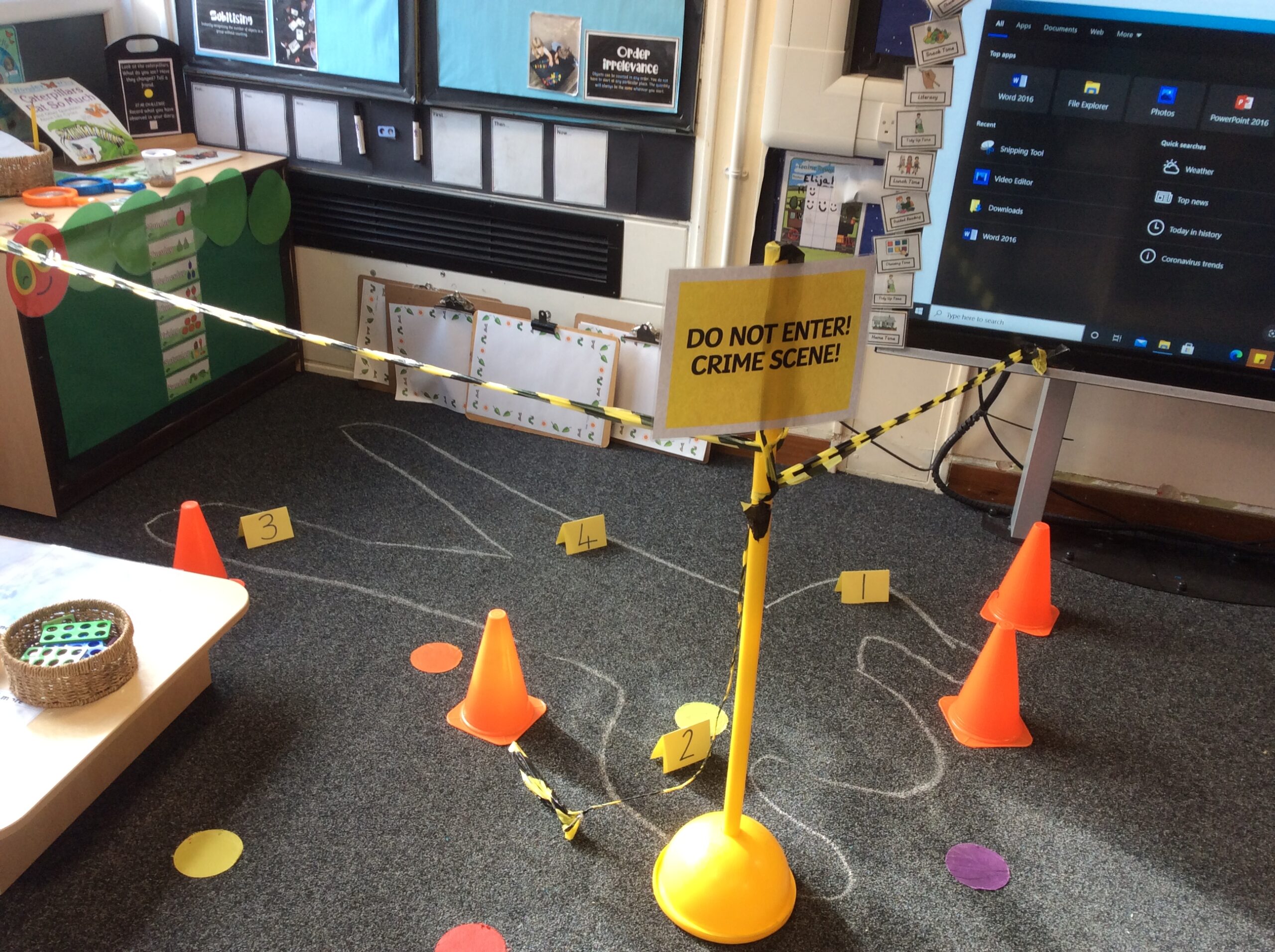 Maths
F2 started to learn about teen numbers. The children know that a teen number is made up on one ten and some ones. For example, 12 is made up of one ten and two ones. We've also been consolidating key skills such as part-part-whole, counting on, 1 more and 1 less and taking away.

F1 looked a different 2d shapes. They were fantastic at naming them and counting the sides and corners. They made robots using a selection of 2d shapes.
Literacy
F2 used their plans to write their own stories based on The Very Hungry Caterpillar. Click on the links to watch some of the children reading their stories.
Story 1
Story 2
Story 3
Story 4
Story 5
The F1 children re-read the story and painted caterpillars using their fingers.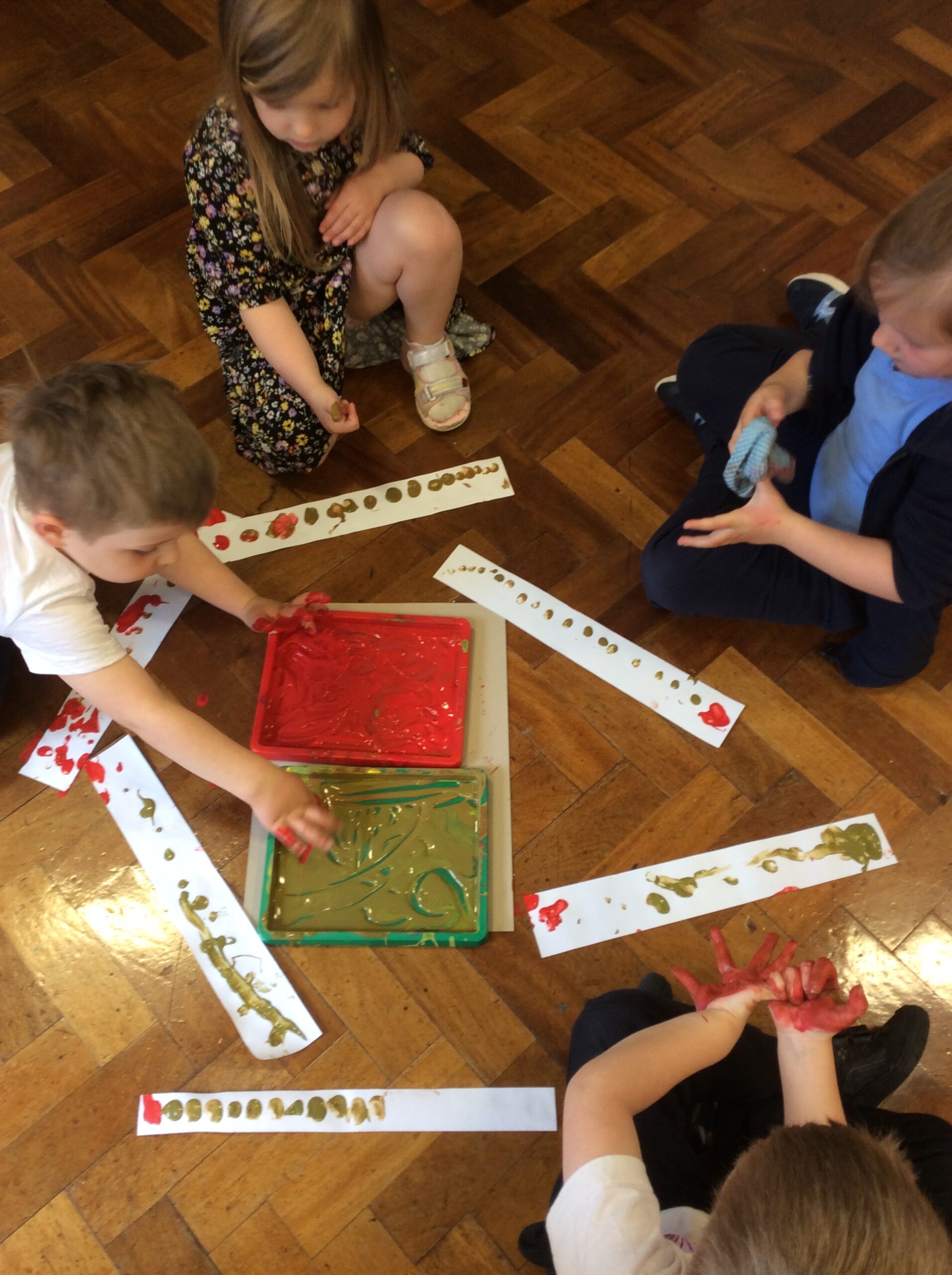 Next week, we will be continuing the minibeast topic and finding out about different invertebrates.
Phonics
The F2 children have almost finished all of the phase 3 phonemes. We will be learning the final three next week: air, ure and er. Please continue to use their phase 3 sound mat at home on a regular basis.
Caterpillars
Click here to see how much our caterpillars have grown!
Home-Link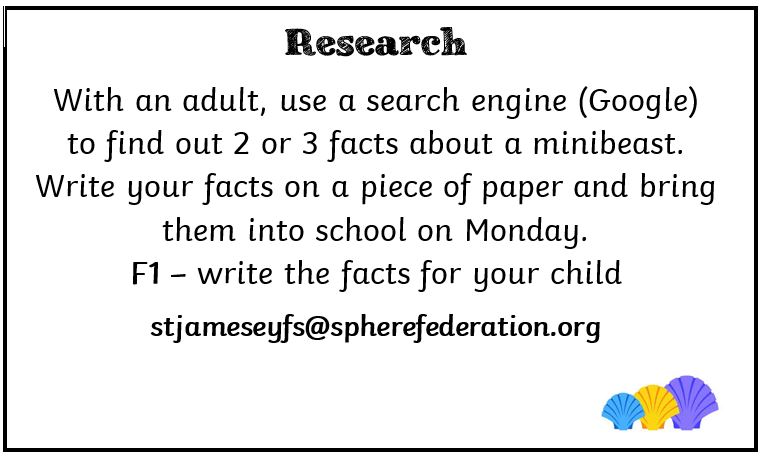 Have a lovely weekend!
100 Challenge
Today, Foundation took part in the Captain Tom 100 Challenge.
Foundation were split into 5 groups. Each group had to do 20 star jumps.
We managed to do 100 star jumps between us!
Click here to watch our amazing star jumps!
We love to learn!
Literacy
This week, we have continued to read The Very Hungry Caterpillar by Eric Carle. The F2 children planned their own versions of the story. The children changed the main character and some of the foods. We had The Very Hungry… ladybird, snail, slug and bee! Next week, they will use their plans to write up their stories.

The F1 group times have also focused on The Very Hungry Caterpillar. On Wednesday, they re-read the story and put picture cards in order. The have also been learning the days of the week song. You could ask your child at home,
"What day is it today?"
"What day is it tomorrow?"
"What day was it yesterday?"  
The children drew a picture of their favourite part. Check out their amazing mark making!

The children love our new class pets! Every week, we will update you with caterpillar news.
Click here to watch a short clip of our caterpillars – look how much they have grown!
Maths
This week, we have continued to look at the number 10. We have had a big focus on learning the number bonds to 10. We made a bus using 10 chairs – it was called 'The Number Ten Bus'. We used this to make up simple number stories for 10.
For example,
First there was 6 children on the bus.
Then 4 more children got on the bus.
Now there are 10 children on the bus.
Outside, the children focused on part-whole models. They threw 10 beanbags into the parts and explained how they landed.
For example,
8 is a part.
2 is a part.
10 is the whole.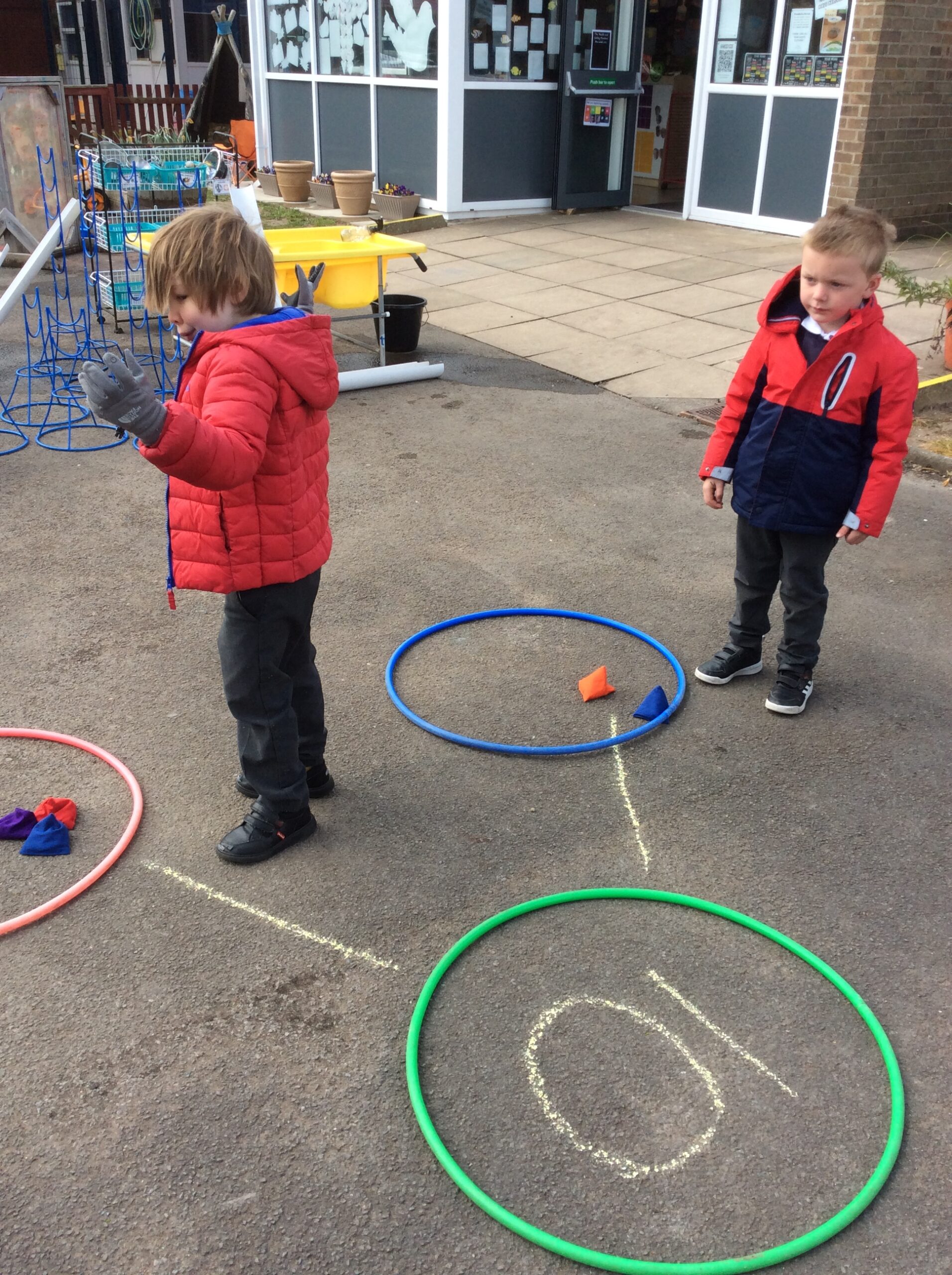 To help us learn the number bonds, we have also been listening to this song. You could sing-a-long to this song at home!
Next week, we will be moving onto teen numbers. We will be learning about numbers 11 and 12.
The F1 children made caterpillars using cubes. The children chose a Numicon piece and counted that many cubes to make their caterpillar. To help them count the cubes, they put the cubes onto the Numicon pieces.

As always, Foundation seize to amaze us with their amazing imaginations, creations and ideas! On Wednesday, groups of children were pretending to be detectives looking for clues. In early years, we try to plan according to the children's interests. Therefore, the sand area has turned into a 'Detectives Office'.

Below are some more highlights of our week.

Peace
This half-term's Christian value is Peace. We have been learning a song all about peace. Click here to watch it.
Reminders!
Outdoor Learning Day – Monday 24 May
Outdoor Learning Journey Drop In – 14th-17th June 2.30-3pm
Please fill the slip at the bottom of the letter and return it to school by Monday 17 May.
Home-Link Challenge

It's good to be back!
This week, Foundation have jumped straight into our new minibeast topic.
The children enjoyed painting symmetrical butterflies at the creative table. They were amazed when they opened the wings.
FC – "Wow! It's magic."
AF -"That's amazing! Can I do another one?"

The children used their fine motor skills to thread beads onto pipe cleaners to make caterpillars. They compared the length of each others caterpillars.

At the playdough table, we made more caterpillars!  We used the cubes to measure how long our caterpillars were.
DA – "Mine is 16 cubes long!"
EM – "Mine is 4 cubes long."

BREAKING NEWS!
On Thursday, Mrs Walshaw delivered a special delivery to Foundation – it was our caterpillars! The children have been so excited all week! Everyday day the children asked, "When are the caterpillars coming?" "Are they here yet?" "Will they come tomorrow?" When they arrived, all the children were in shock – "They are tiny!" Throughout the next few weeks, the children will be observing them on a daily basis and writing in their caterpillar diaries. Our focus story is The Very Hungry Caterpillar by Eric Carle. The children have loved learning all about the life cycle of a butterfly and talking about unhealthy/healthy foods.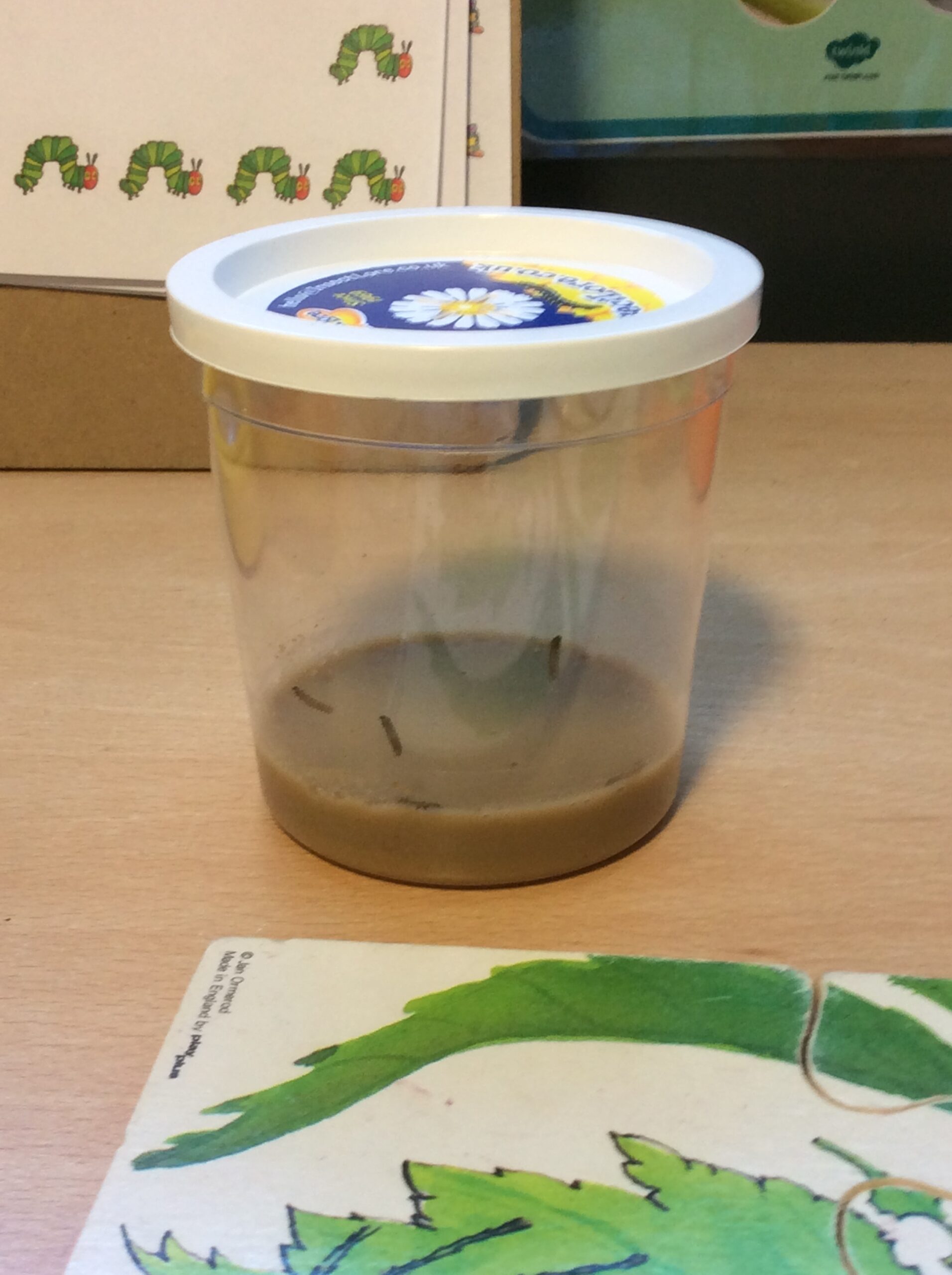 Whenever the sun is out, Foundation are out!

We just love being active in Foundation.

F1
The F1 children loved playing 'Silly Soup' in their phonics group time on Monday – this game focused rhyme. Each time the children added a rhyming object, they sang the song.
We're making lots of silly soup.
We're making soup that's silly. 
We're going to put it in the fridge and make it nice and chilly.
In goes a…
One of the silly soups they made had a cat, bat, hat and mat in. This is a really simple game which could be played at home.
On Thursday, the children counted pieces fruit that 'The Very Hungry Caterpillar' ate and matched them up with the days of the week.
F2
In phonics this week, we have recapped the digraphs oo(long), oo(short) and ar. We also recapped the tricky word you.
In maths, our focus number is 10. The children now know that 10 is made up of "10 ones". We watched the Numberblock 10 video and made our own "ten blocks!" The children sang Ten Green Bottles and practised taking one away each time. Some children used double-sided counters to support their learning on number bonds.
Home-Link Challenge

Chick update
I hope you've all had a happy and safe half-term. I can't wait to hear about what you've all been up to on Monday.
Sadly, due to the current situation the chick eggs will not be with us this half-term. The farm sends their apologies. They are hoping that we can have them in June – I am keeping my fingers crossed!
On the other hand, Our caterpillars are being delivered sometime next week and we still have our frogspawn – they might even be tadpoles now!
See you all on Monday!
Spring has sprung!
I can't believe it's the 1st of April already!
This week, we've made the most of the glorious weather.
Below are just a few snapshots of what we've been up to this week.
Click here to watch us exploring in our outdoor area. I hope this video makes you smile as much as it did me.
On Monday, we read a book called The Tiny Seed by Eric Carle. After reading the book we talked about what a seed needs to help it grow. We each planted our own tiny seed which was sunflower seed. After we planted our seeds, the F2 children did some instruction writing. The children are very good at caring for the seeds and are eager to water them everyday. We really hope they grow into beautiful sunflowers.
Don't worry! Mrs Rippon has kindly volunteered to look after the seeds over half-term. I wonder what they will look like when we get back to school.

We have some frogspawn! The children were so excited on Monday morning when they saw the tank. We had lots of wonderful discussions and made lots of great observations. We will put the frogspawn back in our school pond over half term and hopefully when we get back to school we will have tadpoles or even froglets!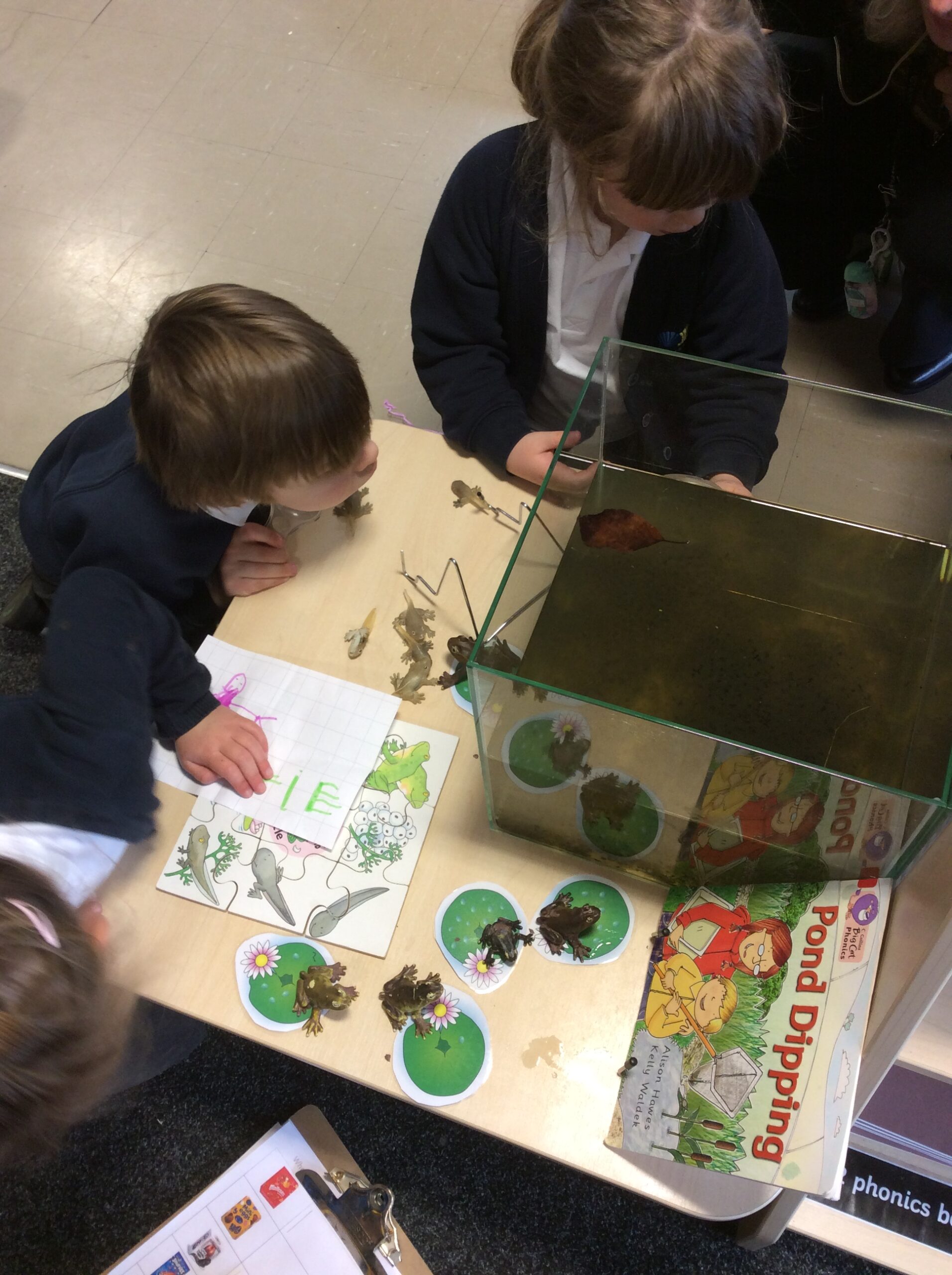 The excitement continues after half-term…
We are getting chick eggs and caterpillars! Our classroom is going to be very busy. We have been preparing the classroom for the new arrivals.
Summer 1
After half-term, our first focus story will be The Very Hungry Caterpillar. We will be looking at life-cycles and exploring the life of different minibeasts.
The F2 children will continue to learn the phase 3 sounds in phonics and we will be moving onto number 10 in maths.
Finally a little message from Miss Marsden…
You have all had a wonderful half-term. I am so proud of how well you have all settled back into school life. It has been lovely to have you all back together and I can't wait to see where the summer term takes us. I hope you all have a fantastic half-term and a lovely Easter.
Happy Easter Foundation!