Bagel Bar
Our bagel bar has been open for a few weeks now and the children have really enjoyed eating breakfast with their friends and it's been a positive start to their day. The doors open at 8.30am each morning and  all children from Reception to Year 6 are welcome.
Word Passport
NOTICE FOR F2 PARENTS!
The F2 children will be bringing home their word passports and first words. By Friday, they will have done the first set of sounds: s, a, t, p.
Some of the words will include 'i' and 'n' – please don't worry about reading these words until next week when we have done them in phonics.
Squiggle While You Wiggle
Last Friday we started Squiggle While You Wiggle. It is a kinaesthetic approach to stimulate early writing. Children use movement with music to develop their motor skills in preparation for writing. Through Squiggle While You Wiggle, children begin using scarves or ribbons to rehearse a range of shapes, which lead to children making those shapes on paper.
Check out us in action!
Parent Partnership Reading Presentation
Please click here to watch the presentation.
Your child will be bringing home their word passport and sound book on Friday. Please keep these at home! We will put new words and sounds in their book bags every Friday for you to stick in at home.
Reading books will be sent home Thursday 22 October. These will be changed weekly.
If you have any questions after watching the presentation, please email or chat to me on the gate.
stjameseyfs@spherefederation.org
Fantastic Foundation!
I can't believe it's Friday again – this week has flown by! We've had another  busy week. The children are really starting to come out of their shells.
A big well done to Harper, Kiara, Ronan, Isla and Emily for completing all of the rainbow challenges this week!
What have we been up to in Foundation this week? 
We have continued our phase one learning in phonics. The children are great at hearing and saying initial sounds in words.  On Thursday, we had some fun making different voice sounds. Take a look here!
Next week, we will be starting phase two. The children will learn the first four sounds: s, a, t, p. They will be bringing home a sound book to support their phonics learning at home.
In literacy, we've been rocking in our school shoes! The children have loved reading Pete the Cat. We used actions to help us remember and retell the story. They also created their own versions of the story. Next week, our focus story will be Leaf Man.
In maths, we've started learning about number one. The children have explored what one is. We've been on number one hunts, made one wonderful world and monsters that represent one. Next week, we'll be continuing to look at number one.
On Wednesday, it was our first PE session! In foundation, we like to call PE movement play. We encourage physical activity in a child-led manner which will support their health, learning and wellbeing. The children had lots of fun travelling and moving in different ways.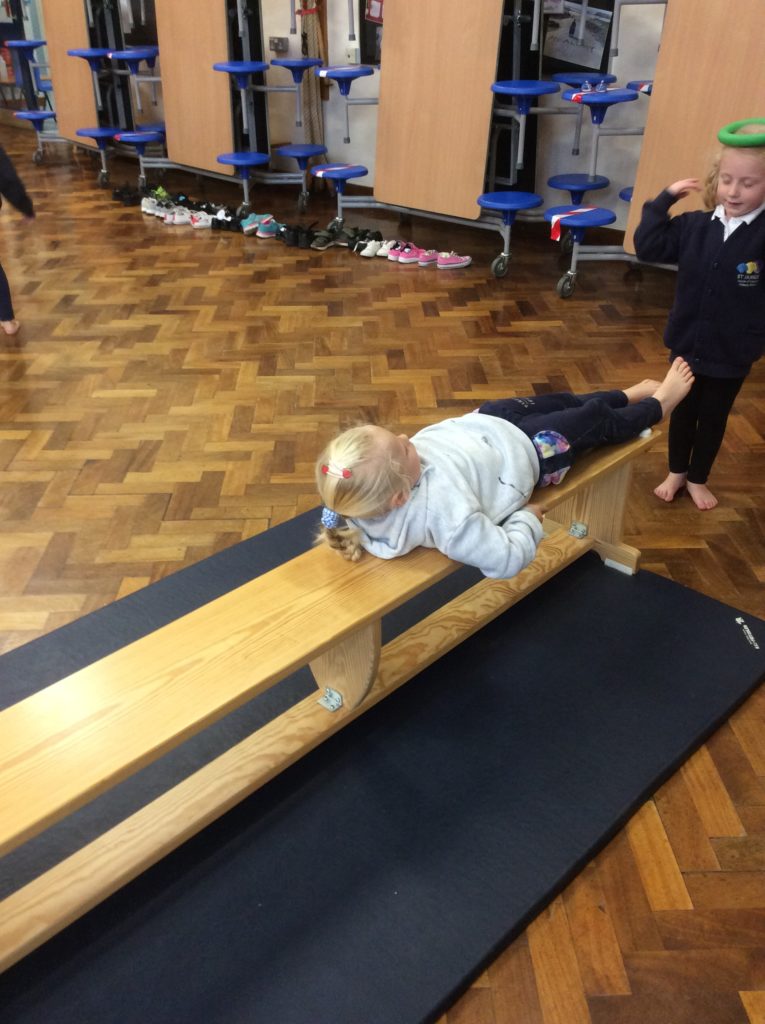 Our Christian value this half-term is friendship. We have discussed what makes a good friend and sorted different scenarios into good and bad friend.  Last Friday, we made a class friendship tree. The children came up with lots of different words that remind them of friendship.
 F2 parents!
Your child will be starting their reading journey. Therefore, I will be posting a Reading and Phonics Presentation on Monday 05 October. The presentation will be on the Foundation Class News Page.
It will include key information about how we teach phonics in school and what you can do to help your child at home.  Your child should have received a letter today about the presentation.
Home-Link Challenge
Finally, I would like to say a big thank you to all the Foundation parents. It's a strange time at the moment and I am so grateful for all your support and patience during these uncertain times. Please do come and chat to me if you have any concerns or questions about your child. I am always happy to have a little chat.
Have a lovely weekend!
Another busy week in Foundation!
The children have definitely settled and are great at doing their morning jobs independently. This week we have welcomed our F1 children – F2 have been great role models!
What have we been up to in Foundation this week? 
F2 have started their daily phonics sessions. This week we have listened for sounds in the environment, made rhyming 'silly soups' and used a puppet to support oral blending*.

In maths, we ordered birthday cards. The children worked out the missing cards and used one more and one less to explain their answers. We looked at the number zero and what it means. The children played a game using the home corner food to support their understanding of zero.
We have introduced the rainbow and star challenge sticks. Each week, there will be six rainbow challenges in the areas. The children will be encouraged to do the challenges and collect their sticks to make a rainbow. There will also be a star challenges underneath each  challenge. These are to extend their learning and thinking.

Talk Time!
The children shared their something special. It was nice to see the children being respectful by listening carefully to their friends. They were super at asking and answering questions!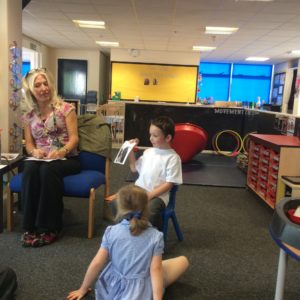 Reminders!
On Tuesday, it was the first day of Autumn. The cold, wet weather has definitely arrived! Please make sure your child wears a suitable coat!
Please bring in a 'school' pair of wellies.
PE will start next Wednesday – your child must come in their PE kit.
Please label everything! We have already had things go missing.
*A method used to help children learn to read by combining sounds to make a word.
Home-Link Challenge
Baby and Now
Find photos of past memories. Encourage them to talk about themselves as a baby and now. Compare what they could do then and now. Send a baby photo to Miss Marsden. We will use this reflective exercise as part of our 'all about me' mini topic this term.
stjameseyfs@spherefederation.org
Bagel bar
On Monday, our bagel bar will be opening at 8.30am. You can bring your child to school for a breakfast bagel free of charge. This will be available Monday to Friday until March 2021.
This is part of a Covid response under the National School Breakfast Programme.
Our school has signed up to receive free healthy breakfast food as part of the Covid response offer, under the National School Breakfast Programme (NSBP), which is being delivered by the charities Family Action and Magic Breakfast.
Reception, Years 1 and 2 will enter through the main door at the office. Years 3-6 will enter school through the playground gate as normal. Please remember to follow social distancing guidelines when dropping off your child.
We look forward to welcoming lots of children to our bagel bar next week!
Well done!
Well done to the F2 children who did the home-link challenge! It was lovely to receive so many emails! We will be sharing all of the photos tomorrow afternoon.
All of your photos are now up on the parent notice board. Unfortunately, parents are unable to come into our classroom at the moment. I have taken a picture so you can see what we do with all the home-link challenges.
Teamwork!
On Friday afternoon, the F2 children worked cooperatively to create an amazing obstacle course.
The children planned and made decisions about how they were going to build a successful obstacle course.
They showed high levels of energy and fascination when building the obstacle course.
The children reviewed and changed some of the pieces when they realised it wasn't working.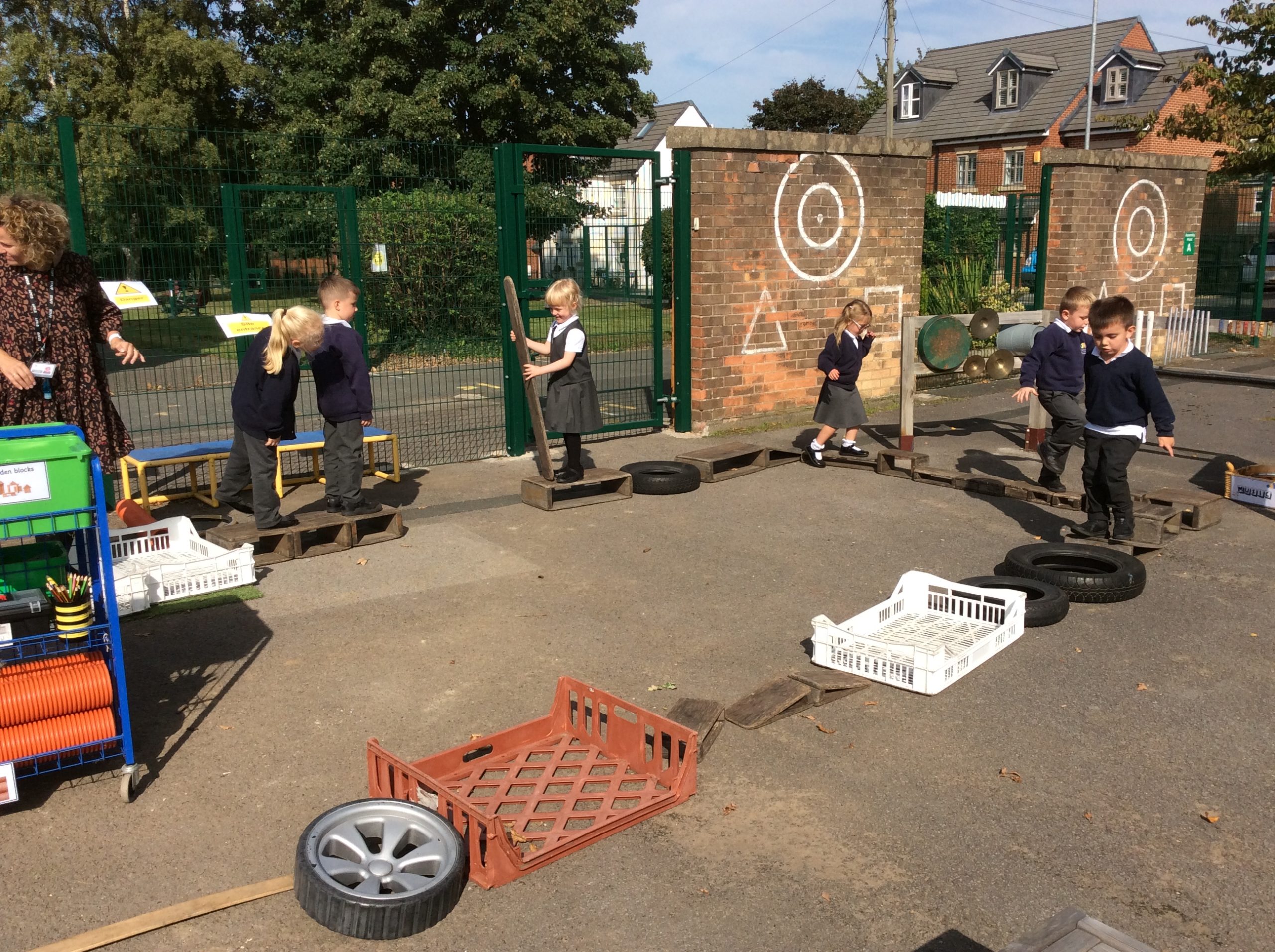 Fabulous Foundation
The children have had another fabulous week in Foundation!
We are really starting to get to know their interests and personalities.
They are all fantastic at following the school rules and classroom routines – I'm super impressed!
Here's some highlights this week…
WAKE UP SHAKE UP!
Exploring in the water tray.
Our first lunch at school.
Using our senses to explore the classroom.
Next week, our first focus story is Pete the Cat – Rocking in my school shoes! The children will draw pictures of them rocking in their school shoes and come up with some actions to help us retell the story.
In maths, we'll be introducing our first focus number which is zero and looking at other numbers that are significant to them e.g. their age, house number etc.
Home-Link Challenge