Christmas Party
Merry Christmas and a happy new year from all of the Foundation Team!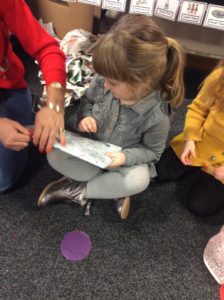 Christingle
Preparing for our Christingle service.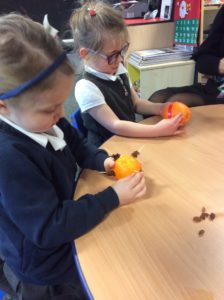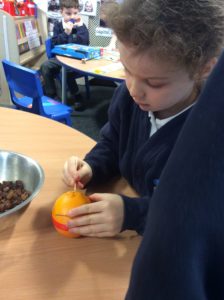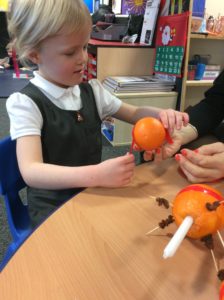 The children were very sensible when holding their Christingles – we were very proud of them all.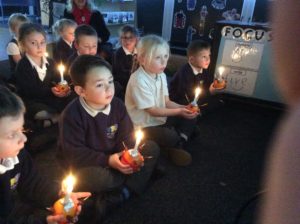 Talk to your child about the Christingle service and see if they can remember the meaning.
Christmas Jumper Competition
Well done to all the children who designed a Christmas jumper for last week's home-link challenge. You all made it very difficult to choose a winner!
The runners up…
Ava

Alba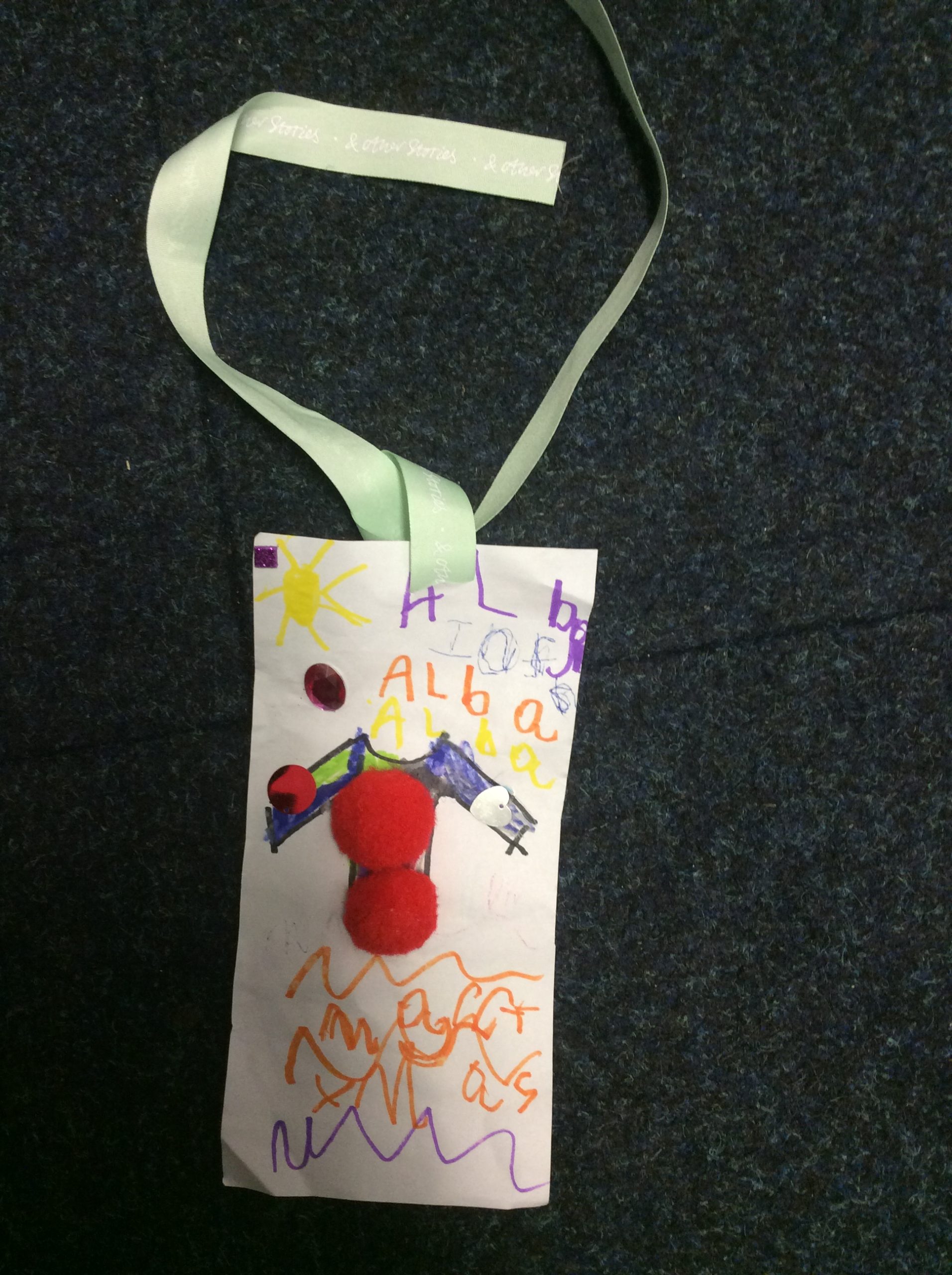 The winner is…
Logan

Christmas Lunch
Virtual Santa Visit
The Christmas Sing-a-Long
We hope you enjoy the show as much as we did performing it!
Merry Christmas!
This week in Foundation…
We filmed the Christmas show on Monday and the children all looked fabulous and did some amazing singing. Make sure you check out the Foundation Class News Page on Tuesday – you don't want to miss it!
This week has been another busy week full of lots of great learning.
Here are some of the things we've been up to this week…
We made and decorated salt dough baubles. The children will be bringing them home next Wednesday.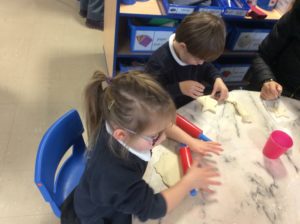 The children enjoyed navigating the Bee-Bots around the mat to different Christmas pictures. They had a go at drawing some maps to show how the Bee-Bot got to one of the pictures.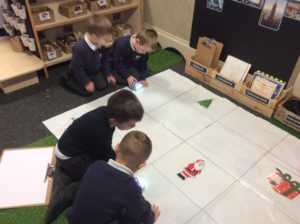 This week, our focus story was The Christmas Story. The F2 children drew a picture of their favourite part and retold the story using the finger puppets in the reading corner. Some of the children made a stable using the outdoor construction resources.
Getting messy in the sensory area!

Click here to watch a snapshot of what we do when we are learning in the areas.
Next week is a going to be another hectic week.
We have lots of fun activities planned for the children.
Don't forget it's our Christmas party next Friday. The children can come in their party clothes.
Home-Link Challenge

Christmas celebrations
As we approach the final week of term, it's time to get Christmassy, but as you know, it's going to be very different.
We can't invite you in to share any Christmas celebrations so instead we're going to share Christmas with you in a different way. From Tuesday 15 December, there will be a video posted on Class News of your child's class taking part in some Christmas celebrations. We know that this doesn't compare to what we normally do but we hope that it helps in some way.
During the final week of term, there will be a virtual pantomime performance that children will be able to watch at school. Thanks to the PTA who have paid for this.
Christmas lunch will be on Tuesday 15 December and all children will get a Christmas cracker!
On Friday 18 December, there will be Christmas parties in classrooms. Children can come to school in non-uniform. There will be some goodies coming home which have kindly been bought by the company who provide and maintain our photocopiers and printers.
It's a very different Christmas this year but we've worked so hard to stay safe that we don't want to spoil it now.
We hope that you have a happy and healthy, enjoyable and restful time with your families over the Christmas holidays.
Foundation Parents
In the most recent guidance that has come out this week, it specifically mentions that schools in Tier 3 shouldn't perform in front of an audience.  Even though we had planned to sing outside to parents/carers, we feel we should follow this guidance in the strictest way.
We will still send you a video of our Christmas performance taken place in school that you can share with family members.
Thank you for your understanding.
The Christmas theme continues…
Foundation have been very excited for Christmas this week. I think it is because we got to start opening our Class Advent Calendar.
On Tuesday, Beau opened the first door for coming into school with a big smiling face.
On Wednesday, Vinnie opened the second door. He was chosen because he is trying really hard in phonics.
On Thursday, Mrs Small chose Amelia for working hard all day.
Today, Bobby opened the fourth door. He is trying really hard to be independent at home time.
Gabriel and Jacob were chosen to open the 5th and 6th doors for trying really hard in maths.
On Tuesday, the F1 children got to decorate the school Christmas tree. Mrs Small said, "They are were really sensible and helped each other when putting the baubles on the tree."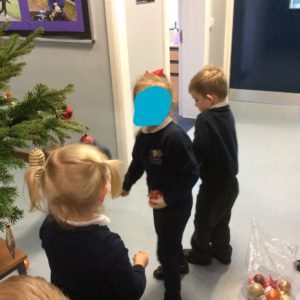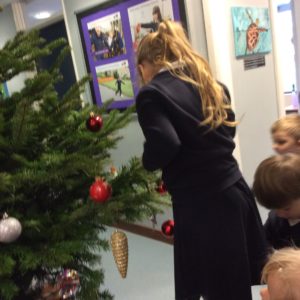 Phonics
The F2 children finished learning all of the phase 2 sounds last week! So, this week we've been recapping all of the sounds in our phonics sessions. The children love phonics and are all phonics superstars! After Christmas, we will start phase 3.
Here are some of the phonics activities and challenges the children have been doing this week…           SPLAT the phoneme!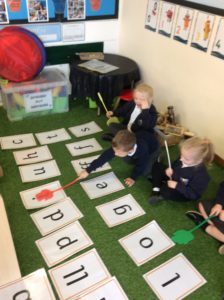 Playing phase 2 Snakes and Ladders with our friends. The children needed to blend the words they landed on.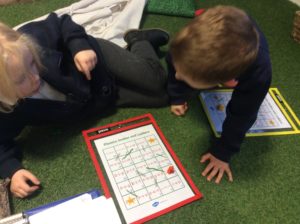 Musical Blending – The children danced around to the music. When the music stopped, they jumped on a word and blended it. This is an easy game to do at home.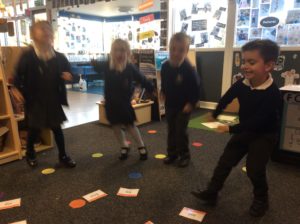 Tricky Word Twister – The same rules as Twister. However, each coloured spot had a tricky word on for the children to read. The children were also encouraged to practise writing the tricky words on the chalkboard wall.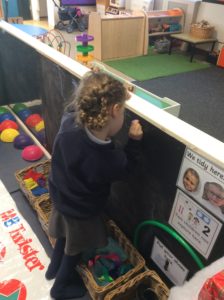 Finding phoneme baubles in the tinsel and making cvc (consonant, vowel, consonant) words with them.
F1 Group Time
On Wednesday, the F1 children made up silly rhyming stories about their puppets. Mrs Small started the story and paused at different points to see if the children could think of a word that rhymed.
For example,
Are you poorly Lizzy? Oh dear.
Fizzy, Wizzy, Lizzy is feeling sick and dizzy.
Bob is very excited. Today he is going to be a builder. Hob Tob Bob has got a new job.

Home-Link Challenge

While poking, rolling, and squishing playdough, children develop the small muscles in their fingers and hands to help them become amazing writers! When you play with the playdough at home with your children, you'll discover the most important reason of all: it's fun!
F2 Parents – Please encourage the children to segment the sounds independently. Remember, it is okay for things to be spelt phonetically. It is important your child grows into an independent learner. Encouraging your child to write the words as they sound encourages them to use their own skills – rather than copying an adult.
 Have a lovely weekend!