Funky Phonics
Thank you to the parents who were able to join us for our 'Funky Phonics' stay and play yesterday. The children made us very proud, showing their grown-ups how they use phonics skills in their reading and writing.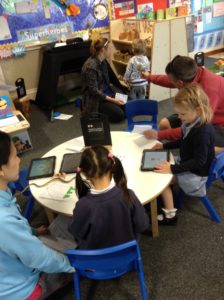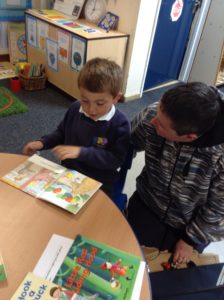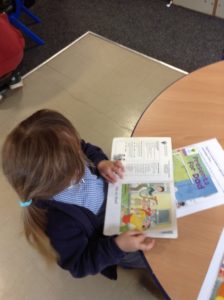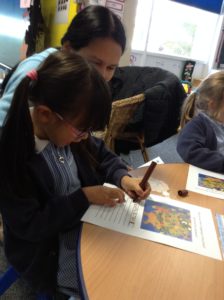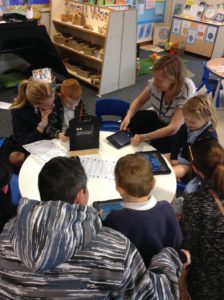 Supertato, Super Learning!
Supertato took over the classroom this week and the children have just loved exploring this story, written by Sue Hendra. 
We've been re-telling using our veggie characters, creating story mountains, mini-books and 'wanted' posters to find the "Evil Pea" after he sneakily tied up our vegetable friends!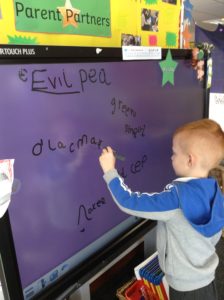 The children used some great adjectives to describe him and wrote descriptions of how Supertato was going to capture him. We were all relieved on Friday, when there was a happy ending (just like in the story); Evil Pea was captured in the jelly on our sensory table! Phew!
In Mathematics, F2 children have been focusing on numbers 10-20: recognising the numbers by sight, counting forwards and backwards from 1-20 and identifying '1 more' and '1 less' than a given number.
Please continue to work on these skills at home. 
F2 children have enjoyed practising various PE skills by racing through an obstacle course- jumping, weaving, throwing to target and catching!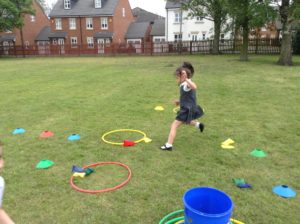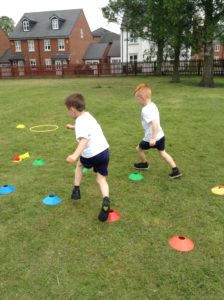 F1 children enjoyed their own mini PE session, too… Practising hula-hoop skills, throwing bean bags to target and working together in parachute games.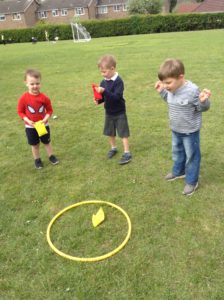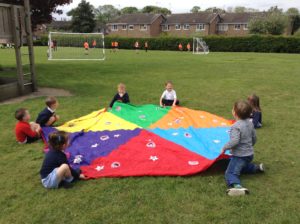 A reminder that our 'Funky Phonics' Stay and Play session is taking place for parents and carers of F2 children this Wednesday 16 May, 3.15-4.15pm. We look forward to seeing you there!
Have you seen…
…the new areas and displays in our classroom?
We have a new 'Garden Centre' role play area and discovery areas linked to our growing theme.
We also have a new 'Star Writers' board, featuring extra special pieces of writing that demonstrate great effort and achievement. The children receive a special reward if their writing is chosen. Be sure to check whether your little star has made it onto the rocket!
We love it when parents are able to stay a little while in the mornings to take a look at our learning on the walls and in the classroom, so please remember that you are always welcome to do so. The children's learning journey folders are also available to access at any time and are now located right next to the signing in / self-registration area.
What work can your child show you in the classroom that they have recently created?
Can they take you to an area they enjoy using this week?
Sunshine, Sizes and Stories!
Our first beautifully sunny week back in Foundation has been packed full of learning fun!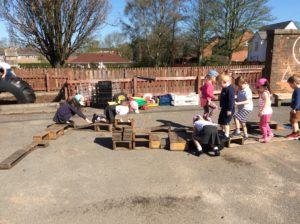 We've been reading the story of Jack and the Beanstalk. F2 have been writing their favourite parts of the story and using their imaginations, sharing ideas of what they would like to find at the top of  the beanstalk.
Can you spot the beanstalk that has grown in our classroom from all of our ideas?
We've been planting beans in cups so that we can observe the roots develop. Have a look in our 'growing area' to see how they are coming along!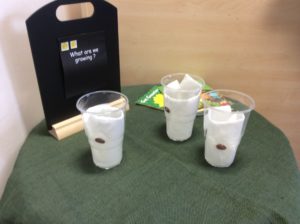 This week we will continue the 'growing' theme, planting some carrots and radish in the Foundation garden area. Thank you to all of the parents/carers who brought seeds into school. We'll be planting them all over the next few weeks.
The theme has been perfect for working on size and measurement in mathematics (F2). We have been comparing and ordering objects by size and measuring using smaller objects.
Ask your child:
What the important things to remember when measuring?
Where do we start?
How should our measurement line look?
We've been outside enjoying the wonderful weather: learning in our outdoor area, having PE outside and going onto the field to play parachute games. We've been talking about how to stay safe in the sun and making sure we wear our hats and sun lotion outside.
Thank you to the parents who were able to attend our 'Parent Partners' drop in sessions on Thursday, to look at learning journey folders and talk about your child's learning. We've created a new board in the classroom to display the children's achievements from home. Please remember that you can come to us at any time to let us know about these and fill in one of the special stars to add to the board!
Parent Partners
Welcome back, Foundation! We hope you've had a brilliant half term and have come back excited and ready for all of the lovely learning we'll enjoy over the Summer term!
This Thursday our Parent Partners drop in sessions are taking place. Please join us at either 8.30-9.30am or 3.20-4.00pm to discuss your child's learning, take a look at their journey folders and ask any questions you may have about your child's learning and development.
We really value the partnership we have with parents and carers and this is a great opportunity to discuss achievements both at school and at home. We look forward to seeing you all then.
Pics, Mix and Three Little Chicks!
This week, Foundation learnt and re-told the tale of The Little Red Hen.
Linked to the story, we've been baking bread- just like our main character! The children had a go at measuring and adding the ingredients, mixing them together and kneading the dough. We hope you enjoyed them 🙂
On Friday, Foundation had a fun afternoon- a Spanish lesson with Miss Castro and a sports session with Five Star, which they thoroughly enjoyed.
Can your child tell you some of the new Spanish words and phrases they have learnt?
The most exciting part of our week by far has been the arrival of our new fluffy friends. Our chicks began hatching on Wednesday and by Thursday we had welcomed three new lives into the world. The children have named them Rosie, Anna and Peter. On Friday they each had a turn to hold a chick. The chicks have bought some fantastic learning opportunities: discussions on the life cycle of a chicken, growth and how to care for living things. F2 children have been writing name ideas for the chicks and describing them. Most importantly, the children have gained so much pleasure and joy from observing the chicks, it has been wonderful to watch their faces light up when they see them. Take a look at our video of pictures which really captures how the children feel about the experience.
You may have noticed that there has not been a second reading book change this week for F2. Due to the many lovely events taking place throughout this busy week, we have practised our rocket words and letter sounds as an alternative and will change all reading books on Monday.
Sport Relief 2018
Thank you for your donations supporting Sport Relief. The children had a fabulous time this afternoon taking part in different sports alongside KS1 and KS2 children.
The Gingerbread Man- Super Story-tellers!
This week in Foundation, our focus story has been the traditional tale of The Gingerbread Man.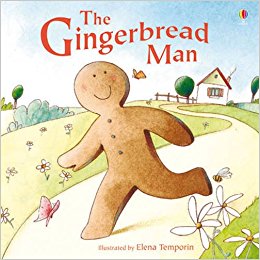 We've enjoyed making messy mixtures, using gingerbread playdough and designing our own gingerbread men.
Gingerbread men have also been used as a counting tool in the maths area and as objects for our fiddly fingers tweezer challenges.
Foundation have looked very closely at the story throughout the week; writing about our favourite parts, creating story boards and using 'Talk for Writing' to map out the story and prepare for re-telling. As a class, we decided on the actions we would use to tell our story and by day 2, the children were able to recite the story independently using their picture prompts!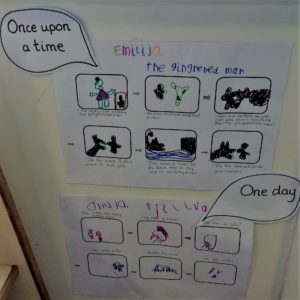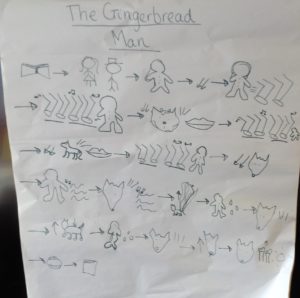 This method is great for learning how stories are structured and it enables children to develop literacy skills that will help support their own creative story-telling and writing.
Take a look at Foundation's fantastic story-telling video of The Gingerbread Man!*
*Please note this video is unlisted on YouTube and does not appear in any searches made by the public on the site.
Snow, Sun and World Book Day Fun!
Thank you all for coming to school in your wonderful World Book Day costumes on Monday. We had a great time exploring different popular stories throughout the week and celebrating the importance and enjoyment of reading.
We were a little surprised by the snow on Wednesday! Foundation love exploring the snow, so we took the opportunity to go outside in small groups to do a bit of mark-making with our bodies and sticks.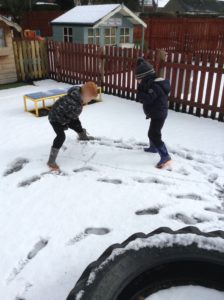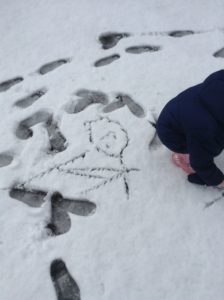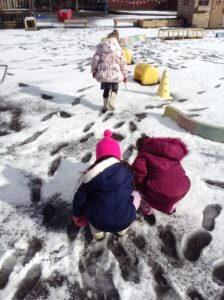 When the sun came out in the following days, we saw some fabulous child-led learning, as the children collectively decided to work together to make their own stage using the large construction blocks. There were some amazing performers and performances!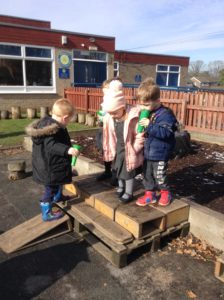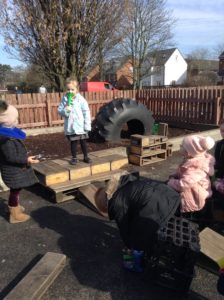 The children have enjoyed their first week observing the chick eggs in the classroom. We've had lots of discussion and are working together to take care of them. We gently turn them over each day as we count them and are marking off the days until the very egg-citing hatching!
Foundation have all been working on their special cards for Mothering Sunday. F2 have been writing about why their mummies are so fantastic!
If you were able to attend the assembly, we hope you enjoyed seeing our 'people who care for us' artwork and hearing about all the lovely things the children wanted to share with you all.
We wish you a very Happy Mother's Day.
Snow Closures and World Book Day Reschedule
Thank you parents and carers for your understanding regarding the school closures this week. It's always our first priority to keep the children safe and could not ensure that this would be possible with the staff who could make it to school. We hope that the children enjoyed their time in the snow – we don't see snow that deep very often!
The severe weather resulted in World Book Day being cancelled. The children had been so excited about coming to school dressed up so we have decided to have our own book day on Monday 05 March. Please come into school and share a book with your child. We're opening to everyone in Foundation from 8.30am so there will be a little extra time to read a story.
Our eggs arrived safely on Tuesday and went into the incubator on Wednesday. The eggs will take 21 days to hatch and we'll have to take good care of them. Watch this space for updates on their progress or come in and have a look for yourselves.
As the cold weather is set to stay please ensure that your child has named hat and gloves/ mittens at school every day. The children love to be outside exploring the weather and changes to the environment.
Please don't forget to tell us about your child's 'Wow' moments. Maybe it's the first time they've been on a sledge or made their own snowman. Let us know what you have been up to and we can add it to your child's learning journal.