The weekly update- An EGG-citing arrival!
On Tuesday, we had a super EGG-citing delivery. We have eight new eggs in our incubator! The children are already fascinated and having some great discussions. We have been taking care of our eggs and talking about how we need to be very careful around our incubator (we even have signs written by the children to remind us!)
The children watch the adults carefully turn the eggs twice a day, just like the mummy chicken would do. This time of year is so lovely, as the children get to explore more of their 'understanding of the world', of growth and of changes.
In literacy, we have been using our story actions to retell the story of 'The Little Red Hen' We will continue to explore the story next week.
F2 have been problem solving in maths this week, as we learn how to double. We have been focusing on the language of adding the same and making our added amount equal to our original number.
F1 have been such busy learners too! From painting, to exploring our counters in the maths areas, constructing and making water tracks using ramps and guttering outside, Our new children continue to thrive in Foundation and we are really proud of how they are following their new routines.
Home-Link Challenge-  F1 and F2
As we are thinking about the growth and changes of our little egg friends, we would like to open discussions with the children about their growth and changes. To support with this learning, please send in a baby photo of your child (a copy we can use in their learning) or email your photo to:
stjameseyfs@spherefederation.org
Funky Phonics
You are invited to our second 'Funky Phonics' workshop on Wednesday 1st May, 3.15-3.45 in the Foundation classroom. This is for F2 parents/carers to share in learning with your child and gain insight to what is 'expected' by the end of foundation stage, in children's writing.
After School Club Places
Mrs Walton has four spaces available for the Thursday after school Lego Club, that she would like to make available to our Foundation 2 children. Please book on to the club through the office.
Art within nature
This week in craft club we have been looking at the natural beauty that is all around us. Andy Goldsworthy makes amazing creation in nature and we have tried to mimic his work. We used bright vibrant colours in our natural pictures to bring life to them. Take a look at what we have been doing.

Easter Stay and Decorate
This week, we are learning about The Easter Story and celebrating this important time in the Christian calendar.
We had a egg-cellent time in Foundation this morning; as parents, grandparents and brothers joined us for our Easter Stay and Decorate!
We enjoyed lots of crafts and making yummy chocolate-nest treats.
It was so lovely to welcome so many of you! A fantastic turn-out made for a truly egg-citing session!
Thank you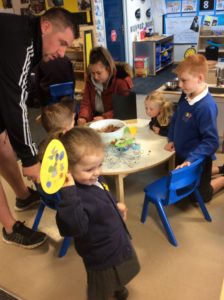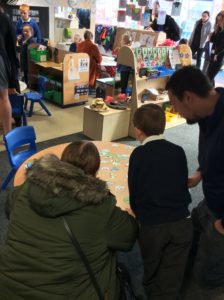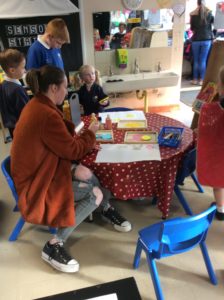 Craft club creations
This week in craft club we have been making Mother's Day cards. Look at our lovely designs.

Snack time progress…
At St James', we're all about progress and the Foundation class is no different.
Each day, during snack time, a Tally Master records our choices. We then can use the tally chart to see which snack is the most popular or least popular.
Maths is a huge part of your child's learning at St James' and it's important to practise recording and interpreting information. Try challenging your child to create a tally chart of their own at home! 
Check out how the children have taken ownership and improved recording the class choices:
Thank you Parent Partners….
Mrs Allen-Kelly and Mrs Valentine were so pleased with the turn-out at our Parents as Partners workshop after school today! We hope you have taken away some ideas of how to share your child's learning experiences at home with us.
Thank you again to the parents who shared their observations from home, that have been emailed or sent in so far this year. We really appreciate you allowing us to show others your great examples 🙂
It was lovely to catch up with many of you after the session to talk about how your child is doing and to see you enjoy sharing the learning journey folders together.
Don't forget… 'Wow Sheets', 'Learning at home sheets' and email address slips are available at any time in the classroom, for you to collect and fill in.
We look forward to seeing all the wonderful things you will email or hand in very very soon!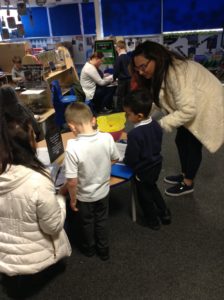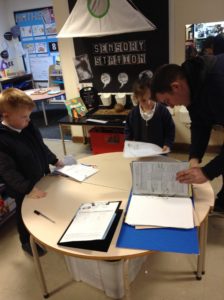 This week in Foundation…
On Monday, a new mystery unfolded in the classroom… someone (or something) had been through our roof and stolen our spare pants! They must have left in a hurry, as some were left dangling from the ceiling. F2 wrote down their ideas based on the clues that we had been left, before discovering later in the week that we had been visited by those cheeky aliens from the story Aliens Love Underpants!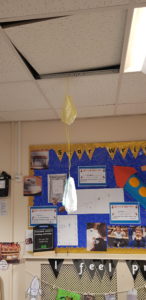 We were pleased to see the sunshine make an appearance this week, making our outdoor learning extra fun! The children have loved using the mud kitchen as a 'potting' area. We were also able to enjoy PE outside on Thursday.
This week's ball skill was catching. We made sure we were throwing 'chest passes' and ensuring we made it easy for our partner to catch. We also worked on having 'ready hands' that grab the ball rather than pushing it away from us.
In maths, as well as continuing our work on our focus number 10, F2 have been thinking about time through the Seasons of the year.
We loved watching the amazing talents in Friday's show. Well done to Jayden who represented Foundation with his super-cool dance moves!
Home-Link Challenge- F1 and F2
Thank you to those who have brought in or emailed photos of their family and/or home. Please continue to bring these in if you have not done so already.
Thursday saw the first full day of Spring! As part of our discussions on the Seasons, we would like you to take a photo of something you see on your walk to or from school, which is a first sign of Spring. Perhaps you have spotted the shoots of new flowers, bird's nests or blossom on the trees? Please bring in your photos or email them to  us;  stjameseyfs@spherefederation.org
Parents as Partners
You are invited to a 'Parents as Partners' talk on Wednesday 27th March 3.15-3.45 in the Foundation classroom. This is for both F1 and F2 parents/carers and is a repeat of a workshop we held earlier in the school year, to give tips on how you can share your child's learning at home with us. You will also have an opportunity to talk to the class teachers and look at your child's learning journey folder.
Our Door Decoration Competition Prize
We have decided to have a 'cinema experience' treat afternoon in Foundation, to celebrate winning the decorative door competition for World Book Day. This will take place on Wednesday afternoon. We will start the week by decorating our popcorn holders and creating tickets inviting our friend's to our very special cinema.
After School Club Places
Mrs Walton has three spaces available for the after school Lego Club, that she would like to make available to our Foundation 2 children.Mrs Allen-Kelly and Miss Pyart currently have one space available for craft club.Both clubs take place after school on Thursdays, 3.15-4.15pm.Places will be allocated on a first come, first served basis. Please visit Mrs Walshaw at the school office if you would like to book your Foundation 2 child onto either of the clubs.
Thank you.
Foundation's Starry snack time…
This morning, our speaking focus during our snack time has been all about stars: Vincent Van Gogh's Starry Night to be exact.
The children were asked to think carefully about what they could see and several suggestions were listened to in our group: a castle, buildings, cars, the moon and lots of stars.
It was great to see the children thinking carefully about their ideas, speaking clearly when sharing our ideas and listening attentively when it was someone else's turn to speak.
Levi, Summer, Evie and Liam showed fantastic speaking and listening skills – nice one!
Our book this week is Oliver Jeffer's How to Catch A Star so be sure to come into our classroom and how a look at our star learning!
World Book Day
What a wowzer World Book Day we've had: such FANTASTIC costumes and thoughtful choices of favourite books that really got the children talking and sharing in the pleasure of reading.
Thank you to those parents who started the day with us in our Relax and Read session and especially for sharing reading with not only your own children but their friends too. It was a very special time that the children really enjoyed.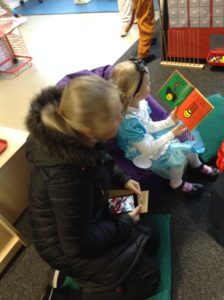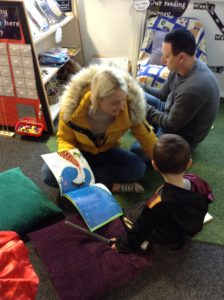 Thank you to year 5/6, who came down later in the school day to share books with Foundation. You were great role models!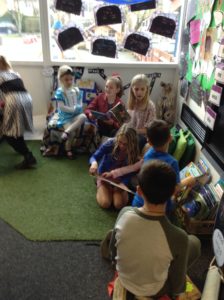 We were also very busy today, working on our Whatever Next #decorateyourdoor competition items; writing, paintings and collages. The competition was judged this afternoon by our local librarian from Wetherby Library, who liked our '3d aspect' and decided that Foundation were the winners! We're so proud of the children's hard work. Watch this space for details of our exciting prize!
Shrove Tuesday
It's Pancake Day! Children across school have been making their own pancakes; measuring ingredients, mixing, designing pictures of their favourite flavours and adding toppings. Then we ate them-Yum!
Before we made our pancakes, Foundation discussed the meaning of Shrove Tuesday and the important time of Lent for Christians.
Ask your child what they can remember about Shrove Tuesday and the tradition of eating pancakes on this day!