24 March 2020: F2 Home Learning
Phonics
Words to read:

Words to Write:

Phonics Activity:
Write a sentence which includes one of the words you have written, for example:
The clown has a pink waistcoat.
Remember!
Capital letters
Full stops
Finger spaces
Check your writing
How did your child find the writing activity?
Remember, it is okay for things to be spelt phonetically. It is important your child grows into an independent learner. Encouraging your child to write the words as they sound rather than always spelling correctly we encourage the children to use their own skills – rather than copy from an adult.
Literacy Activity
Twinkl challenge card! "Choose a new book to read. Stop reading in the middle of the story. Can you guess what will happen at the end? Were you right?"
You could use your school decodable or love of reading book to complete this challenge!
What did your child predict would happen in the story?
Were they right? Or did they come up with a better ending? Let us know via email.
Maths Activity
Twinkl-Careful counting- More and fewer (within 10).
(see page 7 in your pack)
How did your child find todays activity?
Remember, you can use objects around the house to count to help your child.
If you have any questions we are here to help and will respond to emails in school hours.
stjameseyfs@spherefederation.org
W/C 23 March 2020: F1 Home Learning
Monday
Phonics- Body Percussion
Play 'Follow the Leader' with your family. One person chooses some body percussion (for example, patting their knees, clapping their hands or clicking their fingers), the rest of the family have to copy the leader. Take turns to be the leader.
Activity- Toys
Have a look at your toys at home. Can you find a toy that can move, a toy that makes sounds and a toy that lights up? How do you make them work? Talk to your grown-up about the different ways your toys work. You could draw a picture of your favourite toy.
Tuesday
Phonics- Listening Walk
Go on a Listening Walk with an adult around your house and in your garden. Practise listening carefully to all the different sounds you hear. Talk about what you heard. Did you recognise all the sounds? Were they loud or quiet? Were they long or short sounds?
Activity- Be Creative!
Make a colourful collage. You could use bits of old fabric, paper, cardboard or even natural materials, like petals and leaves from your garden.
Wednesday
Phonics- Listening Walk
Go on another Listening Walk with an adult around your house and in your garden.  Talk about what you heard. Did you hear anything different today? You could draw some pictures of the things you heard.
Activity- Counting
Sing number- themed counting rhymes and use your fingers or small props to help you count, e.g. 10 Green Bottles or 5 Little Speckled Frogs.
Thursday
Phonics- Voice Sounds
Play an animal themed guessing game. Make some sound effects for different animal noises and encourage someone to guess what animal sound you are making. You could 'meow' like a cat, 'woof' like a dog or 'hisss' like a snake. What other animal sounds can you make? You could sing 'Old MacDonald' with you adult.
Activity- Nature Scavenger Hunt
Go on a nature scavenger hunt around your garden. Use the checklist to tick off the things you find. I wonder what you will find… (see pack for checklist)
Friday
Phonics- Oral Blending
With a grown-up, play a listening game about a visit to a farm. "I went on a farm and I saw…" – instead of saying the animal name, split the word up into 3 letter sounds. Encourage your child to identify the animal by blending the 3 sounds together. For example: "I went to the farm and I saw a c-a-t." "It's a cat!" Try the words; cat, dog, pig, hen, cow, fox, duck.
Activity- Positional Language
Use a favourite toy or teddy and place it in different places around your house. You might place it under your bed, on top of the cupboard, in front of the TV or even in the bath! Encourage your child to describe the position of their item.
Please see your pack for other daily fun activities!
Please use the email address below if you have any questions about the home learning activities.
stjameseyfs@spherefederation.org
23 March 2020: F2 Home learning
Phonics
Words to read
:
Was your child able to blend the four daily words today? Encourage your child to use their 'phoneme fingers' to help them when reading words.
A phoneme is a unit of sound. So when sounding out words with digraphs/trigraphs those 2/3 letters is one unit of sound. For example; chip is sounded out as ch/i/p – using 3 fingers.
Phonics Activity: Twinkl- Draw a line to match the caption with the picture (see page 5 in your pack)
Literacy Activity
Visit pobble365.com. This website has daily pictures. Use the arrows to find the most interesting picture you can (or use today's daily photo) Discuss the photo and write what you can see. Perhaps you are even inspired to come up with your own story based on the image!
Did your child have a favourite picture? Did your child make up their own story? Let us know via email. With each photo there are story starters and questions to help encourage your child's imagination.
Maths Activity Twinkl
Finding One Less:


If you do not have toy cars, you can use anything! Dolls, teddies, pieces of food- any objects you can count!
Challenge: Can you record your findings either by drawing your objects and crossing on off each time or writing it as a number sentence (ie. 5-1=4)
What objects did you use when finding one less?
Was your child able to predict without counting?
Please use the email address below if you have any questions about the home learning activities.
stjameseyfs@spherefederation.org
Home Learning – further details
Foundation 1
Your child has been given a home learning pack. These activities will be posted weekly on the class news 'Foundation' page at 9am on Mondays.  This pack will support your child for two weeks – up until the Easter break. The pack is set out in days but it is entirely up to you how and when you complete these tasks. Also, if you think of some of your own activities, don't forget to share them with us too.
Foundation 2
Your child has been given a home learning pack. This contains a daily phonics, literacy and maths learning task. The home learning pack has enough learning activities/resources to support your child for two weeks – up until the Easter break. The activities from the pack will be posted on the class news 'Foundation' page daily at 9am. In addition we will be adding questions which will help you support your child.
After the Easter break we will be posting online daily learning tasks. These will include a phonics, literacy and maths activity. The tasks will show on the class news 'Foundation' page. They'll be published daily, Monday to Friday, at 9am. Each the three tasks should take about 20 minutes each.
Remember!
Please talk and read with your child on a daily basis. Share stories and read different types of texts. You could even make up your own stories!
We really want to keep in touch with everyone so remember you can email the Foundation teachers.
Email us if you're unsure about some aspect of the home learning or if you want to share what you have been doing. The email address is the one you use to send your photos of home learning moments .
A reminder of the email address – stjameseyfs@spherefederation.org
We will aim to reply on the same day and no later than the following morning.
We look forward to hearing all about your learning at home this week.
PE with Joe Wicks
Some classes have used Joe Wicks workouts in their PE lessons recently and he has sent a message for you all.
Starting Monday 23rd March I'm going to be hosting a free workout aimed at kids LIVE on my YouTube channel.

With the schools closed and with us all spending more time at home, it's more important than ever that we keep moving and stay healthy and positive.

Exercise is an amazing tool to help us feel happier, more energised, and more optimistic.

The workouts will be fun and suitable for all ages and even adults can get involved.

You don't need any equipment, just tune in to my YouTube channel at 9am each morning for a 30-minute, fun workout.

One more thing! I really need your help to spread this message. So please please share this with everyone that might like to get involved, and together we can help keep the nation moving 🏻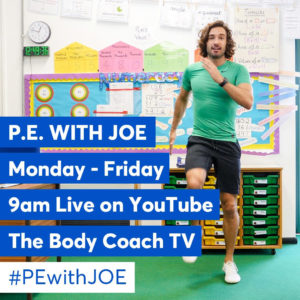 Sport Relief 2020
For our Sport Relief 'Game On' challenge, Foundation challenged themselves to see how many star jumps they could do in 30 seconds.
It was super-tricky to get all of our limbs working together as we jumped out into our star shape and back again. We began the challenge on Thursday during PE and yesterday attempted to beat our personal best! Every child managed more jumps than the previous day with our 'most improved' being Lily who jumped 20 extra star jumps! Wow!
Thank you to our parents who generously donated to this important cause.
Home-Link w/c 16 March 2020
This week's home-link ties in with our sport and health themed challenges of the week and has a hygiene focus.  At this moment in time we are being extra vigilant with our hand-washing and hygiene routines but health and hygiene are something we embed every day in Foundation class. An important achievement we look for in the Prime area of Physical Development; Health and Self-Care (40-60m) is:
(Children) "Show some understanding that good practices with regard
to exercise, eating, sleeping and hygiene can contribute to
good health"
We would like you to ask your child; "What are the ways that we can keep healthy?"
Please record your child's responses (in their own words) and either send this to us via email or written on paper and handed in to a class teacher. Thank you.
Reflection time, Hand to mouth and home-link…
Last week, Foundation had a visit from Hand to mouth who spent a circle time with us. We had a feely bag activity, explaining The Holy Trinity. Children picked out objects representing God the King of the Earth, God who sent his son to us and God the Spirit.
The children all listened very carefully but a special mention goes to the star of the session, Chloe, who explained what she knows about our Earth and the ways we speak to God during our collective worships at St James'. She told our visitor:
"God is with us, his spirit is with us"
Later in the week, during our reflection time, we focused on our Christian value of forgiveness. We discussed how it is important to show forgiveness to others and took part in an activity where we drew a picture on a whiteboard about a time where we might have made someone feel a bit sad. We spoke about feeling sorry for these times and we rubbed our boards clean to represent God's forgiveness and the forgiveness of others.
If you would like to see pictures and activities from our reflection times, these can be found in our presentation book, in our classroom reflection area.
Home-link Challenge- w/c 09.03.20
It is Spring time! What signs can you see out and about linked to Spring? Perhaps you can see new flowers beginning to bud, leaves or blossom beginning to grow back on the trees, lighter mornings and evenings or baby animals being born?
We would like you to take photos, draw pictures or write sentences about the first signs or Spring. As always, you can email activities and photographs to the class email address:
stjameseyfs@spherefederation.org
World Book Day 2020
We just LOVE reading in Foundation! We read and explore stories every day and all year around but it is great to have a special day each year to celebrate the joy of books.
For World Book Day 2020, we dressed as our favourite characters and brought in some of our favourite stories to tell our friends about on the special story-tellers chair!
We were also lucky to have some of our parents join us for a stay and read session this morning- thank you to those who could make it.
Some of us have created book marks, drawn pictures of our story characters and played our 'guess the story' game too.
Check out our wonderful World Book Day photos:
Here are some quotes from our children about their favourite stories:
Connor (F1) on his non-fiction Rumble with the Dinosaurs book- "This is my favourite book about dinosaurs; T-Rex, anchisaurus, spinosaurus. Look! If you press the button it goes ROAR!"
Willow (F2) on The Gruffalo– "I'm a Gruffalo. The mouse took a stroll in the deep, dark, wood!"
Elijah (F1) on his Henry; Thomas the Tank Engine book– "It's a Henry book… see you can buy tickets to the museum to see Henry and Thomas and all the engines. There's 1, 2, 3, 4, 5 engines"
Chloe (F2) on Snow White and the buried treasure- "In the story they find some treasure and a necklace- The norths, the seven… THE DWARVES! My favourite part was the prince going away… and this part makes me laugh cause the little dwarf goes under the rug!"
Pancake Day!
Foundation had so much fun making pancakes. They carefully cracked the eggs and measured the correct amount of milk and flour. After, they mixed them together to make a smooth mixture. Miss Feldman used the frying pan to fry 10 pancakes! We watched carefully from a distance. The F2 children did some instruction writing after. Of course the best part was… EATING THEM!

One of the challenges this week was to make a playdough pancake. The children have loved pretending to flip and fry them!

Cooking and baking are fantastic real life experiences for children! If you do cooking or baking at home, please send us some pictures. We would love to see these!
Spring one fun is done!
Phew… what a busy half term we have had! Thank you to all of the parents that joined us at our Parent's Evenings this week.
We have welcomed new friends into F1, who have settled into class beautifully.
F2 have completed all of their sounds in Phonics and made their way to focus number 9 in Maths.
The class have enjoyed their gymnastics coached sessions and exploring new equipment and movements in movement play.
We have explored lots of stories, fact finding, role play and more linked to our interest-led topic of The Royal Family and castles.
We have thought lots about our Christian values of love and friendship. We have learnt about mindfulness and keeping safe online.
Generally, we have seen so much progress with all the children in both their learning and confidence and we can't wait to see it continue for the final half of our school year!
Thank you to all of the parents that joined us at our Parent's Evenings this week, where we were able to share this fantastic progress with you.
Next half term, the children have expressed an interest in learning about "pirates", "mermaids" and "unicorns"- we will be developing this Fantasy Land theme throughout the term. There will also be elements of "dinosaurs" to capture another interest. Spring 2 will also see us think about growing in nature with some super exciting feathery friends to look after!
Home-Link Challenge
The home-link challenge is free-style! Pick a Fantasy Land character or topic. You could draw a labelled picture, make a model, find historical facts (pirates) or write a book review for your favourite story linked to Fantasy. We will share the children's creations during a talk-time session the first week back to school.
Important Dates Coming Up in Foundation
Weds 26th Feb 2020, 6.00-6.45 pm- What is GLD? ;
A discussion about the expectations at the end of Early Years and what practitioners look for to determine a "Good Level of Development" (F2 parents only)
Thurs 5th March 2020, 8.30-9.30 am- World Book Day ;
Stay and Read- We are inviting children to dress up as their favourite book character for the day. Parents are invited to stay and share books with your child and take part in activities for the first hour of the school day. (F1 and F2 parents)
Mon 23rd March 2020, 3.15- 4.15 pm- Writing and Phonics Stay and Play (F2 parents only)