This week in Foundation…
This week, the whole school have been thinking about how to STOP bullying – it was national Anti-Bullying Week. In Foundation, we've been thinking about what it means to be a kind friend and what actions may hurt other people or make them feel sad. Alongside discussing this with the children, they took part in a sorting activity where they had to decide which pictures showed behaviour of a kind friend and which pictures showed unkind actions.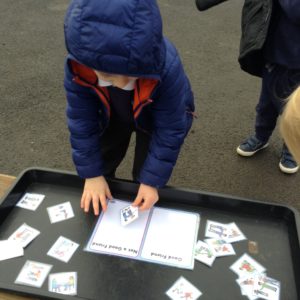 This week we introduced 'challenge cubes' for the F2 children. Each week they will find their pictures in various areas across the classroom, where they will be expected to challenge themselves. When they have completed the challenge, they receive a cube. If they complete five challenges throughout the week they will earn themselves a special certificate. Can your child tell you which activities they have challenged themselves with this week?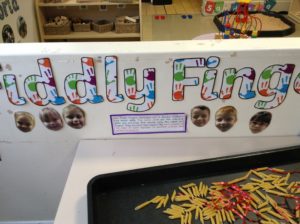 Finally, thank you to everyone who donated buns and wore their spots today to help us support Children In Need– you all look fabulous! 🙂
A big thank you…
To all of the parents and carers who were able to attend our 'Fiddly Fingers' Stay and Play yesterday. The children loved sharing their learning with you and we hope that you all enjoyed the afternoon as much as we did! Thank you for your continued support; we look forward to seeing you all at our next Stay and Play sessions, later in the school year.
The wonderful world of witches and wizards!
Foundation have settled quickly back into school after their half-term break.
On Monday, the children took part in a 'talk writing' activity, where they shared news from home about their holiday week whilst mark-making, drawing and writing. It was lovely to hear their news and also to see how much their confidence is growing when speaking to and sharing ideas with adults and friends.
Inspired by current interests, our reading area has been transformed into 'The wonderful world of witches and wizards'. This week we focussed on Julia Donaldson's Room on the Broom , watching the film version to pick out rhyming words, writing spells in the mark-making area and re-creating scenes in the small world area. The water-tray 'potion-making' inspired some fantastic imaginative play, with children describing all of the magical things they could do!
Outside, we had some pirate fun! We searched for treasure (letter sounds and words) in the sand using magnets and used our counting skills when collecting shells for the pirate ship.
Next week's learning is linked to this weekend's celebration of Bonfire Night. The children have been showing lots of interest in celebrations, especially birthday parties. They have also been fascinated by the magnets we used this week. Have a look on Monday morning to see if you can spot where we have used these ideas to create more fantastic learning opportunities!
Happy Half Term!
Congratulations Foundation Class on a wonderful first half term!
It was lovely to share Foundation 2's learning with you all at parents' evenings this week. Thank you for attending.
A little reminder that Foundation 2 will need their PE kit, with all items named and in school, by Wednesday 01 November. To see the skills we have been developing this half term in our PE sessions, take a look at the picture above!
Have a fantastic week and we look forward to seeing you all when we return on Monday 30 October.
Squiggle while you wiggle!
We've seen many examples of fantastic learning over the past few weeks. However, one thing the Foundation 2 children have shown lots of enthusiasm for is our weekly 'Squiggle while you wiggle' session. These sessions focus on gross motor movements that will develop strength in the muscles we use in our writing. Movements are made to exciting music or songs that we sing together. We then move on to using our fingers to 'squiggle'. So far we've squiggled in shaving foam, with chalk on the playground, with pen and paper and with our paintbrushes. Can your child sing the movement song to you from this week's session? (clue: dragon!)
All of Foundation have opportunities to work on their physical skills all day, every day. We have outdoor and sensory exploration alongside daily 'dough disco'. We also have our 'fiddly fingers' table, which has a new activity on each week. These activities are designed to work on fine motor skills, specifically working on finger muscle strength.
We'd love to see any pictures you have of your child demonstrating their physical skills at home. This could be gross motor movements (for example: running, jumping, hopping, skipping, kicking a ball, catching) or fine motor movements (for example: using scissors, writing/ drawing, threading, using tweezers). These will be used on our movement play display board, to show all their friends some great examples of how to get our bodies moving!
Remarkable readers!
Our fabulous Foundation class have been looking at a new author and book this week- Julia Donaldson's The Gruffalo. They have all shown lots of interest in reading with adults, on their own and in groups which is marvellous to see. We're looking forward to sharing each child's favourite book from home with them over the next two weeks, when they'll take a seat in our 'magical' story-teller's chair!
Next
week, we've lots of Gruffalo themed sensory activities planned; making 'owl ice-cream', 'scrambled snake' and 'Gruffalo crumble'. We'll also continue our Autumn theme linked to the story. Please continue to bring in any objects you find on your own nature walks at home.
Parents as partners
Thanks for coming to the meeting this afternoon. It was great to see so many of you attending. If you missed it, read the presentation. If you've any questions, come in and ask a member of staff.
Phonics Fun!
This week, F2 children have started phonics. We've had fun learning new sounds and writing letters in a range of different ways, such as salt writing with our pencils and mirror writing with our whiteboard pens!
Thank you to those of you who were able to attend the reading meeting this week. All F2 children are excited to bring their first reading book home with them tomorrow.
The F1 children have had a great week exploring natural objects on the sensory table, including seeds, leaves, conkers and pine cones. They have enjoyed making bubbles in the water tray and playing with the wild animals in the small world area. In their key worker time, they have been singing, listening to stories and thinking about the rules and routines of our classroom.
As always, this week's planning is all based on the children's interests so expect to see lots of Autumn, wildlife and bubbly fun on Monday morning!
Settling in and making friends
We've had a fantastic week in Foundation exploring our outside area in the sunshine. The children have been very interested in planting and digging so we're going to prepare the garden for Spring next week by planting bulbs. We'll be looking closely at a variety of seeds and cutting up fruit to find the seeds inside. If you have any packets of seeds that you can spare we'd love to use them at school.
Foundation 2 children had great fun in their first PE session this week. This term, we will be exploring using the space around us by playing various games. The children will need to bring a PE kit to school for our PE sessions after the half term holidays.
Please don't forget our Early Reading meeting for Foundation 2 parents on Tuesday 26 September at 6pm. At this meeting, you'll find out how we teach your child to read at school and how you can help at home.
We love to find out what interests your children at home so come in and tell us or jot it on our interest board. This helps us to plan meaningful activities for your child. If you've any questions about this, please speak to a member of the team.
Lots of exciting learning to look forward to!
Getting to know you
It's been wonderful to see more smiling, happy faces as we welcomed our Foundation 1 children this week. Foundation 2 have been fabulous at lunchtimes and all of the class are settling well into school life. We are very proud of them.
We've been spending time talking about our favourite toys and activities both at school and at home, getting to know each other and continuing to explore our exciting classroom and outdoor space. The children have been adding their own artwork to the walls in the form of self-portraits and wowing us with their brilliant ideas and imaginations.
We now have a space on our Parent and carer notices board which gives a snapshot of the current week's learning through photos and comments, so be sure to take a look at what your child has been up to!
Just a reminder that as the weather continues to trick us with sunshine mixed with heavy rain showers, it would be helpful if your child could bring in a pair of named wellies for the outside area (if they've not done so already). We go outside in all weathers and would like to look after those smart school shoes as best we can!