A Love of Reading
Year 5 and 6 have had a busy reading week! World Book Day was a great success – we had the opportunity to listen to one another talking about their favourite books and authors. The pupils thrived when visiting Year 1 to read with the younger children – we also had a surprise visit from Mrs Payne, who discussed her favourite books and authors with us.
With their refreshed love of reading, the pupils visited the school library this week. Some pupils chose to have an individual book, and some pupils chose to pair up and choose the same book. The aim of this was for the pupils to discuss their book each week and share their love for it. Here are some pictures of pupils enjoying their new books.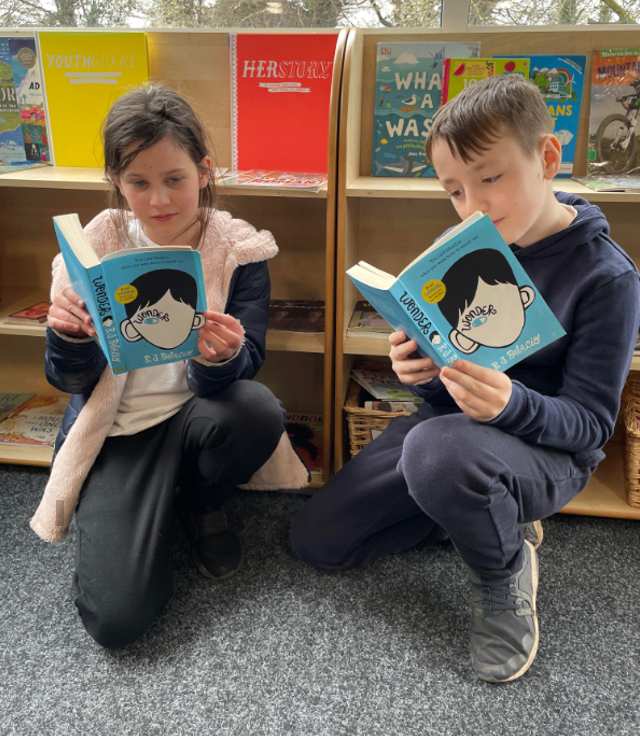 Geographers: exploring world issues
In geography, Year 5/6 have been researching some issues happening in different parts of the world as a result of climate change. This week, we've been learning about the issue of rising sea levels and how it is affecting people in the Solomon Islands.
What we found out came as quite a surprise for all of us. A really powerful, engaging lesson led us to reflect on the issue of climate change and how it can affect people/things we don't see in our normal, everyday lives. One of our geographical concepts (interdependence) has been discussed at length this week. We understand the paths someone could take as a result of what we've learnt. Here are some examples:
reduce our food wastage, therefore reducing the amount of harmful greenhouse gases in the atmosphere
try not to buy products with palm oil, therefore not supporting deforestation of rainforests
try and walk to school/other places to reduce car emissions
save electricity when it is not needed in our homes and at school (as much of this is powered by coal, oil and gas)
ignore the problem and carry on
The children have been so engaged in this topic, they are even asking to stay in at play time to learn more!
Here's an example of some notes taken during our lesson on the rising sea levels in the Solomon Islands.
Help at home:
Give your child further opportunity to reflect on this learning. How does it make them feel? Why do they feel this way? Ensure your child does not feel responsible for what we've seen in the Solomon Islands – this is a global issue over a long period of time. Discuss paths you could take moving forward (if your child wishes to).
Living and Learning: I know how to seek help.
This half-term, we have been regularly talking about who we can go to for help/advice. We have also discussed some potential reasons why someone may seek help, as pupils can sometimes be unaware of whether they should seek support.
To recap our learning, here's the list of people that we came up with to go to if we need help:
A trusted adult – This could be a teacher, a safeguarding officer, a parent or someone else at home.
A friend – It's always ok to ask a good friend for advice if you need to.
Childline  0800 11 11 – If you struggle to express your concerns in person, you can call ChildLine at any time, day or night, and have a conversation on the phone.
Write it down and post it in a worry box at school – This is a good way of expressing your concerns/worries if you are uncomfortable speaking out.
Help at home:
Please give your child opportunity to discuss any worries or concerns they may have. Children have the opportunity to do this in our Circle Time sessions at school, which they enjoy and benefit from.
Wake up Shake up!
Today, Wake up Shake up happened indoors! Check us out in action…
Living and Learning: I know that some drugs can be harmful.
Years 5 and 6 have taken part in some fantastic discussions this week about our living and learning statement: I know that some drugs can be harmful.
We looked more specifically on managing risks in social situations, and how media influence can blur our opinions on drugs, alcohol and smoking.
Firstly, we discussed where we might see or hear about drugs in the media. Here's what we came up with:
TV adverts
radio adverts
posters
shop flyers and signs
advertising on items, for example birthday cards
TV programmes and soaps
newspapers and magazines
We then looked further into some examples (below) and reflected on what the mixed messages were.
Here were some responses from the children:
"The picture in the middle suggests that relaxing, fun and partying all happen because of alcohol." Harley
"The last one makes me think that men might not feel good if they don't want to drink beer." Kara
"The colours in the word 'vape' make it seem appealing, but the black and white smoke suggests that it's not good for our bodies." Jacob
These three pictures hold mixed messages about drugs and alcohol, which can be difficult to see without talking about them.
Towards the end of the week, we combined this learning with our current writing skill (direct speech) to create a short conversation between two people. We had to goals for this learning: to punctuate our direct speech correctly; to react appropriately/safely in a tricky social situation.
Here's an example of how someone in our class would react to a situation they were uncomfortable in.
Science: Physics (Earth and Space)
This half-term, Years 5 and 6 are going to learn as physicists, as we are learning about Earth and Space.
Our goal is to learn as much as possible around the following areas:
Planets and the Sun
What are the planets in our Solar System?
Can we order them from closest to furthest away from the Sun?
How long does it take each planet to orbit the Sun – why is this?
Can we give some knowledge about each planet?
Are the sizes of the planets/distances between the planets the same?
How many stars are in our Solar System?
Earth and the Moon
How does the Earth move in relation to the Sun and the Moon?
How and why do we experience day-time and night-time?
Where do months come from? Why are they this long?
What is the moon and why can we only see it during night-time?
How do time-zones in different countries link to the movement of the Earth?
Famous physicians/theories
Who was Nicolaus Copernicus and what theory did he believe about our Solar System?
How did Galileo Galilei support the same theory?
Why did people previously believe the Earth was flat? How was this disproven?
Which is the correct, scientifically proven model of our Solar System: the geocentric or the heliocentric model?
Help at Home
Below is our vocabulary for this half-term. Take time to read and aid understanding of each concept with your child.
Living and Learning: I recognise mental health is important
Over the last few weeks, Years 5 and 6 have been reflecting on our mental health and how to look after ourselves.
Mental health is about our feelings, our thinking, our emotions and our moods – things you can't see, but that affect our lives in lots of ways.
In our Living and Learning sessions, we have discussed the types of things that might fall under the mental health category. Here's what we came up with:
feelings
inside feelings
anxieties
emotions
actions
how our brain feels
what's going on in our mind
mood swings
We also came up with a list of ways to help if we, or someone we know, is struggling from poor mental health:
Talk to someone you trust. This could be a parent/carer, teacher, friends, other family members, a therapist or Childline (0800 11 11)
Go to a safe space. This can help take your mind off things that are worrying you. Take some time in a place you feel safe/comfortable to reflect and relax.
Write in your journal/diary. Sometimes, it's difficult to express our feelings/concerns by talking. If you prefer, you could write down what you want to say.
Go outside and exercise. As we all experienced lockdowns due to Covid over the last few years, we all agreed that physical activity outdoors is a great way to make yourself feel better. This can distract you from your mind for a while and give you chance to relax and enjoy the outdoors.
Help at home:
Give your child regular opportunities to talk about their feelings/worries. In our circle times, children have really benefitted from speaking out and asking others for help. Even if the worries seem small, it's important that the children know we are all here to help, both at home and at school.
A Fantastic Football Experience!
Some pupils in Year 5 and 6 recently took part in the Leeds United football foundation competition, held at John Smeaton Leisure Centre.
Although it was an extremely cold morning, the children had a fantastic time playing against other local schools in a mini competition. There were some extremely talented youngsters on show, including some of our own!
We didn't manage to win, but that didn't stop us from celebrating like crazy after scoring two goals!
Thanks to all pupils that participated – you were a pleasure to take, and you represented the school extremely well.
Here's a picture of the team with the World Cup Trophy (they flew it all the way back from Qatar for us!).
Christmas events
It's a busy time of year with so many things happening. Here is a reminder of the Christmas events taking place over the next two weeks:
Wednesday 7th December, 2pm: Christingle Service at St James' Church
Thursday 8th December, 2.15pm: Early Years and KS1 Christmas play
Friday 9th December, 9.30am: Early Years and KS1 Christmas play
Tuesday 13th December: Christmas dinner
Wednesday 14th December: Early Years and KS1 parties (non-uniform)
Thursday 15th December: Ks2 parties (non-uniform)
During our productions, we will be raising money for our new school charity voted for by the Junior Leadership Team. This year we will be supporting Cancer Research UK. 
Pro Printers!
Year 5 and 6 have been putting our knowledge to the test by practising our very own printing process! So far, we have learnt about two designers:
William Morris
Orla Kiely
After looking at their design and printing work, we were inspired to have a go at creating some of our own. The children absolutely loved the process and we will definitely be practising again soon! Here are some images of our work so far – we are really proud of it!