Music day
Year 5 and 6 enjoyed a whole day of music, where they all learnt how to play some basic chords on the guitar and keyboard. By the end of the day, they played six well-known songs to the rest of the school. It was fantastic to see the focus and concentration the children had when playing the songs and how well they all played together as a group. Thank you to Fran and Sarah from Artforms, who ran the day.
Our visit from Councillor Lamb
This week, we had a visit from Councillor Lamb, who spoke to us about the planned housing developments around Wetherby. This is part of our geography topic: Where in the world am I? We looked at some huge maps of the local area, which clearly showed the places where housing has been proposed. The children asked some great questions about the negative and positive impact of the new housing developments and they have gathered lots of information for them to write a balanced argument in English.
Living and Learning: Anti-bullying Week
The whole school had a creative homework task to show how we can stop bullying. Here are some examples the children in Y5/6 showed in our homework review this week.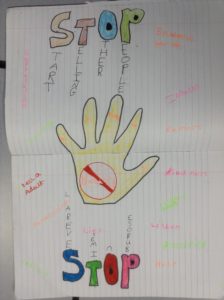 Living and Learning: Body Image
At the end of last year, the pupils in Year 5 and 6 completed a My School My Health survey and one of the findings from the survey was how many of us have negative feelings around our own body image. This week, we had a Dove workshop all about self-esteem and body image. With many unrealistic images in the media and on social media, it's important to explore our feelings and thoughts around this issue.
This is what some of the children had to say after the workshop:
"I will remind my friends not to say "I want to be like them," but I will tell them to be themselves."
"I will look at pictures and see how much editing/work they have done to this image. I need to say to myself that they are fake and don't change yourself."
"I pledge to think about myself in a better way and not compare myself to others."
"I will remind people that we need to respect ourselves and others. I will disagree to negative comments on social media. "
Living and Learning
In pairs, we created posters to show our 8Rs for learning. We will remember and use these 8Rs to help us learn throughout the year.
Living and Learning: democracy
On the last day of half term, the school councillors for this year were elected. The children read aloud and listened to speeches in their own class. Then the children went into the hall to vote for their class representatives; this was a very fair and democratic process. Congratulations to all the children who will be school council representatives for 2019-2020.
Whitby trip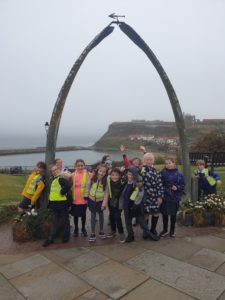 This half term, our class novel is Room 13, set in Whitby. We went on a trip to Whitby where we ate ice-cream, visited the abbey and got very very wet!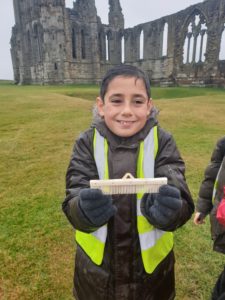 First week back!
Well done for a great first week back!
Our maths learning has involved some roman numerals and place value revision, in PE we have been practising some running skills and in English we have started our new class novel- Room 13 by Robert Swindells.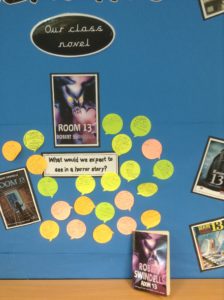 Try some learning activities at home by following the links below.
Junior Warrior
Last week, Year 6 took part in Junior Warrior. Even though they were covered in mud and had been pushed to their limits, they smiled the whole way through!
Sports Day
Well done to all the children for showing resilience and determination in their races!