Zooming
Today, Miss Beatson taught the class via Zoom. It worked really well and we had a great maths lesson. Miss Beatson enjoyed seeing everyone and was impressed by how hard everyone was learning.
Sneezing runway!
In science, we've been learning about microbes, infections and diseases.
At the moment, due to Covid-19, we are trying to keep our distance and use tissues to sneeze and cough into to help reduce the spread of infection. We thought we would investigate this to see if it really does work.
First of all, we created a 'sneezing runway' with paper and metre sticks.
We then filled a spray bottle (a nose) with water and food colouring.
Then, we simulated a sneeze by squeezing the trigger once over the paper. Before 'sneezing'  we predicted how far and wide the sneeze would go. Then we measured accurately with the rulers and recorded the result.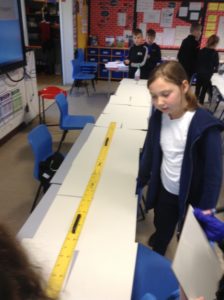 The next step was to observe what happens when we put our hand over our mouth when we sneeze; the microbes stay on our hands and can spread to anything we touch. We used a hand with a glove on it.
Finally, we wanted to observe what happens when we cover our mouth with a tissue during sneezing. We held a tissue directly in front of the spray nozzle. We predicted if this would reduce the distance a sneeze could travel and then made accurate measurements.
What did we find out?
When sneezing without any protection, the sneeze travelled 3.7m. With a hand it travelled 2m. With a tissue it travelled 1m.
To conclude, we can help reduce the spread of infection through sneezing if we use tissues and keep our distance!
Fabulous writing
This week, we've been writing non-chronological reports about imaginative creatures that live in South America. Erin's writing clearly shows she has taken pride in her presentation and I love her ideas and creativity!
"The Kanzo Dragon is given its fascinating name by Zeek Cheffman, a beast-ologist from South America. He experienced a malicious attack from this giant beast and was lucky to make it out alive…."
"This blood-sucking reptile is part kangaroo and part dragon. Like the kangaroo, the Kanzo has a pouch, except it's on the creature's tail. It is believed that it's used to carry dead bodies inside."
Classification
As part of our science learning about living things, we've been using classification keys to identify animals and we also created our own key to classify people in our class.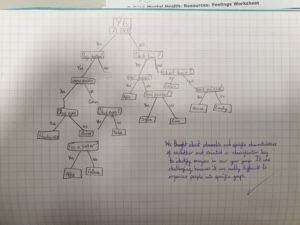 To find out more about classification click here. 
Living and Learning: I can talk about my feelings
This week, we've been thinking about different feelings we may have and why we may have had that feeling. We also talked about what we could do if a particular feeling was bothering us.
Our Living and Learning lesson involved using some resources from the Anna Freud website and it has lots of advice and links for children and families if they need support around mental health.
Bagel Bar
Our bagel bar has been open for a few weeks now and the children have really enjoyed eating breakfast with their friends and it's been a positive start to their day. The doors open at 8.30am each morning and  all children from Reception to Year 6 are welcome.
Bagel bar
On Monday, our bagel bar will be opening at 8.30am. You can bring your child to school for a breakfast bagel free of charge. This will be available Monday to Friday until March 2021.
This is part of a Covid response under the National School Breakfast Programme.
Our school has signed up to receive free healthy breakfast food as part of the Covid response offer, under the National School Breakfast Programme (NSBP), which is being delivered by the charities Family Action and Magic Breakfast.
Reception, Years 1 and 2 will enter through the main door at the office. Years 3-6 will enter school through the playground gate as normal. Please remember to follow social distancing guidelines when dropping off your child.
We look forward to welcoming lots of children to our bagel bar next week!
Living and Learning: 8Rs for learning
We've been thinking about and discussing which 8Rs for learning we have applied in different lessons.
These are our 8Rs for learning:
Risk taking
Talk about the difference between a safe and unsafe risk. At school, we want your child to take a safe risk by having a go at answering, even if unsure; trying something new and attempting harder learning.
Responsibility
Provide time and space at home so your child is able to organise themselves: their PE kit, reading book, homework, spellings and tables… Don't organise everything for them!
Make a link between rights and responsibilities: your child has the right to a great education, but needs to be responsible for their own learning.
Responding
This could be responding to their teacher in class or responding to feedback in their learning.
Ready
Make sure your child is at school on time for a prompt start.
Make sure your child has had plenty of sleep so they are alert and ready to learn at all times.
Encourage your child to ask lots of questions – that shows they want to learn!
Resourceful
Encourage your child to be organised so they can play with a range of different toys.
Encourage your child to try new ways to solve a tricky problem.
Resilience
Encourage your child to keep going! Set a tricky challenge or puzzle for your child to do.
Encourage your child to think of different ways of doing things.
Don't let your child win when they play a game – they need to experience losing, too!
Celebrate mistakes as opportunities to learn – be happy that your child found some learning hard and encourage them to 'bounce back' and learn from the experience.
Relate this 'R' to Humpty Dumpty and our current whole school topic, After the Fall.
Remember
Make sure they have time to learn spellings, number bonds and times tables – a little practice daily is best.
Play memory games:
Kim's game: show them objects for 30 seconds… can they remember all the objects?
Can they build up the sequence, 'I went to the shop and I bought an apple'… 'I went to the shop and I bought an apple and a bike.'… 'I went to the shop and I bought an apple, a bike and a cucumber.' etc … Take turns!
Reflect
Talk with your child about what they've learnt, asking questions about how they learnt, why they learnt it, when they'll use their learning, how they would teach this to someone else, what learning might link with what they've learnt today…
In PE, we have been playing football rounders. We discussed that we need to be READY to kick the ball and to run, we need to be RESPONSIBLE by following the rules, we need to be RESILIENT when we miss the ball or if we are out of the game and we need to be REFLECTIVE after the game to reflect on what we have improved on (this week it was our fielding) and how we can improve further (next week it will be our football skills).
Writing
This week, we've been learning about fronted adverbials and using them in our own writing. Louisa has written a fantastic diary entry where she has written from the character's perspective- Humpty Dumpty. She's used fronted adverbials with commas and lots of other punctuation too.
First week back!
It has been fantastic being back at school with our whole class together again. Everybody has come back with a really positive and responsible attitude towards their learning and towards the new rules and routines we have in place. Here are some quotes from of a few children in the class about our first week back at school:
"At first, I felt confused because I wasn't sure what school was going to be like, but after we were told the new rules I understood and felt better. I've enjoyed maths- we've been learning about numbers up to 10 million!"  Mackenzie Y6
"The bubbles and timings of things seemed strange at first, but now I'm comfortable with it. I've enjoyed coming back and seeing my friends and teachers.  In maths, we've been learning about greater than and less than." Erin Y6
"This week, I've enjoyed reading because I like the book 'After the Fall' and we've done some research about the history of the nursery rhyme- Humpty Dumpty." Joe Y5
As Joe mentions, we've been reading a book called 'After the Fall' by Dan Santat. It is a story about Humpty Dumpty and how he overcame his fear of heights and picked himself back up again. We asked lots of questions about the history of this character and the nursery rhyme; we found out some very interesting and surprising facts!