Own It app
Has you child got a mobile phone? If they have, do the have the Own It app from the BBC?
The Own It app helps children and young people take control of your online life. It gives them advice when they need it, in real-time as they type. It's designed to help them make smart choices, feel more confident, and live their best life online.
The Own It app comes with a special keyboard. This can be used like any other keyboard, but it also gives users helpful tips and friendly advice as they write.
There's also the ability to track how they feel and improve their wellbeing. There are plenty of gifs and emojis so users can express themselves.
The Own It keyboard and app is personal to the user. Everything your child types is kept completely private, and never leaves the Own It app on their phone.
PE days
Hopefully you have read the information in the Autumn for all – Key Info St James', which also has a link to our uniform policy.
On the days your child has PE, they should come to school in their PE kit. (Track-suit bottoms instead of shorts would be good on colder days. Footwear : black/brown/grey/white flat shoes which are safe to run around in.)
Footwear on PE days could be children's 'school shoes' which are often a 'trainer' style anyway, if you want to avoid having to buy 2 pairs of shoes.
Please find below the days each class has allocated PE times, which will be taught outdoors, except in extreme weather.
Foundation (Miss Marsden) – Wednesday
Year 1/2 (Miss Harker) – Thursday & Friday
Year 3/4 (Mrs Welsby/Mrs Rowley) – Tuesday & Friday
Year 5/6 (Miss Beatson/Mr Mills) – Tuesday & Friday
Virtual School Sports Day – results
Thank you to everyone at home and in school who took part and submitted results. Over 200 schools across West Yorkshire took part. You can see the results below.
Virtual sports day 2020
Yesterday, we completed our first ever Virtual sports day. We did a range of physical activities indoors and outdoors. Check out some of our skills: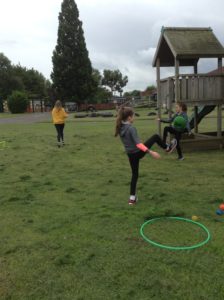 Did you get sporty today?
Well, the rain came – just like when we usually have sports day! We hope you managed to complete at least some of the challenges set by the West Yorkshire School Games for the Virtual Sports Day. Don't forget to submit your results here : https://docs.google.com/forms/d/e/1FAIpQLSfdEX8xOo-PtkFwasg0B7deXM1uzvMQMFAPwpKCU9yEKG6qqg/viewform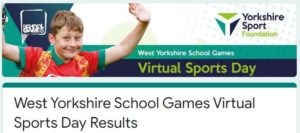 Social distancing: How wide is 2 metres?
A group of us who are in school looked at how wide 2 metres was. In our investigations, we found that 2m was the same as the following:
2 Hana's legs
7 yellow cones
1 ¾ Alfies
16 Emily's phones
4 stools
42 board rubbers
7 i-pads

18 glue sticks
4 carpet tiles
20 maths blocks
6.4 rulers
10 Mr Stink books
7.8 of Mya's water bottles
17 pink houses
0.8 football goals
24 sticks
How many other ways could you measure 2 metres?
Art work
This week, some children have been following this link to learn how to draw different characters, animals and objects.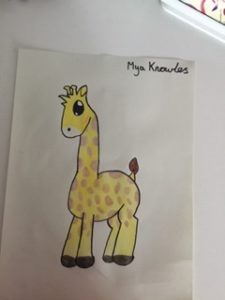 Last week in school
Last week, we opened our school up to some of our pupils. Here are some of the fun activities the KS2 children have been doing.
Letters to Captain Tom Moore
Here are two great examples of letters to Captain Tom Moore written by Sofia and Mya- well done.
Sofia's letter
What's growing?
Mr Atkins has been very busy planting some vegetables in our school allotment. Can you guess what he has planted?
There are peas, carrots, radishes, lettuces, beetroot, spring onions and potatoes! Thank you Mr Atkins for watering them and keeping them going until we are all back at school.