Class Novel
In years 5 and 6, we are thoroughly enjoying our class novel: The forest of doom.
We have battled and escaped many creatures in the forest and we have written non-chronological reports about our own Fighting Fantasy creatures.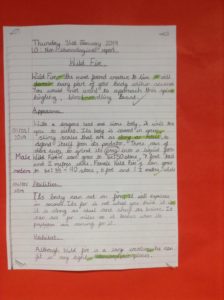 In order to battle, we had to roll two dice to create a stamina, skill and luck score. Fortunately, our stamina score was high and it has helped us throughout our adventures.
In PE, we have been working on our own stamina! We hope to see our stamina improve over the next half term by practising the same skills each week.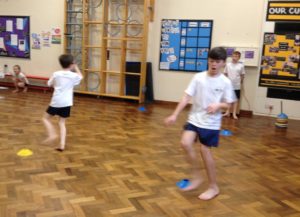 In Art, we have developed our drawing skills to create our own creature, which we are going to build into a sculpture using Modroc.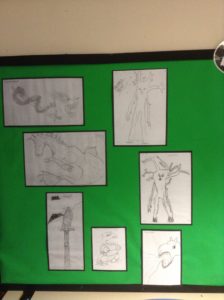 We've looked at well-known sculptures and shown our own appreciation of art by researching, discussing and writing about them.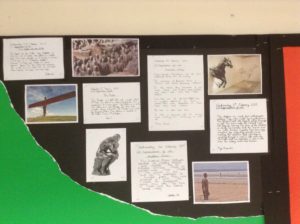 Living and Learning
Our Living and Learning theme this week: I know what a drug is.
In Years 5/6, we have been discussing different influences which could make us want to smoke or drink. We sorted images from various forms of media to recognise what a positive influence looks like and what a negative influence looks like.
We realised it isn't just media that can influence us. After group discussion and an organising activity, we all agreed that friends could possibly be the biggest influence on the decisions we make.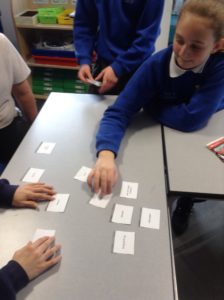 We thought about why somebody would want to avoid smoking or drinking alcohol. Some of the suggestions were religion, health, money, against the law, and not wanting to get into trouble with parents.
We came up with different ways people could respond if they wanted to avoid smoking.
"It's not good for me, I'm trying to be healthy."
"I don't like the taste or smell of smoke."
"It's against my personal belief."
Then, we shared our thoughts by doing a conscience alley.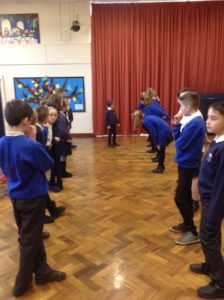 How can we clean water?
In science, our task was to clean some very dirty water by sieving, filtering and evaporating. The water had a range of materials in it: sand, salt, mud, leaves and twigs.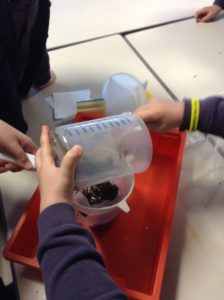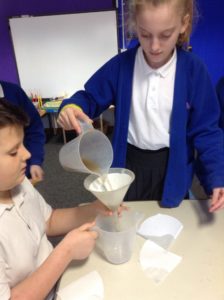 Once we had sieved and filtered the materials from the water we still needed to remove the salt. We use evaporation to separate the salt and the water.
What's the matter?
This week, we tested which materials are soluble and insoluble. We sorted sand, salt, sugar and many more into these two groups.
After that, we investigated if the temperature of water affects the speed of dissolving. We had to test this several times to make sure our results were reliable. Then we calculated the mean time taken for sugar to dissolve in different temperatures.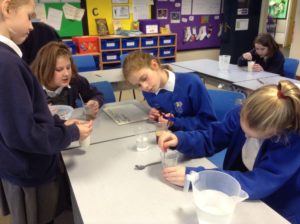 Our results showed us that the higher the temperature of water, the faster the sugar dissolves. Therefore, the temperature of water does affect the speed of dissolving. I wonder why? Can you find out?
Festive homework
We have had some great creative homework this week, where children have researched a festival or created their very own festival.
Some of the festivals presented include: Christmas, Snow and Ice festival, Eid, Leeds festival along with many more.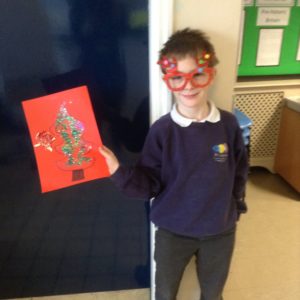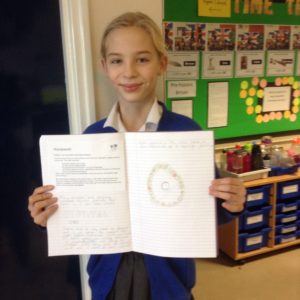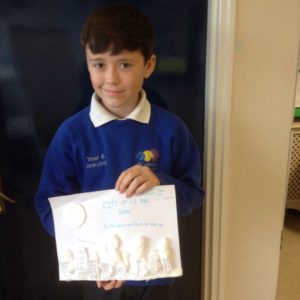 Musical stars!
Yesterday, we played music all day long – it was fantastic!
We learnt how to play different chords on the guitar and keyboard so we could play along to various pop songs. At the end of the day, we performed to the rest of the school and to some of our parents.
This was a music project supported by Leeds Artforms.
"It was fun and I loved playing along to the Christmas song- Last Christmas!"
"I enjoyed playing the keyboard because I could play the music. I liked playing the Taylor Swift song."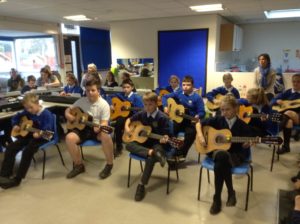 Let's investigate!
This week, we've been investigating air resistance in our Forces topic.
'The bigger the parachute, the slower it will fall.'
In groups, we investigated if this was true or not.
We discovered that the bigger parachute fell to the ground slower than the smaller parachute. We concluded that the bigger parachute had a larger surface area, therefore there's more air resistance. The more air resistance there is, the slower an object will move.
Living and Learning
This week, our Living and Learning statement is 'I know who I am'. In Year 5/6, we have been thinking about people who influence us and if they are positive and negative influences. We discussed how influences on TV and online can influence what we think about ourselves, our self-esteem and body image. We all agreed it is important to be proud of who we are and what we do if we are being influenced in a negative way.
We completed a 'diamond nine' activity where we thought about who has the most positive influence on us, all the way down to who has the least positive influence on us.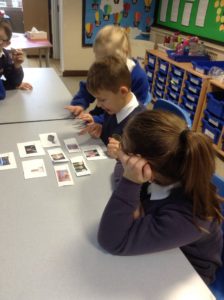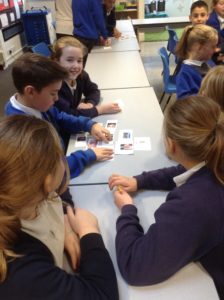 Learning links
Here are some useful website links for you to practise some key concepts.
Character descriptions
In year 5/6, we have been using figurative language to describe a character from the poem- The Raven. Here are some highlights- well done Alfie and Ruby!
"His frail, gaunt body was as weak as a dying tree in the darkness…."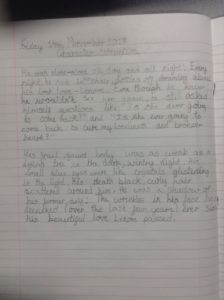 "In his room of doom, he was a priest praying for his mislaid, charming love- Lenore."