Eggciting designs!
This week, we've really enjoyed designing vehicles for our friend Eggy. We've drawn various designs on paper and then chosen the best parts for our final design. We've also used CAD (computer aided design) to create and modify our designs. If you would like to try your own designs at home click here.
Hand to Mouth visit
Last week, we were lucky to welcome Hand to Mouth back into school. Hand to Mouth is a Christian charity that come into schools to work with children to explore Christianity and their own spiritual journey.
Throughout the day, Years 3, 4, 5 and 6 visited a journey where they could explore 'Christianity as a living faith'. The children visited the journey in pairs and explored different stations throughout.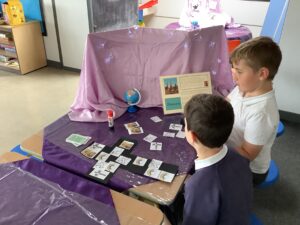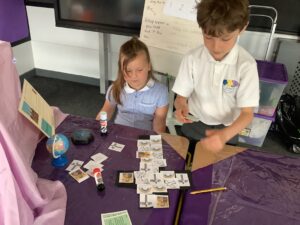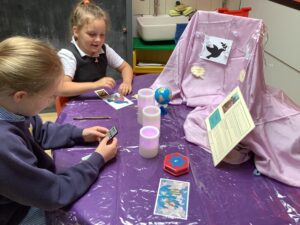 Throught the day, each class had a visit to learning about different aspects of Christianity as a living world faith.
In foundation, they learnt all about African worship. In the session, they made our very own Kufi Hats and danced around the classroom to some African music.
In year 1,2, they learnt all about different churches and got to make their own church.
In year 3,4, they learnt what worship was and how different this can look around the world.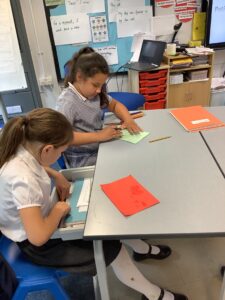 In year 5,6, they learnt all about justice and what this entailed.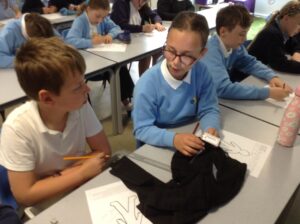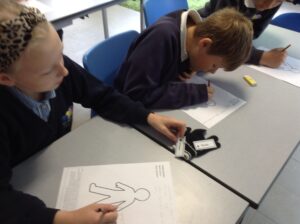 Design and Technology
Our new topic this half term is all about Design and Technology.
After a desperate plea from our friend Eggy, we've been tasked with designing a fully functioning car (one that won't crash with him in it this time! It was no yolk).
We will complete the following design process:
– evaluate
– devise design criteria
– design product
– make
– test
Of course, we will be constantly evaluating our designs to see if there are any problems we need to fix. Challenge your child to tell you which computing word this reminds them of!
Below is a list of vocabulary the children will be learning over the next few weeks. Help at home by making sure your child knows these words and definitions inside out.
Could you play some games to help your child memorise the definitions? Maybe they could teach you first or maybe play a game of Pictionary!
Science
Our Science learning this half term is all about scientific enquiry. The children will use their science and link it to an historical event in context; the sinking of the Titanic. This topic is based around applying working scientifically skills that they have learned so far in their Science lessons, to explore some of the scientific concepts behind the Titanic, e.g. floating and sinking. They will apply skills, such as asking questions, making observations and predicting. Below is a list of vocabulary the children will be learning over the next few weeks. Can you help your child learn these words? Could you play some games to help your child memorise the definitions? Maybe a game of Pictionary!
A visit to Wetherby High School
Year 5 visited Wetherby High School to experience a day in the life of a high school pupil.
"Art was really creative because we listened to music and used paints to make a picture to represent the sounds. It was my favourite lesson." Jemima
"I really enjoyed DT because I like doing crafts. We lasered our name on a pen, we made badges and we were given a snake made with a 3D printer." Scarlet
"In the morning, we played hockey and I liked it because it was fun and I used a lot of energy." Joe
Class novel: Letters from the lighthouse
This term, our class novel has kept us all guessing! It is a story set during WW2 and the plot is full of mystery and suspense. We are now half way through the story and we did some freeze-framing to summarise and re-cap what has happened so far.
Olive and Cliff run out of the picture house to the air raid shelter. Sukie goes missing.
Olive and Cliff evacuate to Budmouth Point in Devon.
They find a note that belongs to Sukie; it has a secret code on it.
Esther Jenkins moves into the same house as Olive and Cliff. She finds the note and won't give it back to Olive. They fall out.
A bomb is dropped near the school that Olive and Sukie go to. The community decide to get rid of the lighthouse.
What do we think will happen next? 
Scarlet: "I think Olive and Cliff are going to try and stop the lighthouse from being knocked down. They will find somebody to help work out the code on the note."
Callum: "I think the town will take down the lighthouse and a German plane will crash. I think Sukie will turn up and she will help the Germans escape."
Erin "I think Olive and Cliff will follow Ephraim and find out that Queenie and Ephraim have something to do with Sukie's disappearance."
Living and Learning: I understand some drugs can be harmful
In Living and Learning, we've been exploring the topic of drugs. We know that there are different types of drugs including illegal and legal drugs. As a class, we discussed the risks of drugs and how they can affect the body in different ways.
We read different scenarios and discussed what was causing the risk and rated the situation a high, medium or low risk. We thought about the characters who may need support and how they could get help.
Talk to a trusted adult
www.childline.co.uk 0800 1111
Contact the police using 101 or ring 999 if someone is seriously ill, unsafe or scared
Skipping into summer with Skipping School
We have launched a whole school skipping project with Skipping School. Each class has their own class set of ropes and we also have long ropes for every class too. The children are so enthusiastic about it already. There are some tutorial videos below so you can work on your skills at home too!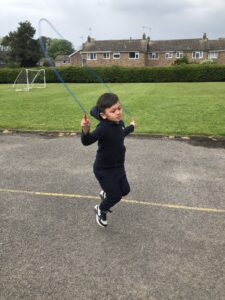 Y6 Swimming survey
As part of the government PE and Sport Premium for primary schools, there is a condition requiring schools to publish how many pupils in Year 6 are meeting the National Curriculum requirements. As school swimming lessons took place earlier in KS2, please could you complete this survey to provide up to date information for your child.
Thank you
Mrs Latham
PE/Health Leader
Living and Learning: I know the importance of personal hygiene, including handwashing.
In Living and Learning, we discussed the importance of keeping clean and washing our hands. We did a little experiment with paint and talc to show how easily germs can spread if we don't wash our hands!
We watched a video which showed us the 'hotspots' where germs are very good at hiding on our hands. We are going to make sure we pay attention to these areas every time we wash our hands.
We all know the importance of handwashing to protect ourselves and others. For a reminder, watch this experiment: https://www.youtube.com/watch?v=kGQEuuv9R6E