Chatter and Batter
As part of our themed week, we've been visiting people in our local community. 'Chatter and Batter' is an event organised by Wise, a charity supporting the elderly in Wetherby, and we went along to have a chat, eat dinner and host a quiz!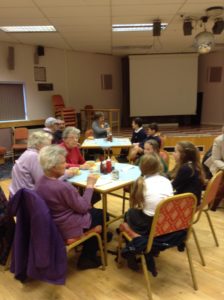 Self-esteem workshop
As part of our themed week and our Living and Learning statement 'I know who I am,' Year 5 and 6 took part in a workshop, linked to the Dove self-esteem project.  The children discussed self-esteem, body image and body confidence.
A Christmas Carol
Today, we read a section of A Christmas Carol by candlelight and howling wind sound effects. Creepy…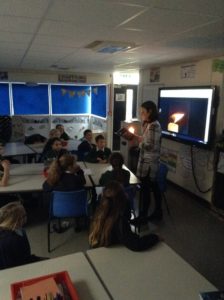 It's the half-term holidays…
…and so there's no specific homework next week. This is in-line with our Homework Policy.
During the half-term, please encourage your child to read each day, even if just for 15 minutes. As well as their current book, reading comics, newspapers, websites are all good – and why not take a trip to the library!
It would also be really helpful to help your child brush up on their times tables. Children in Year 2 should know x2, x5 and x10 (and the related division facts) by the end of the year – so give them a head start now! By the end of Year 4, children should know all their tables up to 12 x 12 (and the related division facts).
And make sure they enjoy the break, too: perhaps an autumn walk, a day out, a trip to the cinema… There are lots of things going on in Leeds – check them out.
Whatever you get up to, we're looking forward to seeing you again on Monday 30 October.
Prime Number Rap
Today, the class have enjoyed listening and singing along to a Prime numbers song. Listen at home!
Application to be a Peer Mediator
Some of our Year 5 and 6 pupils are writing away as I type, completing their application letter to become a Peer Mediator. A Peer Mediator's role is incredibly important and they will be listening and supporting children on the playground to solve problems and play games with younger children to model taking turns and how to respond to each other appropriately.
The deadline for the application is Monday 25 September 2017. I hope to read some impressive applications!
Art in the style of Oliver Jeffers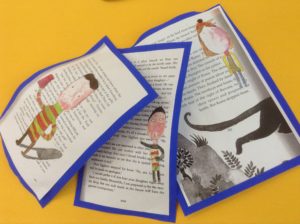 This week, Years 5 and 6 have finished their art work. They sketched portraits in the style of Oliver Jeffers. They practised painting with water colours and they chose a page from their favourite books for a background. Here are the finished products!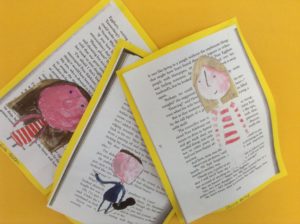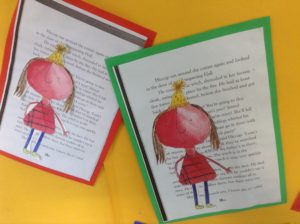 First week back!
We've had a fantastic first week back to school. The children are already immersed in their learning and they have particularly enjoyed finding out about Growth Mindsets and how this can help with their attitudes to learning. We have started to read and explore our class book 'The Incredible Book Eating Boy' and we have produced some sketches in the style of Oliver Jeffers.
Homework and spellings will be set tomorrow and must be handed in next Thursday.
Christmas card competition
The Lord Mayor of Leeds, Jane Dowson, is looking to have her Christmas card 2017 designed by a child from Leeds (aged up to 13 years). The card will be sent out by the Lord Mayor across the city and beyond. The theme is "Leeds at Christmas".
The rules/details are on the attached poster and the closing date is 09 October. The winner will be presented with a copy of the card and a special gift by the Lord Mayor.
This is a really exciting and unique opportunity for children.
How to enter: Designs should be completed on A4 paper. Please write (in pencil) the child's name and age on the reverse and a parent or guardian's contact number. Crayons, felt tip, pen and paint can be used for the design, however items should not be stuck on to the paper as this will not replicate when the design is scanned. Entries should be sent to: Lord Mayor Christmas Card Competition, 8 Woodhouse Square, Leeds LS3 1AD by the closing date of Monday 09 October 2017.