Happy half term!
Well done for getting through the half term- we think you've all been amazing! It has been great to see lots of you on Zoom every day sharing your favourite learning or discussing a challenging question or even just chatting about what you've baked that day.  You've all been resilient, resourceful and taken responsibility for your learning at home. You should be very proud of yourselves! Here are some highlights of the half term both in school and at home……..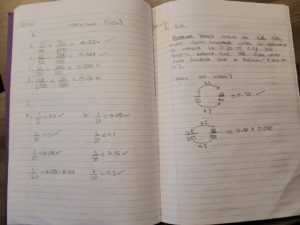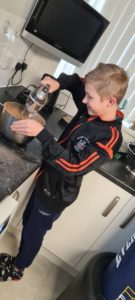 It's challenge time!
It's been 5 weeks of home learning and with just one left until half term!
How are you finding it?
We have got a challenge for you!
When we go back to school, we will be doing 'Wake Up, Shake Up' again so we'd like to challenge you to learn this dance that has gone viral around the world (you're watching the Irish Garda but lots of other people have participated around the world!). Here is a video tutorial to help you – the teachers at school will be learning it too!
TTRS
This week, I've been having a look at Times Tables Rock Stars to see who has been practising their times tables at home. Well done to those who have been going on regularly (even if it's for a few minutes) to practise and recall multiplication facts.
At the moment, I can see that Year 6 children have been going on more than the Year 5 children. Let's see if the Year 5s can change this by the end of the week! If you've forgotten your password please ask your parents to email me and I will send you it.
Click here to practise right now!
Remarkable Writing
From Mr Owen, who's leading the Y5,6 home learning writing sessions…
Hi everyone,
I wanted to share some of the fantastic writing that's been happening in Y5 and Y6 recently, both at home and in school. Children have been creating their own planets, including maps and loads of links to geography learning. Classes in Moortown, Scholes (Elmet) and St James' have all been working on the same projects, and the end products look great! Children should be really proud of what they've created.
Here are just some of the great examples that I've been sent. If you'd like to send yours in, I'd love to see it! (Send me an email – davidowen@spherefederation.org)
In St James'… How awesome is this?
In Moortown, Y6… What a great effort!
In my class: Moortown, Y5… This one even had an accompanying video!
This one included lots of the things we've been working on recently and included great vocabulary:
Scholes (Elmet) children have been really creative too…
At St James' again… Working hard to create amazing planets!
Amazing presentation, fantastic ideas and great writing skills on show!
Fabulous report writing!
Well done on completing another week of home learning.
The number of children attending our daily Zoom lessons has increased which is fantastic to see! Once again, it has been great to see everyone's hard work at home and in school. A highlight this week has been the report writing. Thank you to Mr Owen, who has clearly inspired lots of you to create your own imaginary planet and write a report all about it. Here are a few examples of reports that have been written this week:
During the week, some of the Year 6 pupils were asking for some help with the maths learning. Zoom was a great opportunity to share this and I was able to give some additional support to those who needed it. This is another great reason to join the daily sessions as I'm available to give some top tips and go over anything that children are finding challenging.
I look forward to seeing what you all get up to next week!
Home Learning
Well done to all the children who have been doing their home learning this week. It's been lovely to see some of you on Zoom and to see and hear about the learning you've enjoyed. I particularly enjoyed seeing some of the drawings and models of the solar system as part of the science learning. It's also been great to hear other ways you've been spending your days such as going on walks, reading a book, tie dyeing t-shirts and playing football in the garden. I look forward to seeing some more home learning next week. Remember, if you're struggling with any of the home learning and you need some support, please ask an adult to email me and I will get in touch to help or you can ask me on Zoom. Happy home learning!
Final week
We've had a very busy, festive week in school: pantomime (virtual), Christmas lunch, parties, Christingle and crafts. Well done to everybody for working so hard this term- have a wonderful Christmas!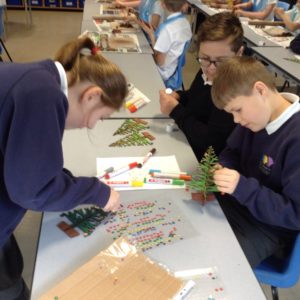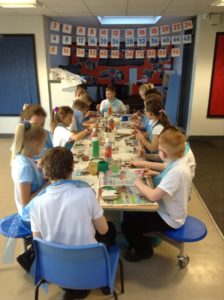 Merry Christmas from Year 5 and 6
Here are a couple of songs we've sang for you to get you into the festive spirit- enjoy!
RSE lessons
This week, we've been learning about how our body changes as we go through puberty. The children have participated really well and asked some brilliant questions. This is how a few of the pupils felt about the sessions this week:
"I learnt about what happens to my body during puberty. It's been helpful because now I know what is going to happen to me." Y6 pupil
"I liked that we found out different ways to cope with puberty." Y5 pupil
"We found out about the changes we go through during puberty." Y6 pupil
To find out more information about our RSE curriculum visit our website: https://www.stjameswetherby.leeds.sch.uk/learn-more/sre/
Living and Learning: I know how to be a good friend
In RSE (relationships and sex education), we've been thinking about different relationships we have with people and how we can have positive relationships. In particular, we focused on friendships and the influences they have on us. In groups, we acted out scenarios where friends are pressuring others into certain situations by using a range of techniques: put downs, rejection from a group or situation, huddle, looks and giving reasons to do or not do things.
We followed this up by discussing what feelings the person being pressured might have in the scenario and how they could deal with it in the best way. We all agreed that telling a trusted adult is a really good idea.